Titleist NXT Tour Golf Ball: The ProV1's Affordable Cousin
---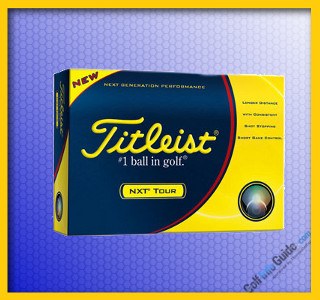 © TITLEIST Golf
Ball tested: Titleist NXT Tour
Category: Premium
Specs: Construction – Three-piece; Cover – "Fusablend"; Core – Dual (soft inner, firm outer); Dimples / Pattern – 302 in "spherically tiled octahedral" design
Compression: High
Price as tested (new): MSRP—$42 per dozen; widely available for $32 per dozen
Ball notes: Think of Titleist's NXT Tour models (including the Tour S) as a cheaper alternative to the company's top-of-the-line ProV1 and ProV1x. Titleist doesn't promise identical performance, mind you, just a close enough facsimile to please average to good golfers who balk at the ProV1's $50/dozen price tag.
The NXT Tour is the slightly firmer of the two. It's engineered for low-spin drives, high-spin short irons and commanding short game control. Feel is a big component of the Titleist pitch, too. A perennial favorite of testers, the NXT Tour claimed gold medal status in Golf Digest's 2013 Hot List rankings.
Sound and feel: Just because Titleist makes a softer version of the NXT Tour doesn't mean the original is a rock. Hardly. Off the clubface, it's quite similar to the ProV1 and other "tour" category offerings. The feel extends throughout the bag, tee to green.
Off the tee: Golfers who lack tour-level clubhead speeds (110+ mph) may well see distance gains with the NXT Tour vs. the ProV1. They'll definitely see less spin, which equates to straighter shots. This is a very long ball that hangs in the air and doesn't bend a whole lot in either direction.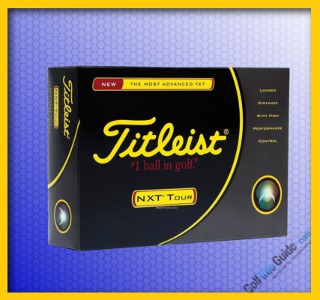 © TITLEIST Golf
From the fairway / rough: Once again, we got great distance from the NXT Tour. Hybrids and longer irons rocketed off the face and provided nice roll on layup shots. For us, spin with the short irons was spot on – not so much that shots ballooned into the wind, but plenty to stop anything on the green within a pace or two of landing.
Around the green: Satisfyingly soft on chips and putts. Ample controllability, though not what you'll get from a tour ball. We've always liked Titleist's AIM (Alignment Integrated Marking) sidestamp, a fancy term for the little arrow that helps line up putts.
Bottom line: A lot of experienced golfers have switched from the ProV1 or other high-performance ball to the NXT Tour, and with good reason. It's typically about $12 cheaper at retail, delivers excellent distance and offers more than enough spin for players in the 7-20+ handicap range. It's a keeper.

Golf Ball Videos:
- Compression Video

- Spin Video

- Dimples Video

- Golf Ball Brands Video

- Titleist Video

- Understanding Spin Video
Value/Recreational/Distance – Designed for mid- to high-handicap golfers with swing speeds below 90 mph; typically feature two-piece construction and firm covers; promote greater distance over high spin rates. Examples: Pinnacle Gold, Slazenger RAW Distance
Premium – Designed for low- to mid-handicap golfers with swing speeds of 90-99 mph; typically feature multi-layer construction and medium-soft covers; happy medium between Value/Recreational and Tour categories for distance and spin qualities. Examples: Titleist NXT Tour, Callaway HEX Diablo
Tour/Advanced/Performance – Designed for low-handicap and professional golfers with swing speeds in excess of 100 mph; typically feature multi-layer construction and soft covers; promote greater spin rates and enhanced feel over distance. Examples: Titleist ProV1, Bridgestone Tour B330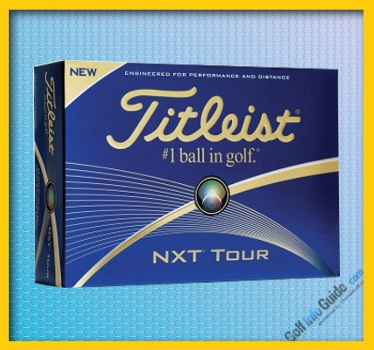 © TITLEIST Golf
Titleist NXT Tour 2016 Golf Ball Review
---
The Titleist NXT Tour retails for $45 a dozen (MSRP) and it's a true all-round performer, very close to the Pro V1 performance-wise, but at a very affordable price. Basically, if you're on the market looking for the best deal, the NXT Tour falls into the "best bang for the buck" category, at least in this writer's opinion. Now, let's take a closer look, shall we? As you can easily deduct from the Tour denomination, this golf ball is aimed at providing you with Tour level performance for your short game with low driver spin. The NXT Tour is built with new compression cores, which are now softer, thus making for a golf ball even softer than the previous generation, and that's pretty amazing.
Now, even if the NXT Tour is softer than ever, Titleist made no compromise in terms of spin and distance around the greens. The NXT Tour is perfectly capable of managing identical amounts of spin (compared to the previous gen) on wedge shots and even less spin off the driver than the Pro V1, which plays in a totally different league price-wise. If you want to play like a pro, at a tour level but without the pain of paying tour-prices, the NXT Tour is an excellent option and it should be very high on your list of golf balls to try. How did Titleist managed to create such a good golf ball at such a cheap price, risking to cannibalize their Pro V1 line? Well, they used state of the art/proprietary technologies, such as the thin Fusblend cover, which helps with the soft-feel, but it's way more resistant to wear and tear compared to the previous models. According to Titleist, the NXT Tour line is bested in terms of performance only by the Pro V1 x and the Pro V1, and that's impressive, to say the least. Speaking of performance, the NXT Tour is a long ball which generates less spin than the "professional" Pro V1 x and Pro V1, and that can be both good or bad, depending upon one's personal preference. The spin level out of the bunker is pretty good and you'll definitely be flabbergasted with the NXT Tour on the putting surface. The ball rolls straight and true, and the shots are struck pure, feeling very similar as a Pro V1; well, not exactly, but very close. Bottom line, the NXT Tour is designed for golfers looking for low spin levels off the driver and high spin on approach shots, and it simply delivers, in a big way.

Golf Ball Videos:
- Compression Video

- Spin Video

- Dimples Video

- Golf Ball Brands Video

- Titleist Video

- Understanding Spin Video
Value/Recreational/Distance – Designed for mid- to high-handicap golfers with swing speeds below 90 mph; typically feature two-piece construction and firm covers; promote greater distance over high spin rates. Examples: Pinnacle Gold, Slazenger RAW Distance
Premium – Designed for low- to mid-handicap golfers with swing speeds of 90-99 mph; typically feature multi-layer construction and medium-soft covers; happy medium between Value/Recreational and Tour categories for distance and spin qualities. Examples: Titleist NXT Tour, Callaway HEX Diablo
Tour/Advanced/Performance – Designed for low-handicap and professional golfers with swing speeds in excess of 100 mph; typically feature multi-layer construction and soft covers; promote greater spin rates and enhanced feel over distance. Examples: Titleist ProV1, Bridgestone Tour B330