Titleist NXT Tour S: Softer of Two Siblings Golf Balls
---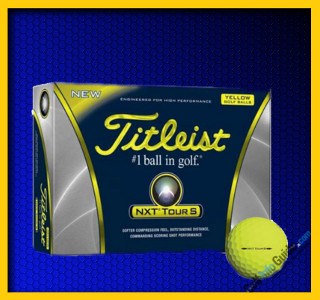 © TITLEIST Golf
Ball tested: Titleist NXT Tour S
Category: Premium
Specs: Construction – Two-piece; Cover – "Fusablend"; Core – Low compression; Dimples / Pattern – 302 in "spherically tiled octahedral" design
Price as tested (new): MSRP—$42 per dozen; widely available for $32 per dozen
Ball notes: If you guessed that the "S" stands for "soft," give yourself a little golf clap. Titleist's NXT Tour S is the lower compression, single core version touted for its cushiony feel. It's also aimed at players with slightly slower swing speeds who can't quite squeeze maximum distance from the firmer original model, the NXT Tour. As a bonus, the Tour S is available in high-optic yellow.
Compression: Mid
The NXT Tour S, like its sibling, blurs the line between the "premium" and "tour" categories. In the not-so-distant past, premium balls were considerably harder and produced a lot less spin. Now, many premium models are as soft as, if not softer than, some tour balls, with only a tad less spin and greenside bite.
Let's take the NXT Tour S for a test drive. And approach shot, and chip, and putt…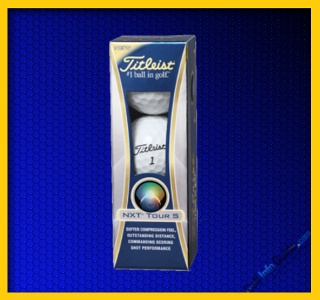 © TITLEIST Golf
Sound and feel: It's soft, all right. Softer than the NXT Tour and comparable to Titleist's tour-level flagship, the ProV1. This ball sticks to the clubface on full shots and provides delicate feel on shorter shots. Anyone who craves a sense of control will appreciate the NXT Tour S.
Off the tee: It's a toss-up as to which is the longer NXT Tour model. We found the S to be in the same ballpark as the original, with similar in-flight qualities – low spin, excellent down-range carry and good accuracy. Your mileage may vary.
From the fairway / rough: Shotmakers will definitely enjoy playing the NXT Tour S. You can work this ball with ease (at least by today's standards) and change trajectories, too. It displayed ample stopping power off the middle and short irons as well.
Around the green: It feels like a ProV1, but doesn't quite match the greenside performance. Of course, that's to be expected – there's a reason the NXT Tour S costs $12 – $15 less at retail. Besides, this ball offers more than enough spin and short game control for good and average amateurs. Its reactions on the green are highly predictable, which is the most important thing.
Bottom line: Just a few years ago, balls like the NXT Tour S simply didn't exist. The difference between tour and premium balls was much wider, forcing golfers to sacrifice distance if they favored feel, and vice versa. Now, it's possible to enjoy (near) tour-level controllability in a ball that travels as far as those in the "distance" category. Long story short: The NXT Tour S is a great option for amateurs who want that high-end softness without throwing away valuable driving yardage – or hard-earned cash.

Golf Ball Videos:
- Compression Video

- Spin Video

- Dimples Video

- Golf Ball Brands Video

- Titleist Video

- Understanding Spin Video
Value/Recreational/Distance – Designed for mid- to high-handicap golfers with swing speeds below 90 mph; typically feature two-piece construction and firm covers; promote greater distance over high spin rates. Examples: Pinnacle Gold, Slazenger RAW Distance
Premium – Designed for low- to mid-handicap golfers with swing speeds of 90-99 mph; typically feature multi-layer construction and medium-soft covers; happy medium between Value/Recreational and Tour categories for distance and spin qualities. Examples: Titleist NXT Tour, Callaway HEX Diablo
Tour/Advanced/Performance – Designed for low-handicap and professional golfers with swing speeds in excess of 100 mph; typically feature multi-layer construction and soft covers; promote greater spin rates and enhanced feel over distance. Examples: Titleist ProV1, Bridgestone Tour B330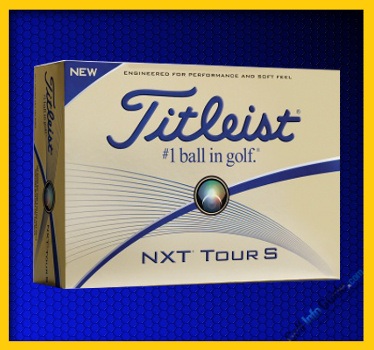 © TITLEIST Golf
Titleist NXT Tour S 2016 Golf Ball Review
---
The Titleist NXT Tour S is a mainstay golf ball retailing for $45 a dozen(MSRP) and it delivers Tour proven-premium performance at a very affordable price. Just like its little sister (the NXT Tour), the S is an absolutely lovely golf ball to play with, which is very close in terms of performance to the Titleist Pro V1. But, unlike the Pro V1/V1x, the Titleist NXT Tour S doesn't penalize you with premium prices for premium performance, and that's great in my book. The most important two factors to consider in a golf ball in regard to feel are the cover and the core, and the most difficult one to get right is usually the cover. If the golf ball is designed with a "mushy" (as in too soft) cover, the ball feels weird and it will wear off prematurely from the grooves of the drivers. If the company makes the cover too hard, you'll feel like throwing rocks and that sweet feel you're looking for will be definitely compromised, along with your game. The core is important too, but the quality of the cover makes all the difference in the world.
In our case, the NXT Tour S uses the Fuseblend cover and the feel of the ball is comparable with almost any other premium golf balls from other brands, making the difference between the NXT Tour line and the Pro very thin. Maybe it's the placebo effect, but if these golf balls were marked with a Pro V1x instead of NXT Tour S, you'd never noticed the difference during your game! Yes, this ball is outstanding, offering true flagship performance at an affordable price.

Golf Ball Videos:
- Compression Video

- Spin Video

- Dimples Video

- Golf Ball Brands Video

- Titleist Video

- Understanding Spin Video
Value/Recreational/Distance – Designed for mid- to high-handicap golfers with swing speeds below 90 mph; typically feature two-piece construction and firm covers; promote greater distance over high spin rates. Examples: Pinnacle Gold, Slazenger RAW Distance
Premium – Designed for low- to mid-handicap golfers with swing speeds of 90-99 mph; typically feature multi-layer construction and medium-soft covers; happy medium between Value/Recreational and Tour categories for distance and spin qualities. Examples: Titleist NXT Tour, Callaway HEX Diablo
Tour/Advanced/Performance – Designed for low-handicap and professional golfers with swing speeds in excess of 100 mph; typically feature multi-layer construction and soft covers; promote greater spin rates and enhanced feel over distance. Examples: Titleist ProV1, Bridgestone Tour B330