Understanding Golf Ball Position Is Crucial
(Video)
- Lesson 16 by PGA Pro Pete Styles
---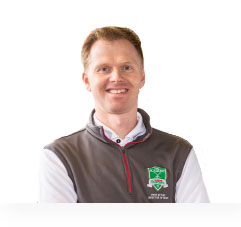 Pete Styles – PGA Teaching Pro
Now, if we understand the low point of the swing is crucially important to being a good ball striker and being a good golfer, we also need to understand that that low point is different with different clubs and the ball position is different with different clubs. So, this first line that I'm going to put on the floor here, this is going to be pointing at the camera and that is going to give us our ball position line. The orange line should make it nice and easy for you to see where that one is.
The second cane I'm going to put down is going to mark the low point of the swing. Now, the low point is approximate as the club bottoms out, shallows out and then starts to come up again. So, with my driver I'm going to position the ball right up against the left instep of my stance. But then I'm actually going to position my body weight quite a long way back and I'm going to have my low point about here middle or even slightly back of middle of my stance, then as I set up to the ball, ball would not only be teed up of course, I'm going to swing back, I'm going to hit down, my ball position is way ahead of my low point. My low point being back on this orange line, sweeping and then coming up.
Now, as long as I don't hit the ground here but I do get quite close to it, skim the blades of the grass, rise up, catch that ball on the rise, so that explains how my ball position is different from a low point with my driver. And if I change now to an iron, I'm going to take a 7-iron, this time watch where my low point goes. My ball position will stay where it is for the time being. But now my low point comes, yeah, so I set up to the golf ball slightly ahead of center and I'm going to drive down and forwards taking the ball, taking a small divot and then hitting down.
So, my low point is now after the golf ball for a 7-iron and then even more so when I go to a wedge. I'm going to move this line slightly further forwards. So I'm going to be a slightly steeper angle of attack, my ball position now middle or even back third of my stance, my body position as I drive forward is weighing more on to my left side than it was before I hit the ball, then I take a big divot, my low point is about two and a half, three inches after the ball. My divot gets steeper and bigger when I'm taking a wedge shallower with a 7-iron, no divot at all with a driver because I have the ball forwards and sweep on the way up. So, hopefully by understanding ball position and its relationship to the lowest point of your swing, you would be able to strike all of your shots slightly better.