Make Your Wedge Shots Spin and Stop – or Even Back Up - Golf
(Video)
- by Pete Styles
---
There is nothing that impresses a golf audience quite like a wedge shot which lands on the green, bounces once or twice, and then spins back a few feet.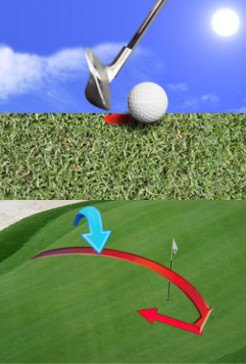 Something about the look of this shot is sure to impress the average golf fan, even if the ball doesn't wind up all that close to the hole. Although many golfers assume that this type of shot is exclusive to professionals, it is actually not that hard to achieve a similar action in your own game. If you are willing to work on your technique – and if you have the right equipment – you can learn to stop the ball quickly.
In this article, we are going to cover this topic from a variety of perspectives. In order to get the ball to stop quickly on the green, you need to understand a few different things. First, you have to get your technique in order. There is no way to hide from this first point – if you don't have proper technique, you'll never manage to stop the ball quickly. In addition to proper mechanics, you also need to have the right gear in your bag, and you need to have the right conditions. Once you have read through this article, we hope you will have a much better understanding of this topic from top to bottom.
Before we get started, it is worth mentioning that hitting shots which back up after they land actually isn't such a great idea. When your ball starts to spin back to the front of the green after it lands, you will likely have trouble controlling it in a way that allows you to setup short birdie putts. Ideally, you simply want the ball to land and stop cold as quickly as possible. This is the best way to be precise, and placing the ball near the cup is the ultimate goal when all is said and done. Sure, it might look cool to spin the ball back, and you might impress your friends, but your focus should be on controlling your shots above all else.
All of the content below is based on a right-handed golfer. If you happen to play left-handed, please take a moment to reverse the directions as necessary.
The Basics of Proper Technique

In golf, everything starts with technique. You can have grand plans for your game as a whole, but you are never going to reach those goals if you don't have solid technique in place as a foundation. Once you have reliable technique that you can trust round after round, you can then work on developing other skills which will help take you to a higher level.
For this article, we are talking about making your wedge shots spin and stop, if not back up a little bit. So, what kind of technique is required to make this happen? Let's take a look at some key points.
Hit down on the ball. This is the biggest key in the entire conversation. If you are going to impart a meaningful amount of spin on the golf ball, you need to hit down through impact. It really is that simple. If you don't hit down properly, you aren't going to get the kind of spin you need to stop the ball quickly. When you watch a professional golfer hit a full-swing wedge shot, you will notice that a large divot is taken after the ball, nearly every single time (unless the course is particularly firm). That divot is a sure sign that the player has hit down through the ball nicely. If you don't hit down, you don't take a divot – and your ball won't have much spin. Countless amateur golfers never learn how to hit down on their wedges, and instead they try to pick the ball off the top of the turf. You might be able to hit a few good shots with this method, but it's likely to be quite inconsistent. And, without as much spin on the ball as you would have had by hitting down, your ball won't stop as quickly on the greens. If you want to hit spinning wedge shots which are easy to control, hitting down is essential.
Firm and flat left wrist at impact. Knowing that you need to hit down, you'll have to design your swing technique in such a way that promotes a downward hit. One of the key fundamentals in that pursuit is maintaining a firm and flat left wrist through the hitting area. As your club arrives at impact, your left wrist should be in a relatively flat position, and it should feel strong and stable. Unfortunately, this is not usually the case for the average golfer. Instead, the typical golfer will allow his or her left wrist to fold up at impact. This means the right hand is doing too much work at the bottom, and the club head is moving back up away from the turf. Even if you do manage to hit the ball cleanly with this kind of swing, you'll still struggle to get the type of spin we've been talking about in this article. If you are struggling to find this flat left wrist position, try to spend some time practicing pitch shots. While hitting pitches, focus on the way your hands and wrists are behaving through the hitting area. It is easier to sort out this issue when making short, small swings. As you get more comfortable with using a flat left wrist, you can gradually make your swing bigger and bigger. Pretty soon, you'll be hitting full wedge shots and your wrist will be holding steady all the way through impact.
Steady head position. One of the often-overlooked keys to hitting great wedge shots is making perfectly clean contact. Yes, it's important to hit down in order to create spin, but hitting down won't do any good if your contact isn't clean. You need to make crisp contact between the club face and the ball in order for spin to be generated. One of the best ways to improve the quality of your contact is to make sure your head stays perfectly steady during the swing. By keeping your head steady, there is a good chance you will wind up staying balanced as well – and that balance is going to be crucial to make sure your swing bottoms out at exactly the right spot. Since the swing you make with a wedge is much shorter than a swing you would make with a driver, you should be able to keep your head still with relative ease. Make this a key point during your practice sessions and your spin rate should improve as a byproduct of your contact quality.
You don't actually need to do anything complicated in order to create spin. In the end, it really comes down to making clean contact while hitting down through the ball. If you can accomplish that task, your ball is going to have a nice amount of spin (pending the other factors, which we will discuss later). Of course, it's not going to be easy to work yourself to that point, especially if you are hitting up through the ball currently. Only golfers who are willing to be patient and work through the tough times will find success in the long run.
Using the Right Equipment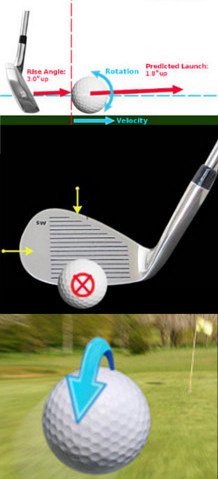 One of the things you need to understand about those wedge shots that you see the pros hit is this – they are using great equipment. Most professional golfers have equipment provided to them, and it is the best of the best. As an amateur golfer, you have to pay for your equipment, so the kind of gear you use is going to depend greatly on the budget you have available. Fortunately, you shouldn't need to break the bank in order to have the equipment necessary to get the ball to spin at a reasonable rate.
There are two pieces of equipment at play here, both of which need to be working properly in order for you to produce quality shots. Those two pieces of gear are, of course, your wedge and your golf ball. Let's take a quick look and both halves of this equation.
Your wedges. Wedges are actually among the easiest clubs to shop for when trying to fill your bag with good equipment. This is mostly because of the simplicity that you will find in the shafts that are offered with wedges. For the most part, the shafts that come installed in wedges are just going to be rated as having a 'wedge' flex, rather than being categorized as 'regular', 'stiff', etc. For the majority of players, a 'wedge' flex shaft in a wedge is going to work just fine. You don't make a big enough or powerful enough swing to need to worry much about the flex of the shaft. Also, there isn't much variety from wedge to wedge in terms of clubhead design, so that's good news as well. You can basically pick out a wedge you like and go with it. To make sure your wedge is capable of producing plenty of spin, you'll need to pay close attention to the grooves on the face of the club. This is where the ball is going to make contact with the club, of course, so the grooves need to be in good shape, and they need to be clean. Do a good job of cleaning up your clubs regularly to make sure the grooves aren't filled up with dirt and/or grass. Also, if you have been using your current wedges for a long time, inspect them carefully to make sure the grooves aren't too far worn down. At some point, the grooves won't have much of anything left to give, and you'll need to start over with new wedges.
Your golf ball. Believe it or not, the ball you use is going to be more important in terms of creating spin than the wedge you select. You have to be using an appropriate golf ball in order to produce spin, as some golf balls simply are not capable of getting the job done. For the most part, the spin that you are able to generate on a standard wedge shot is going to be dictated by the softness of the cover of the ball. Where driver spin has more to do with the core of the ball – since the driver compresses the ball so significantly at impact – wedge shots don't involve as much speed, so it is the cover which will matter most. A ball with a soft cover is going to let you create a nice amount of spin, while a firmer cover will make it difficult to do so. In fact, if you use a cheap golf ball with a hard cover, it will be nearly impossible to produce a useful amount of spin. Fortunately, there is a pretty easy way to tell how much spin a ball is going to offer – retail price. With only a few exceptions, the retail price of a golf ball is going to be able to tell you how much spin you can expect to produce. Cheap golf balls – those offered for less than $20 per dozen – usually aren't capable of spinning much when struck with a wedge. However, as the price rises, so too does the ball's ability to spin. High-end, premium golf balls frequently retail for more than $40 a dozen, but you don't necessarily need to go that high. In fact, those golf balls might not be good for your game, if you are a mid-handicap player. Instead, the golf balls which sell in the $25 - $35 range tend to be best for the 'average' golfer.
With the right golf ball on the ground, and the right wedge in your hands, you'll be a big step closer to striking quality wedge shots that stop quickly after they land. It's still necessary to make a good swing, of course, but using the right equipment means you won't be making the task harder than it needs to be.
How Conditions Impact Spin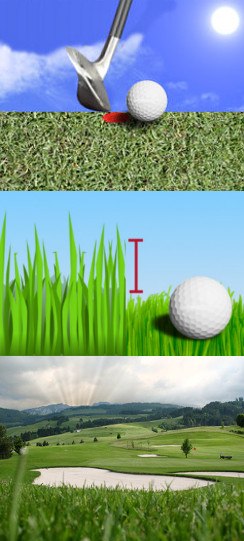 The average golfer seems to think that the only path to better scores is to improve their swing technique. While there is no doubt that improving your technique is an important step, it is far from the only thing you can do to play better golfer. In fact, it could be argued that the fastest way to improve is not to work on your technique, but rather to work on your mental game. By making better decisions and having a better understanding of the game, you can move your ball around the course effectively, even without great technique.
Toward that end, it is important that you understand how the lie of your ball, and the conditions of the course overall, are going to impact spin rate. Let's work through some key points on that topic.
Clean lie means you can spin the ball. The key to generating spin is to create clean contact between the face of the club and the back of the ball. That requires a good swing, of course, but it also requires a good lie. If your ball is sitting down in some long grass, some of that grass is sure to get trapped between the club face and the ball itself. When that happens, your spin rate is going to suffer. This is one of the main reasons it is desirable to hit the ball in the fairway as often as you can. If you are constantly playing from the rough, you'll struggle to produce spin and you won't be able to control your wedge shots properly.
Pay attention to turf conditions. The softness or firmness of the turf is also going to have an important role to play in this situation. The turf conditions won't have a ton to do with how much spin you generate (although it might have some impact), but it will dictate how the ball is going to react when it lands. On soft turf, the ball is going to bounce only slightly when it lands, and the spin on the shot will be able to take effect almost immediately. On the other hand, firm turf is going to lead to at least one big bounce, if not two. The spin on the ball should take effect after those bounces, but obviously the ball is going to be quite a distance from where it landed by that time. We will talk more in the last section of this article about how you can plan your wedge shots successfully.
Moisture decreases spin rate. If you play some of your golf during rainy weather, or even if you play early in the morning when the turf is covered in dew, you are going to have to adjust to the impact that moisture will have on your shots. Specifically, you need to realize that the ball probably won't spin quite as much due to the water involved at impact. The friction is going to be reduced between the face of the club and the ball, meaning your spin rate is going to be reduced as well. The effect here will not be as dramatic as it is when playing out of the rough, but it is still something you will need to keep in mind.
The best way to learn how conditions impact spin is simply to gain more experience. With each wedge shot you hit, you are going to pick up a little bit of information about how the ball reacts. You'll gradually get smarter and smarter on the course as your experience accumulates, and soon you will be able to accurately predict how the ball is going to respond in a variety of situations.
Planning Your Wedge Shots

For our last section in this article, we are going to talk about how you can plan out your wedge shots so that the ball will finish as close to the hole as possible. It's all well and good to hit a pretty wedge shot with plenty of spin, but that shot will be useless if there isn't a good plan to go with it. So, how do you plan a wedge shot? By thinking through the three points below.
How much spin do you expect? This is where it has to start, because you need to know how quickly the ball is going to stop. If you are playing from the fairway, it should be reasonable to expect a good amount of spin. Playing out of the rough? Dial back your expectations.
How firm is the turf? You'll have to think about this point right along with thinking about spin. If the turf is firm, play the ball short of the hole and let it bounce up. If not, you can play for a yardage that will bring the ball down somewhere near the cup.
What trajectory will you use? Some wedge shots are best played high in the air, while you can bring in others low to the ground. This is going to depend largely on the topography of the green and any hazards that you may need to avoid.
Again here, you are going to find that experience plays a significant role in your ability to deal with this task successfully. Do your best to plan out each wedge shot you play, and your plans will be more and more reliable as time goes by.
We hope this discussion on wedge spin has helped you understand what is an important topic in the game of golf. Hitting accurate wedges allows you to set up short birdie putts, and who doesn't love short putts for birdie? Once you manage to bring together the combination of solid technique and quality equipment, you should be able to spin the ball well enough to hold almost any green. Good luck!
So I often get asked how the pro spin the balls so much, how do I get the ball to land on the green and spin it back towards the flag like they look like so good on the TV when you see it, dancing around the flag and spinning back across the green. Well really the pros aren't necessarily trying to generate that much spin it's actually just a product of been a really good ball striker and using the right equipment.
So first thing you need to consider is how you are using the right golf ball, a premium golf ball, a tour golf ball basically an expensive golf ball spins a little bit more than say that cheap, harder distance golf ball. So if you have got a nice soft golf ball that will help you, but it also helps if you are playing on to the right sort of quality of greens, well watered, soft lush greens and acceptable and bit more receptive when a ball lands, make a little pitch mark and then that will give the spin a little bit perch so it you can backup.
The other thing is making sure you got the right club, particularly nice and clean and quite fresh grooves. Professionals will change that golf clubs a couple of times a seasons to make sure that grooves are nice and fresh. Now clearly they don't have to pay a lot for the wedges and the pricing an awful lot. So you don't need to change your club every season but maybe every two years, three years, if you are playing a lot maybe every season, just so you get the grooves, recut or get a new wedge just to keep the grooves nice and fresh and sharp. That way when you chop down on the golf ball you will get a little bit more backspin that will check upon the green a little bit better.
So the pros aren't necessarily trying to get more spin its just a product of a good ball strike. And the feature of a good ball strike, playing the ball around about in the center of your stance, play your hands slightly in front and through the impact position your body weight should be nicely in front as well. This will produce a descending blow on the golf ball. So the ball here, club will come down, grooves me ball, imparting backspin and then you will take a divot. If your divot is behind the golf ball clearly you won't be generating much spin because you won't be generating a good enough contact, you would be taking divot, the grass gets stuck on the leading edge of the face that imparts no real level of backspin on the ball, the ball will fly quite weakly. So we want to be hitting ball and then turf.
And here's a great little tip for you, if you set yourself up and then lift your right heel into the air, that throws a fair bit of bodyweight to the left side. Now when I swing, keeping my right heel in the air, I should be really chopping down on the back of the golf ball to focus on a good quality strike. Anytime you get caught leaning back on your back foot trying to scoop the ball into the air that isn't how we impart spin on the ball.
So as a drill and exercise and only that, lift your right heel into the air, set your bodyweight to your left hand side, strike down and really focus on how the feeling that was to hit down into the turf, taking a big chunk on the mat and the right heel stays at the whole time, so my body weight is always on my left side. Ultimately when you chip, that heel would go down but it isn't heavy a lot of my bodyweight here is still into my left hand side to encourage me to strike down. So good impact positions, nice quality golf ball, nice clean dry grooves and a decent green and that's when you will start seeing the ball backspin a little bit more.