It All Starts With The Golf Grip
(Video)
- by Peter Finch
---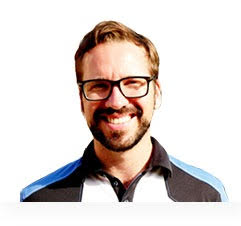 Pete Finch – PGA Teaching Pro
Now you can't really talk about starting to feel the club head a little bit better without first of all relaxing and making sure that the grip is absolutely bang on where you need it to be. Now generally speaking most players will benefit from the neutral to a slightly strong grip, now what that will consist of is the club head rooting from the base of the little finger through the hands of middle of the index finger before that left hand wraps over. And as you look down on this grip, you want to be seeing about two and a half knuckles and that V in the left hand pointing towards the right shoulder. As the right hand goes on, it covers the left thumb within the lifeline of the right hands and sits nice and relaxed on the top of the grip.
Now that's a very, very basic neutral grip but the most important thing as far as feeling of the club head is concerned is that it is nice and relaxed. A very easy test for you guys to do with this is if you go through that grip routine and you hold the club head out in front of you like this, just so the wrist are pretty straight, not that it's got much of a cocking, it's just nice and straight and then grip the club as tight as possible. Now just notice here what happens, my hand and my arms are very, very relaxed and without trying to by just tightening over the grip just notice how that club head starts to rise.
Now as that club head starts to rise I cannot get a sensation of where it's up, I can feel the tightness in my forearms, I can feel the tightness in my hands but I can't feel the club head. If I relax this grip pressure down to maybe if you scale from 1 to 10, 10 being the tightest which I am now, 1 being the lightest if I scale this all the way down to a 2, all of a sudden I have a much greater sensation of where that club head is within my hands. So when you're playing your game, if you can grip that golf club at probably around a 3 or a 4 you will get a much greater sensation of what is happening throughout your swing. The tighter that you grip on to the golf club the less sensation that you will have of where the club head is.
Go ahead experiment, try that grip as light as possible and you will definitely get a greater sensation of where the club head is throughout the entire swing.