Golf Shoulder Alignment, How Can It Effect My Shots?
(Video)
- by Natalie Adams
---
Alignment is one of the biggest keys to hitting successful golf shots.

While most players obsess over the actual moving parts of their swing, the alignment a golfer uses before hitting a shot has just as much to do with the outcome. Take the time to make sure your body is in the right position before you swing and the game will immediately get a little bit easier.
In this article, we are going to discuss the importance of shoulder alignment in the golf swing. To be sure, this is a piece of the golf puzzle that is overlooked by nearly every amateur player. Only accomplished golfers tend to understand just how important shoulder alignment is as part of the address position. When the average golfer lines up a shot, he or she will usually do nothing more than check their feet before swinging away. The position of your feet is important, of course, but your shoulders should not be overlooked. We hope that you will have a newfound respect for the importance of shoulder alignment by the time you are finished reading this article.
We need to point out before getting too far into this article that successful golfers are those who are willing to work on the 'boring' parts of the game. Is working on your shoulder alignment going to be a thrilling experience? No, probably not. Are you going to be telling your friends about how you spent 15 or 20 minutes practicing your shoulder alignment on the driving range? Again, no. This is not an exciting activity, and it isn't one of those golf memories you will hold onto for years. So why do it? Simple – if you are serious about playing better golf, you have to commit yourself to improving at the little things. It is the small pieces that come together to lead to great performance on the links. Golf doesn't give anything away for free. In order to enjoy the experience of hitting great shots and playing great rounds, you need to first put in the effort in practice.
All of the content below is based on a right-handed golfer. If you happen to play left-handed, please take a moment to reverse the directions as necessary.
The Value of Square

If you have played golf for any period of time, you've almost certainly heard the term 'square' passed around among players. This word is actually used in a variety of ways in golf, so there may be some confusion in your mind as to what square means, and why it is important. For this article, we are going to be using the word square in the context of your shoulders at address. When you set up with your shoulders square to the target line, you'll greatly increase your chances of hitting a solid shot.
What does it mean to have your shoulders square at address? Quite simply, it means that the imaginary line formed by your shoulders when you stand over the ball is parallel to the target line you are using for the shot. There are three options that you can run into when setting your shoulders before starting a swing. If you are lined up with your shoulders parallel to the target line, you are in a square position. If your shoulder line is pointed out to the right of the target, you are closed at address. Should your shoulder line happen to be pointed out to the left, you'd be in an open position.
While it is technically possible to play good golf from any of those positions, most players are going to experience the best results when they find a square position before the swing begins. The value of getting square is that it simplifies the golf swing overall. You shouldn't have to make as many compensations during your swing to get back in a good position, since you started in a good position before the swing started. A square shoulder position is going to promote a takeaway which works directly back away from the target, and that is ideal. Golf is a hard enough game as it is – you don't want to make it harder by complicating your swing unnecessarily.
To highlight the importance of starting out with your shoulders square, let's take a moment to discuss what may go wrong if you take your stance using an open or closed shoulder position.
Closed shoulders. Of the two mistakes you can make here – open shoulders or closed shoulders – finding yourself in a closed position is the more common of the two. Many golfers wind up closed at address completely by accident. Despite trying to square up their shoulders over the ball, plenty of golfers wind up closed. If that happens to you, there are a few things which are likely to go wrong with your swing. First, you are likely to take the ball back to the inside of the target line, crowding yourself during the backswing as a result. Without as much room to work as you get near the top of the swing, you'll likely push the club away from your body – resulting in the dreaded over-the-top transition that is so commonly associated with a slice. If you manage to avoid the slice, it's still likely that you will struggle to produce the kind of power that you would like to have in your swing. Starting from a closed position shortens the overall length of your shoulder turn on the way back, limiting how much speed you can develop before making contact with the ball. For most golfers, moving from a closed position at address to a square position is going to lead to dramatically improved outcomes.
Open shoulders. As we mentioned in the point above, this mistake is not as common as having the shoulders closed at address – but it does happen. When you start off your swing with your shoulders in an open position, you'll be asking for trouble. In a successful golf swing, the arms work together with the upper body to deliver the club to the impact position at the perfect time. If you start with your shoulders open, you are basically giving them a head start. Once you have swung back to the top of your swing and then down to the ball, it's likely your shoulders will still be ahead. That means the club will be trailing behind, in what professional golfers often call a 'stuck' position. Getting stuck typically leads to either a push or a hook, depending on the position of the club face through the hitting area. To avoid getting stuck, you'll need to make some kind of change to your timing in order to get back on track, since you are starting from a disconnected position. Rather than having to make such an adjustment, it will be easier to just start with your shoulders square in the first place.
The lesson we would like you to take away from this section is simple – starting with your shoulders in a square position is the easiest way to produce a reliable golf swing. If you are willing to work on your setup position in order to square up your shoulders on a consistent basis, it's likely your game will take a big step forward.
Check Yourself

Now that you understand why it is desirable to have your shoulders in a square position over the ball, the obvious next step is to evaluate your current stance. After all, if you are already placing your shoulders in a square position at address, there isn't any reason to work on this point at all – you can spend your valuable time working on other things. Take a bit of time to check on your shoulder positioning within your current swing in order to decide whether or not further action will be needed.
There are a few options you may be able to use in order to check on your shoulder position at address. Those options are listed below.
A self-check. Despite the fact that it's pretty difficult to see the position of your shoulders while standing over the ball, you may be able to check on your shoulder position with the use of this handy tip. During an upcoming practice session, take your stance over the ball just as you would when hitting a shot. However, instead of hitting the shot, you are going to stop first and see how your shoulders are lined up. Pick your club up from address and hold it across your shoulders. One end of the club shaft should be pressed up against the front of your right shoulder, with the other end of the shaft held against your left shoulder. Just like that, you will be able to visualize the line that your shoulders are creating at address. Does it seem like you have done a good job of matching the target line? You still might not be able to get a great look at how you've done when using this method, but it's better than nothing.
Turn to video. If you would like to get a better look at how you are doing with your shoulders, opting to record your swing on video is a good choice. Ask a friend to record your swing for you during an upcoming trip to the range. If you hope to check on your shoulders prior to the start of the swing, the best angle for the video is known as 'down-the-line'. From the down-the-line angle, you will be able to easily see how your shoulders are positioned and whether or not you've squared up successfully. To record a video from this angle, have your friend stand on an extension of the target line, several feet behind where you are making your swing. In other words, as you stand over the ball, your friend should be to your right, far enough back to stay out of the way of the swing.
Bring in a professional. If you simply want to figure out if your shoulders are open, square, or closed at address, you probably don't need to work with a pro. However, if you want to get to the bottom of this issue and then immediately work on finding ways to improve, taking a lesson is a good idea. During your lesson, mention that you would like the pro to evaluate the position of your shoulders at address. Not only will you get feedback on your positioning, but you'll also be likely to get recommendations on how you can improve by making certain changes. It's always good to have confidence in golf and working with a pro can provide the confidence that comes with knowing an experienced teacher has evaluated your technique.
Don't make the mistake of charging ahead and making changes to your swing without first taking a moment to figure out how your shoulders are positioned and if they actually need to be changed. If you do need to make a change, the information in the next section should be of assistance.
Making Changes

If you are like the average amateur golfer, there is a fair chance you'll need to make some kind of adjustment to your shoulder position. Whether you are open or closed at address, working back toward a square position is likely to help you improve the quality of your ball striking. Unfortunately, it's usually not as easy as just turning your shoulders a bit and going on about your business. Over the years, you've probably built compensations into your swing – without knowing it – that help to make up for your shoulder position at address. By moving your shoulders square over the ball, you'll be eliminating the need for those compensations. However, they aren't just going to go away on their own. You'll need to work hard to simplify your swing from top to bottom before you can see the results you desire.
The tips below are divided into two groups – those moving from open to square, and those moving from closed to square.
Open to square. For those used to playing from an open shoulder position, moving into a square position before the swing begins is going to feel a bit odd, to be sure. It's likely that you've used a lot of hand action previously in your golf swing, since it's tough to get the shoulders properly involved from an open position. So, the first thing you will want to work on is improving the quality of your takeaway. Eliminate the hand and wrist action from your takeaway while letting your shoulder rotation do the work of taking the club back away from the ball. You may be surprised to find just how helpful this one seemingly small change can be. The other point to watch when you adjust from open shoulders to square shoulders is the way your lower body works in the downswing. You have probably been swinging the club using mostly your upper body for as long as you've had your shoulders open at address. With your shoulders square, you can now engage the rest of your body more effectively. From the top of the swing down to impact, make sure your lower body is turning hard toward the target. Incorporating your lower body properly is going to open up the possibility for more power in your swing than ever before.
Closed to square. Making the change from a closed shoulder position to a square one is a completely different conversation than the one above. Here, the biggest change is going to come in the way the swing feels and the flight of the ball once it leaves the club. With your shoulders closed to the target, it's almost certain that your takeaway was to the inside – whether you used your hands actively or not. Once squared up, your inside takeaway should disappear, and you should be in a much better position from which to strike the ball. That's great, but it is going to mean dramatic changes for your ball flight. You may now hit the ball a bit higher than you did previously, and the shape of your shots is likely to change as well. Spend plenty of time on the range getting used to these changes so you can deploy them effectively on the course.
It's never easy to make changes in golf. Old habits die hard, as the saying goes, and that is certainly true in this game. You are going to have to put in plenty of effort if you want to successfully transform the way you swing the club. Perhaps the biggest key of all in this process is going to be patience. You will have to be patient with yourself on the range, as the first few shots you hit probably won't look very pretty. Over time, however, you should see your new technique round into form. Stick with it, don't get frustrated early on, and look forward to raising your level of play in the future.
Shoulder Alignment in the Short Game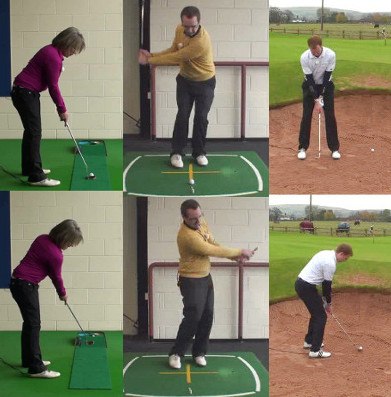 It would be a mistake to end this article without touching on the importance of shoulder alignment in the short game. As you might expect, it's important to have your shoulders in the right position when you are trying to play any kind of short game shot, whether it is a putt, a chip, or a pitch. With that said, finding a square position is not always the right way to go. Let's work through the various types of shots game shots to discuss how your shoulders play a role.
Putting. When putting, it is a great idea to start with your shoulders as square as possible to the target line. The key when putting is to keep things simple and starting from square is a great step in that direction. In addition to making sure your shoulders are square at address, check on the position of your feet, knees, and hips as well. Do your best to find square positions throughout your body so you can simply rock the putter back and through in order to send the ball on its way.
Chipping. Unlike putting, many golfers find that they have good success chipping from a slightly open stance. That means the feet are open to the target line, and the shoulders are a bit open as well. There are a couple of benefits to setting up with your shoulders open when you want to chip. First, this setup will help you get a good look at the target, which may boost your confidence. Also, open shoulders are going to encourage an outside-in swing path, which is going to help the ball get up in the air.
Pitching. As you move farther back away from the green, it's a good idea to once again return your shoulders to square. While you can certainly pitch from a slightly open stance if you would like, many players find that it is more productive to stay square on these kinds of shots. Experiment with both an open and a square stance on your pitch shots to see which yields the best results.
Greenside bunker shots. Finally, we want to touch on greenside bunker shots, as they are obviously an important part of the game. The way you set your shoulders here is going to depend on the type of shot you need to hit. If you have a good lie and want to get the ball up in the air quickly, set up with your shoulders open to the target. When you draw a bad lie and simply need to get down through the sand to get the ball out of the trap, set up either square or a bit closed.
Shoulder alignment certainly plays a big role in the kinds of shots you are able to produce on the golf course. Hopefully, the ideas in this article will help you work on this part of your technique in the weeks and months to come. Good luck!
How can shoulder alignment affect my golf shot? The shoulder alignment is really key if we are going to hit straight shots and once you setup to the golf ball because we want to swing the club along the target line with the club face aiming down that target line to produce a straight shot we have got to make sure that you start your body in a position where its parallel to that target line. If you start in a potion where you are parallel to the target line it makes it much easier to swing the club head along that target line and if the club head is swinging along the target line as you strike the ball with the face aiming down the target line you will hit a straight shot. So the correct position to be in would be that as you setup you're looking to get your toes knees, hips and shoulders all parallel to the target line and that's a good drill to just put the club across your shoulders and then have a look of how the club across your shoulders looks compared to the target line which is represented by the yellow alignment pole there. If its parallel to it you are in the right position, if you start with your shoulders turned more to the left as you swing the club back you will tend to find that the club head moves outside the target line so it moves to the far side of the target line.
And that's now going to make you swing very upright and as you swing back down you will swing the club head across the target line rather than down it, that's now going to make you either hit the ball straight left or if the club face is aiming at the target as you do that you are going to get a slice. So again correct the shoulders if the shoulders are aiming too much to the right which you can see here, as you take the club away you will swing the club too much on the inside of the target line, this is now going to make you swing quite low and flat and as you come back in you will approach the target line from too much on the inside you will be arcing around too much and you will hit the ball out to the right as the club goes across the target line or you will hook the ball right to left if the club face is aiming at the target.
So to hit straighter golf shots work on setting your alignment to your toes your knees – your hips and especially your shoulders are all parallel to that target line; they will get you hitting much straighter golf shots.