Causes and Cures: Pushing Your Putts - Golf
(Video)
- Lesson by PGA Pro Pete Styles
---
When was the last time you posted a good score while having a bad day on the greens?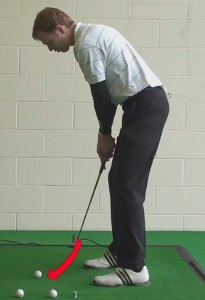 If you are like most golfers, the answer to that question is easy – never. It's nearly impossible to play a great round without making plenty of putts along the way. Sure, your ball striking needs to be up to the challenge if you are going to play well, but performing nicely with the flat stick is required. It is your putter which is going to do the job of finishing off each hole, and you'll use this club more than any other in your bag.
In this article, we are going to deal with one specific type of putting struggle – pushed putts. A pushed putt is one which starts to the right of the target line and winds up missing to the right of the hole (for a right-handed golfer). This is not the same thing as misreading a putt and having it slide by on the right edge. Instead, when you hit a push, you have done something wrong during the stroke which caused you to start the ball to the right of your intended line. These kinds of putts are particularly frustrating because you know they are going to miss from the moment they leave the face. You don't even get a chance to hope that this type of putt will fall in – it's missing right the whole way, and you'll probably start walking before it even stops rolling.
Pushed putts are extremely common in the amateur game, and they even give professional golfers trouble from time to time. Our first goal in this article is to figure out what kinds of mistakes can lead to pushed putts in the first place. Once that is out of the way, we'll look for some cures to get you back on track. Also, we will discuss how you can improve your putting practice routine in order to make progress, and we'll highlight the importance of using the right putter. There is a lot of ground to cover in this article, so let's get started!
All of the content below is based on a right-handed golfer. If you happen to play left handed, please take a moment to reverse the directions as necessary.
What Causes a Pushed Putt?

You can't fix problems that you don't understand. This line of thinking applies throughout the game of golf, and it applies off the course, as well. Before you can solve an issue and move forward successfully, you need to understand what the issue is and why it keeps coming up. In this section, we are going to present a few different potential causes for pushed putts. Think about your own putting stroke while reviewing this list – most likely, one or two of these points will sound familiar.
Head movement. Ideally, your head will stay perfectly still during your putting stroke. It won't move while the putter swings back, and it won't move while the putting is swinging forward toward the target. Only when the putter has come to rest and the ball is on the way should you feel free to look up and see how you've done. Of course, while it is easy to say that your head should stay still, it is much harder to actually make this happen. You are anxious to see where your putt is headed, so you are likely to look up a bit early. If you do make that mistake, the putt you strike could very well wind up pushed to the right of the target. Moving your head is going to take your upper body out of the stroke, even if only slightly, and the blade of the putter will probably hang open as a result. From the outside, this kind of mistake won't look like much, but putting is a game of small margins. Missing your target line by even less than an inch is enough to turn a success into a failure. The solution here is so obvious that it probably doesn't even need to be said – hold your head still. No, it's not going to be easy, but that's exactly what you need to do if you'd like to make more putts. Work on this key fundamental consistently during practice and take it with you out onto the course.
Poor path. The putts you hit don't have a chance to curve in the air in order to get back on target. When you hit a full shot, you can push the ball out to the right a bit, but the shot may work out if it has enough draw to get back. That's not the way it works when you are putting. Sure, there will be slope in the green that causes the ball to break, but that break is already built in to the line you have selected. To make putts, you have to hit your target line with impressive consistency. For that to happen, your swing path with the putter needs to be precise. You need to swing back and through on a path which will allow the ball to leave directly on the line you intended. If there is a mechanical issue in your stroke which is making it difficult to trace a good path, pushed putts are going to happen (along with some pulled putts, most likely). In the next section, we will talk about how you can work on improving the mechanics of your stroke to achieve better outcomes.
Rushed tempo. If you haven't thought much previously about the tempo you use during your putting stroke, you certainly aren't alone. This is a part of the short game that is consistently overlooked, yet it is quite important. With regard to pushed putts, it tends to be the putting strokes which are rushed from start to finish that wind up hanging out to the right. If you rush through the stroke, the arc of your putting stroke is not going to work properly. You'll cut off the backstroke and force the club forward into the ball prematurely – meaning the face will likely still be open to the target line. Of course, it's easy to find yourself rushing your stroke because of the nerves that come into play on the greens. Finding a steady tempo that you can use for all of your putts is one of the biggest steps you can take toward lower scores.
As you might suspect, there are more potential causes of pushed putts than just the three listed above. These are common issues, however, so starting here makes a lot of sense. Do your best to determine whether or not any of these three problems is plaguing you currently and go from there. The sooner you can work these issues out of your stroke, the sooner you can see your putts drop into the bottom of the cup with regularity.
Making the Necessary Corrections

Now that you have a good idea of what it is that can cause you to push putts out to the right of the hole, the next step is to make corrections to bring your putts back closer to the target line. This section is a tough one, because we have never seen you swing the putter. Telling you the exact corrections you need to make would be impossible, because that is a job for a one-on-one golf lesson.
With that said, we can provide you with some basic tips that may be able to help you work toward improved results. Try these out during an upcoming practice session and adjust as you go based on the results.
Getting into a square position. It may be that your pre-putt setup is causing some of the problems you are having on the greens. Take some time during a practice session to make sure everything is squared up and ready to go before starting your stroke. First and foremost, that means you want to have your feet square with the target line. Once that is checked off, you should also confirm that your shoulders and hips are square, as well. With your body working together nicely from top to bottom, it will be far easier to swing the putter directly down the line toward the hole. It would be a shame to push some of your putts simply because you never took the time to build a stance that you could trust putt after putt. It's a little boring to work on your putting stance but doing so can pay big dividends.
Pay attention to grip pressure. This is a sneaky way to wind up with putts that are pushed to the right of the target. Grip pressure is an important fundamental in the game of golf, yet many players manage to ignore it completely – whether on the greens or when making full swings. When putting, you want to use a rather light grip pressure, letting the putter hang freely in your hands. The idea is to hold on just tight enough to keep the club under control, but no tighter. If you are squeezing tightly throughout the stroke, the release of the putter is going to be restricted and the face may be open at impact. Pay close attention to this fundamental during practice and make sure your grip stays as light as possible. It will take a bit of time to get comfortable with holding the putter this way, but you'll gradually gain confidence and come to see how your stroke can improve as a result of the change.
Work on your takeaway. Since the putting stroke is such a short motion, the takeaway is incredibly important. If something goes wrong during the takeaway – for example, you pull the putter way to the inside of the line – it's going to be almost impossible to recover later in the stroke. You need to get off to a good start, so take some time to work on your takeaway during practice. One way to improve your takeaway is to use a couple of golf tees as a 'gate' that you need to swing through on the way back. Position these tees a few inches behind the putter head at address, with one just outside the toe and one just inside the heel. If you can swing back through this gate, and then through it again on the way through, you'll know that your stroke path is in good shape. Be warned – this is not as easy as it sounds. If you are willing to be patient and work on your ability to complete this drill, your stroke should improve, and your pushed putts should fade away.
It's always an option to work with a golf professional when you need help with your putting stroke. Feel free to get started by working on your own, but don't be afraid to turn to a local pro if you just can't manage to make progress on your own. Putting is a significant challenge and having an experienced pair of eyes watch you roll the ball may be exactly what it takes to breakthrough.
Building a Practice Routine

For many amateur golfers, the right way to practice putting is a bit of a mystery. While most players know that it is important to practice their putting, they might not really know how. So, in the end, they just wander out to a practice green and roll a few putts back and forth before heading to the driving range. Of course, you can do better. If you take the time to build a solid practice putting routine, you should be able to get out of the habit of pushing your putts to the right.
There are a few things that you want to accomplish when practicing your putting. First, you want to make sure that your practice replicates your on-course putting experience as closely as possible. Second, you want to cover all of the various areas of putting, such as short putts, long putts, downhill putts, etc. Also, it is a good idea to find a way to put yourself under some pressure during practice. You'll almost certainly feel nerves from time to time while putting on the course, so replicating those feelings in practice will help you tremendously later on.
With those goals in mind, let's look at three keys to think about while building your practice routine.
Use only one or two golf balls. Many golfers toss down several golf balls when practicing their putting, as they stand in one spot and hit putt after putt on the same line. There is only one problem with this plan – you will never do this on the golf course. You only get one chance at each putt while on the course, so you should put yourself in a similar situation in practice. We would recommend practice putting with just a single ball but using two is acceptable if you prefer. This practice method is going to force you to reset after each putt, rather than just rolling one after the next without much thinking. Also, you'll be more likely to focus intently on each putt since you are trying to move through a pile of golf balls as quickly as you can.
Short and long. Make a point of practicing both short putts and long putts during your visit to the putting green. We would consider a short putt to be anything inside of five feet, while a long putt is something beyond 30 feet or so. Short putts are important because you need to knock them in to avoid wasting strokes, and long putts are crucial because they can set up short putts (hopefully for par). On short putts, your focus should be on hitting the line precisely, as even a small push here can cause you to miss. When putting from long range, you don't have to worry quite as much about the line, as it is speed control which will be your main objective.
Find as many slopes as possible. Hitting your line on a straight putt is one thing – hitting your line on a slope is something else entirely. Your stroke may feel different when standing on a slope, and you also may find that you struggle to focus on the stroke itself while also worrying about the break of the putt. The only way to get over this issue is to practice on slopes as much as possible. Hopefully, the practice green at your local course has at least a few sloped areas that you can utilize. Make sure to practice putting across those slopes in all directions to give your stroke a complete workout.
Ultimately, you will need to build your own practice putting routine based on the practice green you have available, the weaknesses in your game, and more. Take some time to think about what you need to work on with regard to your putting and make sure your routine touches specifically on those points. Whether that is trying to get rid of your push, or something else, it only makes sense to attack your weaknesses.
Finding the Right Putter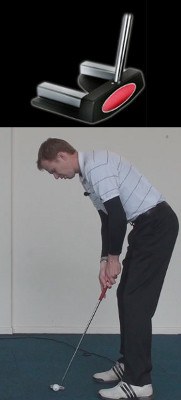 Most likely, the pushed putts you are dealing with on the course are a result of a fault somewhere in the mechanics of your stroke. However, it is also possible that at least some of the blame can be placed on your putter itself. If you aren't using a putter which is a good match for your needs, the club could actually be a big part of the reason that you are missing to the right.
The main issue to be concerned with here is something known as lie angle. The lie angle of your club is the angle at which the club shaft comes up from the ground when the club head is resting on the ground. The right lie angle to use will vary from player to player, based on things like height, arm length, stance, and more.
If you are pushing your putts, it's possible that your putter features a lie angle which is too upright for your needs. When this is the case, the heel of the putter will be up off the ground at address, and the face will point out to the right of the target as a result. Even if you make a perfect stroke, the lie angle problem is going to result in a putt that misses to the right. To get the most out of your stroke, you'll have to find a putter that suits you.
So, how do you find the right putter? Getting professional help is probably the easiest and quickest way to settle on a new flat stick. You can ask your local golf shop if they have club fitting services available. Most golf facilities offer club fitting, and some will even do it for free if you buy a club from them at the end of the fitting. Going through this process should make it easy to find the right putter, and your putts should straighten out quickly. In addition to the improvement that comes with having the right putter in your hands, you should also notice a boost in your confidence level on the greens. You will know that your putter is no longer standing in your way, so it will all come down to the quality of your stroke and the accuracy of your read.
Consistently pushing putts to the right of your target is a frustrating experience. We hope the information included in this article will help you straighten out your stroke and make more putts in the process. Be patient with yourself while working on your putting, as this is one of the most difficult parts of the game. With any luck, you'll start to hit your target line more frequently in the near future, and your confidence on the greens during rounds of golf will grow by leaps and bounds. Good luck!
If you're missing lots of putts on the golf course and you've been able to identify why those putts are missing and where they're missing. If they're always missing to the right-hand side, that's what we describe as a pushed putt, pushing it to the right-hand side of target. So let's have a look at how your stroke is causing that ball to miss on the right-hand side. A couple of issues to consider firstly. One would be making sure that you're aiming in the right direction to start with, making sure that you're not too far back from the ball, making sure that you're not stretching for the ball in the setup position, also making sure that the golf isn't positioned too far back in your stance. The ball position when you're putting should be a good sort of 6-iron position nicely ahead of center. I think that would help you out when you're putting if you think about have the ball positioned like a 6-iron.
The main cause of pushed putts is going to be club face is pointing for that direction as you impact the ball, not necessarily at setup, as you impact the ball. The club face would effectively be open to the target making the ball set off on that line. But that could be because your putting stroke is coming from the inside too much pushing to the outside, forcing the club face to stay open and pushing the ball to the right. Some people actually counter that by taking the club across the target line, effectively making a pull with their stroke. But then they don't want the ball to go left so they open the face up quite severely, pointing it to the right of target and they still push the putt even though the club is actually on out-to-in swing path. So we want to really make sure that we've got everything lined up nicely and evenly to start with, with a correct distance away from the ball with the right ball position. Then the club should come back evenly and through evenly.
And here's a nice little exercise to see whether you're struggling with this. We can set our ball up. About a foot in front set two more golf balls up. They're going to be about four to six inches apart. The tighter those are, the better and this is a great way of identifying whether you've got a pushed putt. You would then place your target hole directly in line with the middle of that gateway and if you make a stroke where the ball sets off and goes to the right-hand side more towards the outside ball, then clearly that's identifying that you have a push in your stroke. So practicing with a little gateway here would encourage you to help that stroke come back and through much more evenly. My club should go between the gateway. The face of my club should still be nice and square and that should encourage me to avoid an out-to-in an in-to-out or an uneven club face position. If I can execute that drill a few times in practice, that should improve my chances of not pushing the putt.