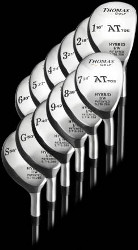 Good morning Sal!
Well, as promised here we are again to tell you that your clubs are just in
one word: GREAT!
We went out to play a round and in all circumstances the results of my play
had improved tremendously.
The most important thing is that the approaches towards the green from
distances lying between the
60 and 150 meters went very fearless and very accurate. In the past I had
many problems playing
the 5, 6 7 8 irons, so I used my hybrid 4 with a shorter swing tee-ing high
up to play a par 3 over water of 135 meters!!
Can you imagine how happy I was to make a par there using the Thomas hybrid
iron 5. It went a bit too far
so next time I will use a 6 there.
I have to get used to the distances of course and the role after landing on
the green, that is logical. In the beginning I
was hitting a lot to the right, but that was quickly repaired.
I am very very grateful to have found your site and I will recommend these
clubs to everybody struggling
with shanking or accuracy with normal irons. It has given me my confidence
and joy back in the game of
golf! At last my wife AND I went home with a satisfied feeling of having
BOTH played a lovely round of golf.

---
Many thanks once again,
best regards,
Jody