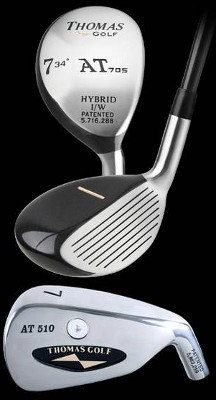 Very pleased!
Sal,
I recently received my new AT510's (6-P,G,SW) and the 5,4,3, AT705 hybrids and in a word, 'Awesome'. The craftsmanship, beauty and luster of the irons and hybrids are second to none! The past couple of months I had been researching and 'hitting' several different irons among the top-brand names: Titleist , Cleveland , TaylorMade , Calloway X, and Nike, which are all extremely popular and well made clubs. I was literally a 'press of the button' away from purchasing Titleist's, but hesitated and went back to the search. When I found Thomas Golf on the web, I began reading about the patented alignment, the new AT510's, and most very review. I know what my strengths and weaknesses are on the golf course, and directing and hitting the ball to target has been one of my biggest challenges ~ and in two words, 'poor alignment'! When I'm in the rough or having to hit out from behind a tree it has usually been the result of a misaligned shot … and admittedly in some cases just a bad golf swing ~ but the former more so than the later.
On faith (and intuition) alone, I purchased a set of the AT510's and the AT705's hybrids ~ risky endeavor (I know) but I took the chance. When I first hit the AT510 irons I became really nervous and concerned. My first few shots were all to the left (and being left handed), this was not a good sign. After a few driving range experiences and becoming familiar with the feel and adjusting to new clubs, I am now absolutely convinced that I made the best decision and right choice to purchase the Thomas clubs. I'm actually hitting my 7 iron 175 yards and ON TARGET! It is truly a great feeling to hit a golf shot with deliberate intent … and golf has just become a lot more interesting and FUN!
I need no further convincing ~ I'm now producing results that will directly impact the lowering of my handicap ~ but honestly, lowering the handicap is a goal but more importantly, hitting a clean, pure and effortless shot is far more important and a lower handicap will come as a result.
The price of the AT510's and AT705's was respectable and comparable to some other (stock) top brands, and definitely less by a couple of hundreds of dollars for other (stock) brands. But, if I were to adjust the comparable prices and include a custom built to specifications, as I received with Thomas, my guess, I saved money! I recently purchased the new Ping driver and 3 wood (over $500.00), and I'm very tempted to purchase the Thomas AT460 G series driver and 3 wood ~ it's just too hard to justify the additional expense ~ but if only if I had known ~ however, I like the idea of all of my clubs being Thomas!
Thanks for a great product, beautiful craftsmanship, and the brilliant ideal of an 'aiming indicator'.
Sincerely,
John