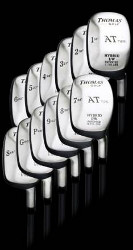 I am extremely pleased with the new hybrid clubs 6 to PW and putter that I just purchased. I wish I had discovered you sooner. With conventional woods 1,3,5,7,9,11 and this new set of hybrids I have all the tools I need!
THANKS!
J.
---
I just wanted to give you a success story. I have been playing for 15 years with no real improvement. Only last year I scored a 110 at my local course. Since playing Thomas Golf clubs, I have taken shot after shot off my score, and on the same course that I had my 110, I shot 93 and 92 in my last two rounds.
Thank you for your clubs.
John