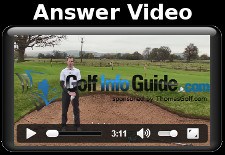 You're Correct!


Course management is a vital part of any players game, regardless of whether they have the best swing in the world or just starting their golfing journey.
---
A player with good course management and a clever head on their shoulders can out think, out wit and out play a player who is technically better than they are because the positioning of balls
on the fairways, the greens and avoiding hazards can all play a huge role in making better scores on each hole.
Every player uses course management but there are only a select few, better golfers, that really use it correctly.
For example, an 18 handicapper steps on to a 400 yards Par 4 with out of bounds right and water 220 yards up and on the left. The first thought is to keep the ball in bounds and then avoid the water. Most players would try and hit driver and keep the ball in between both dangers. However, the smart play would be to use a hybrid
that goes no more than 210 yards, hit it towards the water, keep the second shot in play, hit on to the green and two putts for a bogey nett par.
The most common way for players to play would be to aim away from the water and hope it doesnt slice right into the out of bounds. If it does, it is then a penalty on the tee and they would be playing the 3rd shot. If the third shot finds the golf course, the player will probably make a minimum of a six.
Players should consider taking a hybrid for short par 4s. Although their instincts may say to use a driver and get as close as possible, the danger will also be closer, potentially causing dropped shots where you would expect par or even catch up on your handicap.
These decisions are not to be taken lightly and can be the difference between playing your handicaps, winning a tournament or even making the cut at professional level.
Sorry Try Again! - See Explanation Below
A hybrid will go a lot shorter than your driver because of its length and extra loft, however, with these attributes it can also go straighter and keep the ball in play. You need to be comfortable hitting hybrids to gain their full value.
Sorry Try Again! - See Explanation Below
You have chosen to hit a hybrid from the tee to add more control and accuracy to the hole in order to hit the green and gain the score you want for your handicap, but you are also aware the ball will not travel as far and you are worried you will need a big second shot.
This is a genuine concern. Control and accuracy needs to work in conjunction with good timing and tempo and hitting the ball harder will sacrifice all of this.
Sorry Try Again! - See Explanation Below
The driver is used for the first shot on every hole, except par 3s unless needed, however it is not compulsory. A short golf course may only see a player use the driver once or twice or in Tiger Woods case in the 2006 British Open at Hoylake, not at all. The driver should be used when needed and if you feel comfortable.