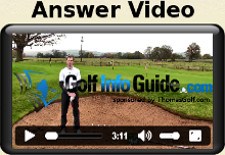 You're Correct!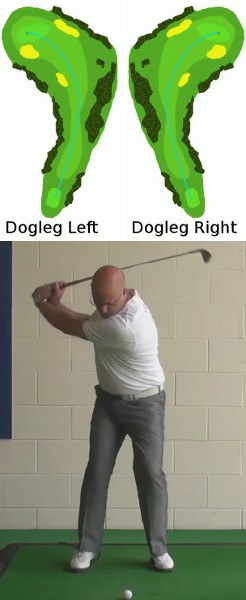 A clever golfer playing to their strengths can hit lower scores than players they would consider better swingers of the golf club purely due to strategy.
---
In every golfer there are strengths and weaknesses in their game whether it be putting or driving so its important to play to these strengths and avoid using the weaknesses as often as possible.
When it comes to a dog leg hole, strategy is vital. There is no point in pulling out a driver and carving it into the trees or driving through the dog leg to the other side of the trees. It is also pointless to hit a club that doesnt reach the dog leg (if it is reachable) because you are still most likely to be blocked out for your next shot. Every golf shot has risk and reward but on a dog leg there are a few more variables to consider.
You may ask yourself these questions: Is it worth taking on the corner of the dog leg? Will I benefit enough from this? Can I reach the gap, or is the other side of the fairway from the gap too close causing me to even go too far? Am I accurate enough to shape my tee shot through the gap? Do I need to adjust my standard shape to hit the desired shot?
These are all questions that determine whether you leave the hole with a birdie, par, bogey or worse!
Dog leg holes are usually rated as some of the toughest on a course, many players would expect to have a handicap shot on these holes. So if it is a Par 4, and it doesnt suit a natural shape of shot, aim to play it as a 5 and make the shot up elsewhere on the course.
There are 18 holes to a course so not all of them need to be played aggressively.
Sorry Try Again! - See Explanation Below
There are a very high percentage of golfers who just step straight on to the tee with a driver in their hands before even knowing where the hole even goes or how far they are required to hit their tee shot. These players spend more time in the trees and out of bounds than trundling the fairways in a stress free manner. Golfers have one shot they feel they can regularly hit but they do this shot regardless of the holes shape and length. Club selection from hole to hole can save 5-10 shots per round.
Sorry Try Again! - See Explanation Below
Rule number one of golf: Play your own game.
Every player has totally different strengths and weaknesses, handicaps and golf swings. It is what makes this sport unique. Advice is always nice but no one knows your game better than you. If your buddy hits driver over the dog leg, does this mean you can? Or if he lays up, does this mean you cant get over the corner? Assess your own games strengths and weaknesses and decide if this hole suits and then take the relevant action.
Sorry Try Again! - See Explanation Below
Lots of golfers panic when they see a dog leg golf hole because they instantly see danger and a high number making its way on to their scorecard. The extreme action is to then play ultra-safe by just using the trusty 7 iron to plot their way through the hole. If it is a par 4, they will get on the green in three or four shots and all being well make a two putt for a certain bogey or worse.
A golfer needs to learn to weigh up their options and try to get the ball in the hole in as little shots as possible, even if it means using a hybrid from the tee. At least now the ball is further up the fairway and closer to reaching the green in regulation or maybe one over at the most, rather than bringing double bogeys or worse into the equation.