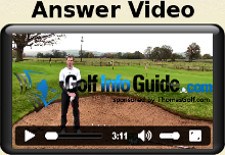 You're Correct!


The grip is the most important factor determining where the ball will fly through the air.
---

A golfer who has a perfect swing but a poor grip will struggle to shoot good scores and keep control over the shot shape.

Having a strong grip will generally close the club face either at address or during the swing causing it to point left of the target. Having a weak grip will cause the opposite and cause the club face to open and send the ball right. The best grip to use for most golfers is one classed as 'neutral and should help keep the club face square throughout the swing. To ensure a neutral grip follow these simple steps.

Hold the club by the shaft out in front of the body with the right hand, with the toe of the club pointing up at the sky.
Place the grip in the left hand so it runs from the base of the little finger up through the middle of the index finger.
From this point, wrap the left hand over the grip. Looking down, 2½ knuckles should be visible on the left hand with the V created by the thumb and index finger pointing up towards the right shoulder.
Place the right hand on the grip with an interlocking/overlapping/ten fingered grip. Whichever type of grip is deployed, players should ensure the left thumb sits snugly under the base of the right thumb.
The V created by right thumb and forefinger should also point up at the right shoulder.


This neutral grip will tend to serve most golfers better than a weak or strong grip and give the most consistent results.

The way you place the hands on the club will have a massive effect on how the ball flies through the air.

Sorry Try Again! - See Explanation Below
Without a solid grip the swing is instantly compromised. A swing with a perfect plane, shoulder and hip rotation will be destroyed if the club face is pointing 30 yards right of the target and adaptions have to be made.
Sorry Try Again! - See Explanation Below
Having a strong grip will tend to send the ball lower than usual and a weak grip will tend to hit the ball higher.
Sorry Try Again! - See Explanation Below
Its true that players using a stronger grip will hit the ball further although this is usually because they de-loft the club, turning a lofted iron into a midiron. Using a neutral grip will help keep the ball straight.