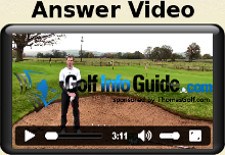 You're Correct!




Par 3 holes are sometimes the most difficult to play because they are more demanding than par 4s or par 5s.

---
With a par 3 you need to strike a good tee-shot to put yourself in a good position. Around the green there is normally a great amount of danger with hazards, slopes and swales, all eager to gobble up an errant shot.

There are a number of ways golfers can look to increase their success. Club selection is always important. Many golfers try to hit too little club off the tee on par 3s trying to force the distance. Get to know your distances and dont be worried about hitting a stronger lofted club, there is no place for vanity on a par 3.

Because a par 3 hole usually features a great deal of danger around the green, taking dead aim at the flag or target is important. If the pin is tucked away in a dangerous position, behind a bunker, for example, try to hit the center of the green. After selecting where on the green, you want to land the ball and zero in on your target. Use a good pre-shot routine and try to block out any distractions.

There can be no doubt that practicing your approach shots will improve your chances of success. Put the driver away at the driving range and practice hitting iron shots instead.
No matter how good you become, however, you will miss some par 3 greens. This is where a razor sharp short game is important. Without a good touch around the green par 3s become very difficult. Dedicate more practice time to putting and chipping.
Par 3s are some of the most difficult and demanding holes in golf. Take time to practice and you will achieve more success on them.
Sorry Try Again! - See Explanation Below
Depending on the position of the match or competition, aiming for the center of the green may not be a luxury you can afford. Take each hole as it comes, select your target and then commit to the shot.
Sorry Try Again! - See Explanation Below
Although par 3s are shorter, this doesnt make them any easier to play. In reality par 3s are often more difficult because they require a great shot into a heavily guarded green.
Sorry Try Again! - See Explanation Below
It doesnt matter what club you hit as long as its the correct one. What you want to hit and what you should hit are mutually exclusive and golfers should not let vanity cloud their judgment.