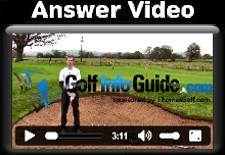 You're Correct!


Every club member has a hole which they never seem to score well on. This 'bogey' hole has the potential to become a card wrecker and needs to be mastered.
---
Bogey holes don't necessarily have to produce just bogies; they could be holes where your best achievable score is a 7! The way to overcome bogey holes is through meticulous planning and preparation.
The first thing a golfer needs to do is figure out which shots on the particular hole cause them the most problems. It could be the tee shot, the approach, or the big bunkers around the green or even a sloping putting surface. Whatever the problem or problems, they must be identified. After they have been identified, players should plan a practice schedule.
Example Scenario
You have a bogey hole at your club. It's a long par 4 with trees and deep rough down the right side waiting to gobble up your slice. If your tee shot is successful the long iron approach needs to be hit over deep bunkers surrounding a large but sloping green. Whatever you try you can't achieve a par. Use this example practice schedule to improve scores.
Driving – Use your time at a driving range visualizing and working on hitting a draw. This could include lessons and hard work but imaging the hole at a driving range and clipping away little draws will help boost your confidence on the course.
Iron approach – Practice hitting soaring long irons. If the long irons prove too difficult look at investing in a hybrid or high lofted fairway wood.
Bunker play – If the approach finds a bunker golfers need to be ready. Practice hitting high floating bunkers shots to prepare yourself for this eventuality.
Putting – because the green is big and sloping these are the putts you should practice. Work on hitting long putts to within a few feet of the hole and then holing out for a par.
When practicing imagine the great feeling you will have when you hole the putt for real and clinch your first par!
---

Bogey holes can be frustrating but can be conquered with good planning and practice.
Sorry Try Again! - See Explanation Below
As tempting and as brave as it might sound, attacking every shot is not trying hard, it's a negation of responsibility. Work on your problems by practicing hard and not going for broke every time.
Sorry Try Again! - See Explanation Below
Although all golfers are better off mentally when they learn to accept a bad score after a hole has been played, accepting a bad score BEFORE a hole is certainly not progressive thinking. Expect better things of yourself but accept the score you achieve.
Sorry Try Again! - See Explanation Below
Good course management involves knowing when to play safe and when to attack. Playing safe every time will not help improve your chances of making a par. Learn when to be aggressive and pick your battles wisely.