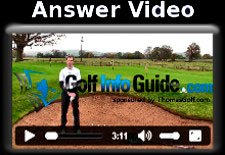 You're Correct!



Todays leading Tour Professionals are obviously the elite of the sport. They have worked on their games, persevered, trained, developed and are at the top of their profession. They are the players who are able to hit the most incredible shots consistently well, week in and week out.
---
These players have absolutely no problem in delivering the club face back to the golf ball and striking from the sweet spot, to deliver the ball flight that they require for any given golf shot. Even though these players are able to demonstrate such a high skill level with their golf clubs, many of them now include a hybrid in their golf bag to replace their 3 iron.
If you look at what is in the bag of the top golf professionals playing on the USPGA or European Tour, you will find a real mix of players choosing a 3 iron and players choosing a hybrid instead. Whether a player favors a 3 iron or a hybrid really is a matter of choice. The player is able to hit both clubs equally well, but will see a slightly different shot profile for each. A ball struck with a hybrid club will tend to have a higher, more floating flight than a 3 iron even though it achieves the same shot length. This is because the hybrid has a larger club head and the weight within the head is further back and away from the club face than the weight position in the 3 iron head. Some players will prefer this ball flight into the green, whereas others will prefer the lower, more boring trajectory of the 3 iron.
Conditions may also influence the players choice of club to carry, as if it is particularly windy when they play, they may favor the 3 iron and the lower flight that this gives so that they are able to control the ball better in the wind.
The player may also be playing a course where they need to shape the ball a great deal to attack pin positions. If this is the case, they may favor the 3 iron in the bag over the hybrid, as hybrids are designed to be easy to hit straight because of the weight positioning in their head.However, this weight position also makes them hit the ball straight and makes it much more difficult to deliberately cause the ball to curve left to right, or right to left.
Professionals do use hybrids and include them in their equipment portfolio, but whether they actually put them in the bag and use them on any given week is dependent upon several factors and ultimately what the player feels they need from their equipment on that week.
Sorry Try Again! - See Explanation Below
A large number of todays Tour Professionals do use hybrid golf clubs to replace longer irons. However not all do. It comes down to personal preference and the course that the player is playing on any particular week. Players have a selection of equipment to tailor their bag to the course that they are facing.
Sorry Try Again! - See Explanation Below
Senior and Lady Professional golfers do carry hybrid clubs in their bags but a large proportion of male professionals have also added them to their equipment of choice. Lee Westwood, Phil Mickelson, Jason Dufner, to name just a few, all carry a hybrid in their bag when they play to replace their 3 iron.
Sorry Try Again! - See Explanation Below
Golf Professionals do not use a full set of hybrids when they play. Even though hybrids are easier to hit, they are much more difficult to play shaped golf shots with. Hybrids get the ball in the air and allow you to hit straight very easily. However, golf professionals use clubs that they can shape their golf shots with, to allow them to hit the wider variety of shots that they require to shoot a low score.