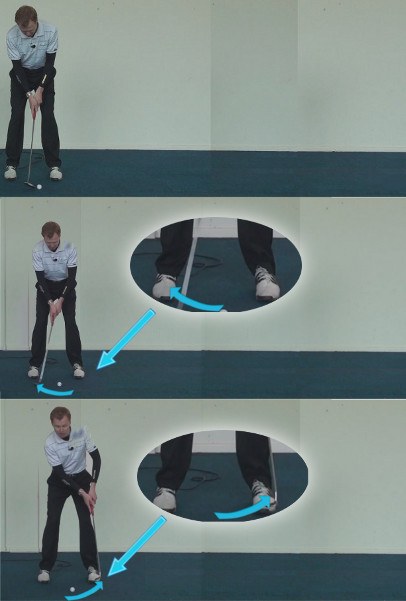 Practically every round of golf brings something different on the greens. Even if you play the same course regularly, green speeds tend to change from one day to the next. And if you bounce between courses, the differences can be dramatic.
Here's a simple way to gauge the pace and calibrate your stroke before heading to the first tee:
---
---
On the practice green, find a level section with at least 15 feet to roll the ball. No cup is necessary.
Set up normally over the ball and take the putter back until it's just past your right (back) big toe.
Stroke the ball with your usual tempo and finish with the blade just beyond your left (lead) big toe.
Hit a few balls this way, then step off the distance to where they finished. If it's four paces, then your toe-to-toe stroke length marks a four-pace stroke.
Return to the original spot and hit 10 more putts the same way. All should stop at about the same distance.
---
---
Once you're on the course, step off the distance of each medium to long putt (preferably without holding up your group). Factor in uphill and downhill effects and apply it to your stroke length. For example, if you step off six paces on a flat putt, your stroke should be about 1.5 times the length of your four-pace stroke.
On putts of 20-plus feet, correct speed is more important than perfect line. This pre-round procedure will help you nail down your pacing and reduce your three-putts. You may just hole a few more long ones, too.