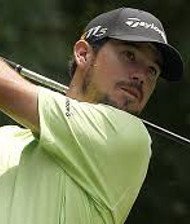 Brian Harman
Height: 5 ft 7 in (1.70 m)
Weight: 155 lb (70 kg; 11.1 st)
Birthday: January 19, 1987
College: University of Georgia
Year turned pro: 2009
Birthplace: Savannah, Georgia, USA
Country: USA
Sponsor: Adidas, TaylorMade, GTL, Group O, Trion Z
Update:
Brian Harman won the 2023 Open Championship at Royal Liverpool by six strokes. He shot a final-round 1-under 70 to finish at 13-under 271. Harman's victory was his first major championship title, and he became only the third left-handed Open champion (alongside Bob Charles and Phil Mickelson), and fifth left-handed major champion (with Mike Weir and Bubba Watson).
Harman started the final round with a five-shot lead, and he never looked back. He played steady golf throughout the day, and he made some key putts when he needed to. On the 13th hole, Harman made a bogey to lose his five-shot lead, but he bounced back with birdies on the 14th and 15th holes to extend his lead to four strokes. He cruised home from there to claim the victory.
Harman's win was a surprise to many, as he had never won a major championship before. However, he had been playing well in recent weeks, and he had finished in second place at the World Wide Technology Championship at Mayakoba and the RSM Classic. He also had a strong record at Royal Liverpool, having finished in the top 10 in both of his previous appearances at the Open.
Harman's victory is a major boost to his career, and it could help him to qualify for the Ryder Cup and the Presidents Cup. He is now ranked 10th in the world, and he is sure to be a contender in future major championships.
American professional golfer Harman, was an expert in the sport from a young age, and was three time 2nd team All-American on the golf team at the University of Georgia. Harman saw other success as an amateur, winning the US Junior Amateur in 2003, the Players Amateur in 2005 and the Porter Cup in 2007.
Having turned professional in 2009, Harman began playing on the EGolf Professional Tour in 2010, and he finished in the top 10, in 11 out of 14 tournament starts. The same year Harman also participated in three Nationwide Tour events, with his best finish being at the Stadion Athens Classic at UGA where he finished in a tie for 18th place. At the 2012 Players championship, Harman was part of an unusual situation, when he actually teed off on his own for the first round. This happened after D A Points withdrew from the tournament and Harman joined, as the first alternate. His original playing partners had already teed off so it was decided to allow him to tee off on his own, as a one off.
Later in his career, Harman qualified for his first major, at the US Open in 2012, and won his first PGA Tour event, at the John Deere Classic in 2014.
Away from the course Harman lives in Sea Island, Georgia, along with his wife, Kelly Van Slyke.
As of the end of 2014, Harman had achieved one PGA Tour win, amassing prize money of $4,470,541.
Brian Harman was born on January 19, 1987, in Savannah, Georgia, USA. He played college golf at the University of Georgia and had a successful amateur career before turning professional in 2009.
Harman earned his PGA Tour card in 2012 and has been competing on the tour ever since. He has recorded multiple top-10 finishes and has secured several victories during his career.
Some of Brian Harman's notable achievements include:
Wells Fargo Championship: Harman won the Wells Fargo Championship in 2017, securing his first PGA Tour victory.
CareerBuilder Challenge: He claimed another PGA Tour victory at the CareerBuilder Challenge in 2015.
The Players Championship: Harman had a notable performance at The Players Championship, where he finished in a tie for 3rd place in 2018.
U.S. Open: He has had success in major championships, with several top-10 finishes in the U.S. Open.
Brian Harman is known for his consistent ball striking, strong putting skills, and competitive spirit on the golf course. He has a left-handed swing and is respected for his all-around game.