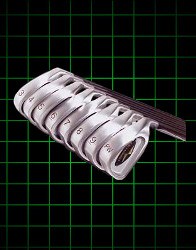 Thomas Golf AT505 Irons (Ladies: Right Handed)Switch Hand
Over-sized cavity-head delivers forgiveness for straighter shots, even on off-center hits
Shots hit there target with the patented aiming indicator
Has the right feel from club-to-club, guaranteed with each club being custom built for you. Free Custom Fitting
Long-lasting durability and solid feel from Stainless steel construction
Also Mix and Match With Thomas Golf AT705 Hybrids
$98

On Sale
Thomas Golf AT505 Irons (Ladies: Right Handed)

Research in visual perception shows that traditional Irons are difficult to align to the target, but the level TOP-PLANE and ALIGNMENT INDICATOR of the Thomas Golf Irons, make for easy alignment of the club to the target line. The golfer's feet, hips, and shoulders can then be easily set up parallel to the indicator and target line. Professional instructors around the world emphasize these factors as the essential elements to achieving a successful swing and ball flight.

I'm sure you've heard the phrase, "Most golf shots are missed before the club ever moves". You can have the best swing in the world but, if your alignment has you aiming off target, you have little chance for success!

1. If you line up right of the target, the only way to get the ball to the target is to swing over the top or from an in/out path rolling the hands over to shut the face down through impact.

2. If you line up left of the target, then you will either swing out/in holding on to the clubface open or drop the golf club inside on the initial downswing to get a sensation of swinging a more in-to-out path.

Neither of the above are very efficient ways to play golf!

Thomas Golf Irons give you an exceptional advantage over other brands by making it easier to aim and align your shot to the target.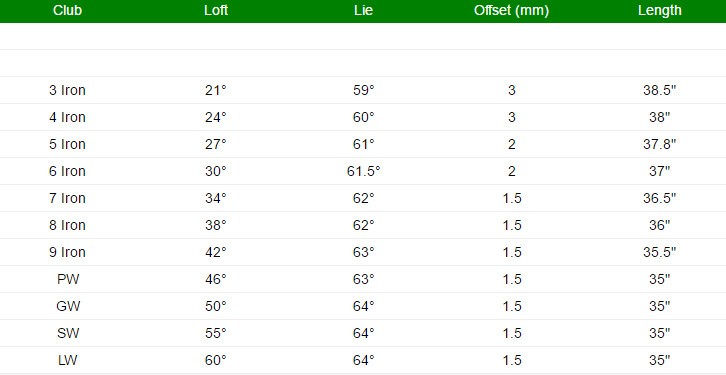 This table provides detailed information about the shafts and grips you may choose from when you build your custom clubs by clicking the "Buy" button above.
SHAFTS


Ladies Champagne Graphite Shafts
THOMAS Frequency & Flex Matched tour-grade Ladies shafts made of premium super high modulus graphite fibers provide a light weight of 70 grams for increased swing speed, while maintaining a low torque of 4.8° to reduce head twisting and lagging at impact, resulting in increased shot accuracy. THOMAS shafts are seamless and have been specifically designed to match and optimize the performance of THOMAS heads for alignment accuracy and ball flight. Specialized Low Kick-Point to assist in achieving higher shot trajectory, while maintaining optimum shot control. Each shaft undergoes extensive testing including Bend Stressing and Frequency Calibration ensuring integrity and consistency from shaft to shaft.
---
---
GRIPS


TG-Pro Grips (Small, Standard, Mid-sized)
This newly engineered compound provides the optimum balance of comfort, control, traction and shock absorption.
Distinctive gold-filled hand placement guide for consistent gripping and accurate club alignment will contribute to greater shot accuracy.
Specially designed multi-tread patterns provide exceptional traction and surface feel in each section of the grip.
---
---


TG-Pro Grips (Oversized)
This newly engineered compound provides the optimum balance of comfort, control, traction and shock absorption.
Paint-filled hand placement reference markers for consistent gripping and accurate club alignment to aid in shot accuracy.
Specially designed tread pattern provides exceptional traction and surface feel.
For additional shaft questions Click Here to be Custom Fitted by a professional club builder.


Test results by an independent research study at the University of Central Florida
Players did not have any previous experience with Thomas Golf clubs, and were not informed as to the purpose of the club's design.
Handicap breakdown: Low = scratch-5 Mid = 6-12 High = 13+
My Wife and I received our sets of AT505's today. To say they are nice is an understatement.

Thanks for your help with the fittings. I will be letting my friends know where we got them, so maybe I can be of some help to you also.

Sincerely

Enoch
I tried out my new AT-505 graphite and it works marvelous. Eventhough I've been playing on and off for over 6-7 years as a begginer, I want to say the driver works well. I hit further and straight to the pin. I played my usual 9-hole at Monterey Park Golf Course and I got a 58 score. I usually get in the mid to high 60's, so this club does work well. I can't wait to purchase the other clubs I need. A special thanks goes out to Sal who answered all my questions.

Cliff
Industry vs.Thomas Golf

A Comparison Chart of 7 Iron Club Head Alignment Error

---

Test results by an independent research study at the University of Central Florida. Players did not have any previous experience with Thomas Golf clubs,and were not informed as to the purpose of the club's design. We saw similar results when testing other Thomas Golf models, like the AT 510, AT 602, AT 100, also hybrid golf clubs AT 705 and AT 725.

Handicap breakdown: Low = scratch-5 Mid = 6-12 High = 13+

Type of Player

Alignment Error
Industry/Thomas Golf

Distance from pin(ft.)
Industry/Thomas Golf
Feet closer to pin using Thomas Golf
Low handicap
3.0° / 1.9°
23.6 / 14.9
8.7
Mid handicap
4.3° / 2.2°
33.8 / 17.3
16.5
High handicap
4.9° / 2.7°
38.5 / 21.2
17.3
Hi guys,

I wanted to thank you sooo much for your clubs!!!

I'm a very high handicapper (I started playing couple of years ago) and I was really looking for something good that could really improve my game without killing my finances.

I bought the all series of irons AT 505 and the AT 40 putter with the specification you suggested, honestly at the begin it was a little bit frustrating because I had to readjust to the new clubs the aiming line etc. but after couple of months, believe it or not, I was able to shave 25 strokes, shooting around 115-120.

Not only the long game improved but the short game ( which is really what make you score low) has been boosted up, the ball now goes (almost all the time!!) where I want with the precision I desire and my scores are lowering further.

Your clubs helped me to feel more confident on the golf course, and now I can control the direction of the ball much better and much easier and when I can't is almost always because I'm in a hurry and forget to aim like you suggest.

Thank you a lot again and I will definitely suggest your clubs to everybody because they are really wonderful, and the customer care service is incredibly fast and efficient.

Great work and keep it up

Francesco
Dear Sir,

Just a quick note to let you know I've had my Thomas 505's for about 3 or 4 weeks now, and I absolutely love them. They've drastically improved my game to the point where birdies aren't just the little creatures in the trees mocking my errant shots!

I'd love to "Advertise" your product on the many courses I play. I'm proud to own Thomas Golf irons, and my next purchase will be a hybrid #3, as soon as I read the email your fitting department just sent me.

Thanks, I look forward to many, many excellent rounds with my new clubs!

Best Wishes,

Robert
Club tested: Thomas Golf AT505 Irons

Club specs as tested: Set makeup – 4-iron through Pitching Wedge; Hand – Right; Shafts – Standard-weight Steel, "S" (stiff) flex

Price as tested: $385 (regularly $686); also available at $55 per club (regularly $98 each)

About Thomas Golf products: All equipment made by Thomas Golf features the company's patented Shot Accuracy Technology, an alignment indicator on the top of the club which helps assure precise aim. The company offers free custom fitting of all clubs on its website and sells its products exclusively online.

Club notes: The AT505 iron is a cavity-back, game-improvement club designed for a wide range of players – including low handicappers. How low? Well, a little birdie from Augusta, Ga., told us that a certain former Masters winner once fired a practice-round 68 on the hallowed grounds playing AT505's. Needless to say, his handicap is in "plus" territory.

While many game-improvement irons feature a large amount of offset to aid slicers, the AT505 irons do not. Specifically, the 3- and 4-irons are offset by 3 millimeters (hosel to clubface), the 5- and 6-irons by 2mm and the remainder by 1.5mm. Nor are the clubheads as large as those in the "super game-improvement" category.

One additional note: The sweet spot on the AT505 features a diamond-shaped marking with yellow grooves.

At address: We're big fans of Thomas Golf's alignment system, and it works like a charm with the AT505. In fact, the guide immediately told our tester he'd been lining up a touch to the right with his regular, non-Thomas irons. The sweet-spot marker augments the alignment indicator for added confidence.

The club's slightly thick top line may not appeal to golfers accustomed to the sleeker look of traditional forged blades. However, that's a small subset of players. Cavity-back users will scarcely notice.

Swinging them: The AT505's smoothly cambered sole made for clean takeaways, even in light Bermuda rough (notorious for snagging). Likewise, the club didn't dig or hang up in the turf when taking a divot. Balance and feel throughout the swing were solid.

At impact: Our tester, a slightly above-average ballstriker, assured us that on flush contact, AT505 irons deliver a sensation at least as pure as most big-brand clubs. After several shots, in fact, he was surprised to find that he'd missed the sweet spot marker by a quarter-inch or so (based on grass pressed into the grooves). That was actually a big plus, as the club provided visual feedback telling him his "perfect" swings were a hair off.

Ball in flight: The tester tends to hit draws with irons 7 through 9, and fades with irons 4 through 6. While he's found it difficult to produce a consistent shot pattern when trying clubs with more offset, the AT505's presented no such issues.

Trajectory was slightly higher than the tester is accustomed to, but with no "ballooning" effect when hitting into the wind. He considered this a plus for the AT505.

Playability & forgiveness: Perimeter-weighted clubs are designed to hit the ball straight by reducing sidespin. That de-emphasizes playability, aka how well the golfer can "work" the ball left or right. The AT505's strike a happy medium in this department. Hitting sweeping hooks and dramatic fades isn't impossible, but if that's your goal then you're probably in the market for a tiny-headed forged blade anyway.

Long story short: Yes, you can move the ball in either direction with these clubs. However, the AT505 delivers best results when you stick with the basics and play your natural shot shape.

As noted earlier, forgiveness on miss-hits is excellent. Small misses are barely perceptible; you'll feel bigger ones, but the AT505 squeezes the maximum distance and accuracy from poor swings.

Bottom line: Thomas Golf is quite proud of the AT505, and we say justifiably so. It's a real crowd-pleaser, suitably forgiving for higher handicappers, but with a look, feel and playability that skilled golfers can appreciate.

A quick thanks to the little birdie for providing some juicy inside info. It confirmed what our tests told us – Thomas Golf's AT505 irons are major-league.



I'm a scratch golfer, so I didn't expect much improvement from using the Aim & Alignment Technology of the Thomas Golf AT-505's. I was wrong. I find myself getting closer and closer to the pin and just last week I got a hole in one.

- Wade G.

I have been enjoying the game of golf for two years and am an 11 handicap. I have never taken a professional lesson. The Aim & Alignment system designed into Thomas Golf clubs is the reason for my progression over these two years.

My wife bought me a gap wedge for my birthday last year to complete the set. Two weeks later, from 87 yards, the club produced my first eagle. I have had more sense and just got another today. When I think of Thomas Golf, I think excellent design, high quality, and devoted after purchase service.

- Michael M.

I live up in Minnesota, so the golfing season is short. The Alignment of the Thomas Golf clubs helps me get back into my game quickly and I enjoy the advantage it gives me all season. I'm writing you because two days ago I won a local long drive competition with your outstanding driver. Thank you!

- Walter K.

I am new to the game of golf, but when I saw the Thomas Golf Irons I understood the alignment technology right away. It just made sense. I find them to be helpful for me as a beginner and feel that their design has attributed to my rapid improvement in the sport. They are easy to use and I enjoy playing them.

- Paula M.

I always see articles in magazines about all these tricks and techniques to achieve proper alignment. Now that I use the Thomas Golf clubs, I don't even have to think about it. I just aim the club right at the target and swing. These clubs have made such an improvement, it feels like a whole new game. I love them! Thanks.

- Richard S.

The Alignment system of the Thomas Golf AT-100's has taken more strokes of my game than I could have imagined. I am also impressed with their feel and workmanship.

- Duane G.

Unbelievable!!!! I had been playing with off the rack clubs for five years. I'm not a great golfer. I regularly shoot in the upper 90's and over the past year I put away all my woods. I just could not hit them. Then I ordered a Thomas 2, 5, and 7 wood to go with my new set of Thomas irons. All I can tell you is a comment from one of my playing partners. He said, "Your game has definitely improved a notch since we last played!" The difference ... I am able to hit my woods again, especially off the fairway. I cannot begin tell you how many woods I used to miss hit, now that seldom happens. The 7 wood is the easiest club to hit in my bag.... and the five wood is not fair behind. I love these clubs!

- Richard M.

Ever since I decided to make the change from off the rack golf clubs to a customized AT-505 set, my game has steadily improved. The unique alignment feature has been very helpful in hitting straighter shots with all my clubs. Also, deciding to include the 7 and 9 woods in my set was certainly a plus. From the driver on down, I find your clubs are much easier to hit and the added distance I am experiencing is quite remarkable. My golfing colleagues keep commenting on my additional length off the tee during rounds. To these comments, I tactfully respond by advising them to visit your informative website wherein they also could eventually join your ever growing list of satisfied customers. Since I admire and respect your firm for marketing such a great and affordable product... I intend to support the Thomas Golf brand through my personal website at every given opportunity.

-Paul R. L.

I am a newbie golfer and I purchased the 3-SW hybrid iron sent about a month ago. After only one month I am already beating my friends who have golfed their whole lives (I am 28). On only my fourth round of golf I have ever played, I hit a 41 on the back nine for a total of 92 for the round. I credit 50% of my early improvement and success due to these clubs! (The other half I credit is free golf lessons from a friend who used to play on the Nike Tour). These clubs allow you to build confidence because they are much easier to hit than traditional irons, and the trajectory is amazing. My distance is also already better than my friends who have played their whole lives. I still have major issues off the tee with my non Thomas Golf driver, which is why I now tee off with the Thomas Hybrid 3 iron and can hit the club about 210-220 yards straight somewhat consistently. I just ordered the 1 & 2 hybrid with hopes I can hit the 1 iron for my tee shots as well as the 3 iron but with more distance. If that works out I don't think I will ever use a driver again.

The hybrid irons are worth every penny, and are perfect for beginners or anyone who wants to have better iron play. Thanks to Thomas Golf for a quality product that now has me addicted to golf.

- Jonathan S.

After trying out clubs at my local driving range and searching the internet for opinions and prices, I came across Thomas Clubs. I read all the different reviews and testimonials about your clubs I could find. I filled out the questionnaire and made the critical wrist to floor measurement. Your advisor suggested that the best clubs for me were the model AT-510 clubs. I ordered them on the spot and chose the 4-9 irons plus the pitching and sand wedges with truetemper shafts. I also ordered the model AT20 putter.

I ordered my club set on Saturday and the following Tuesday got a notice that they had been shipped out. They arrived on Thursday, which was an excellent delivery time!

I have been using the clubs regularly since mid July and without a doubt, the clubs are uniformly excellent. They are very forgiving, and if you follow the procedure for aiming that Thomas Golf suggests, also extremely accurate, and are giving me excellent distance. They have a great feel and I love just holding them because they are so well balanced and built. By buying your clubs, I saved more than half of what I would have paid for one of the other name brands. Thanks to you, this 68 year old guy has a new lease on golf.

- John D.

I'm a new golfer and when I first started the sport I could never figure out how to set up the head of the iron to get the ball to go where I wanted it to. Some time after, I tried a Thomas Golf AT-505 Iron with the Aim & Alignment technology. I loved it! All I had to do was point the indicator at my target, and the ball would go there. I now own almost every club they make.

- Thomas Stark

I wanted to thank you sooo much for your clubs!!!

I'm a very high handicapper and I was really looking for something good that could improve my game without killing my finances. I bought the entire series of AT 505 irons and AT 30 putter with the specification you suggested. Honestly at the beginning it was a little bit frustrating because I had to readjust to the new clubs the aiming line etc. but after couple months, believe it or not, I was able to shave 25 strokes. Not only the long game improved but the short game (which is really what makes you score low) has been boosted up, the ball now goes (almost all the time!!) where I want, with the precision I desire, and my scores are lowering further. Your clubs helped me feel more confident on the golf course, and now I can control the direction of the ball much better and much easier, and when I don't it's almost always because I'm in a hurry and forget to aim like you suggest.

Thank you again, and I will definitely suggest your clubs to everybody because they are really wonderful, and the customer care service is incredibly fast and efficient.

- Francesco M.

I have been playing for 15 years with no real improvement. Only last year I scored a 110 at my local course. Since playing Thomas Golf clubs, I have taken shot after shot off my score, and on the same course that I had my 110, I shot 93 and 92 in my last two rounds.

- John P.

This weekend I finally got a chance to use my new 7 Iron. The club is GREAT!! I got within 6 inches of my first hole in one, on a par three 158 yard hole. I was also very accurate through the whole round with my 7 Iron. Thank you for knocking about four strokes off my regular game!!

- Sal "The Golfaholic" Rhino

I have been the happy recipient of Thomas Golf clubs for 1 month now. I cannot tell you how pleased I am with your product. The clubs you sent me were outstanding in appearance and craftsmanship. I could not wait to get on the range and use them to improve my golf game. I was not disappointed. The alignment mechanism of your clubs helped me identify errors in my set-up and grip of the club. I could now see if my feet were properly set as well, based on the direction that the club head went through the impact zone, when compared to my intended target line. Because of this innovation, literally at my finger tips, my shots have been dead straight, and easily repeatable. When they are not, I know it is because I did not maintain my swing plane from the address and back through the impact position, or because my grip was wrong and the club head did not strike the golf ball square. Because both of these flaws are so easily recognized, adjustments can be made immediately by me with no substantive guesswork. This allows my next shot attempt to be correct, and straight, as one intended it to be. Thanks so much. As I grow with my golf game, I know that my success will be because of your terrific product. You have literally enhanced my potential to lower my handicap and make improvements in my game. Once again, thank you so very much.

- Bob MacDonald

I have a set of your AT-505 Irons and the Alignment feature has really helped my game. I have shown the clubs to some of my friends who are professional level golfers, and they were very impressed with the quality and workmanship of the clubs, as well as the concept of the Alignment technology. Thank you!

- Michael S.

Thank you! I wish that everyone had this kind of service, the world would be a better place.

- John Linvell

I received my set of clubs yesterday and took them out to the driving range. They are indeed a beautiful set of clubs and they work quite well. I am anxious to play more with them and expect my game to improve. Thank you for all the help. I will be buying some other clubs from you soon.

- Jim Marshall

I got to play with the AT-505 golf clubs and they are great. I shot in the high 80's. I never shot in the 80's before. I'm lucky if I break 100. I hit more greens than I ever have done before. The AT-505 with Aim & Alignment really works great! The senior flex graphite flex shafts work great with the heads. I can hit the golf ball 165 to 170 yards with the 5 Iron like I could when I was 50.. 15 years ago. I think the AT-505's will take 10 strokes off any one's game.

- William L Eaton

Last Spring I purchased a set of AT-100 Irons with V series shafts. Your service was prompt and your advice on shaft type was right on. I spent an hour on the range then had an outing on Saturday after I received them. I have lowered my handicap by 10 strokes over the summer. The group I usually golf with gets out 2 or 3 times a week but in order to remain married I only get to join them a couple of times a month. It doesn't matter. I consistently beat them. I am convinced that AT-100's are the reason. Again, thank you and expect an order for the woods in time for next season.

- Jack Wheaton

I just got my 7 iron. My son and I are impressed with the fine quality. It feels right and we can't wait for the snow to melt. Thanks for the fine product, I suspect we'll be playing sets of your clubs come spring.

- Doug Littlefield Stowe

I recently purchases a set of AT-505 Irons with graphite shafts. After only two rounds of playing with the Irons, I am extremely pleased with their performance. It s very easy to align the club head toward the target and I am hitting the ball straighter and therefore getting on more greens in regulation.

The Thomas golf AT-505 irons are GREAT! I have been playing them for about 3 months and have improved my scores from the mid to upper 80's to the mid 70's to low 80's. I am hitting more greens and consistently hitting the ball closer to the hole. Recently eagle a 390 yard par 4 with a 7 iron from 155 yards. I would recommend the AT-505 irons to anyone having problems with alignment.

- Richard Beale

I purchased a set of Thomas Golf irons and woods late last year to impress my company's president during a golf outing. I played pretty well during that round, but he beat me handily. He must have more time to play than I do. Regardless, I have been using my Thomas Golf clubs since that time and have really seen an improvement in my game. The best part is that I am experiencing notable improvement with every club, particularly with my driver and long irons. I am very happy with my purchase.

- David Carter

My daughter got the clubs. She loves them. Thanks so much.

- Barbara

I just received my new wedges. I want to thank you for the service and the grips are perfect.

- Brent

I really like the look of the clubs and think the wife will love them. She really likes the woods.

- David

Thanks for the efficiency and quickness. I can't wait to try it and have my friends try it too. I hope to do business with you again.

- Michel Boisvert

Just wanted to thank you for getting my recent order out to me SUPER FAST. Your customer service is tops!

- Scott Pickens