Pausing at the top of the back swing can be viewed upon as both positive and negative. Currently Hideki Matsuyama has a distinct pause at the top of his backswing and he's ranked inside the top 10 on the Official World Golf Rankings. Recreational golfers develop a pause that sometimes disrupts their timing where it actually hurts instead of helps their game.
Pausing is not something you would generally teach a player to incorporate in their swing but rather give as a drill to feel a loading or certain position at the top. Most golfers that pause at the top of the swing have been doing it since they started playing and have had years of experience with it under pressure. They have gained enormous confidence and changing it would create a disaster or at the very least a long term commitment.
The main purpose of a pause is to load weight and power that starts from the beginning of the golf swing. It sets up the perfect storm for gravity to take over on the downswing and maximum speed unleashed into the ball. Those who pause are also known to be strategists on the golf course. They like to pick away at their targets and hit the ball relatively straight with very little curvature. It's also common to see those that pause to have amazing balance throughout their swing.
It's no secret that pausing has its pros and cons. The following tips will help you utilize a pause to gain more consistency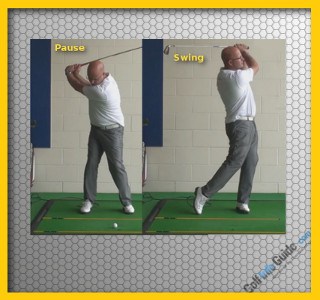 Tip #1 Pause and Step for Maximum Power
---
This tip is very similar to a baseball swing, but you're applying it to golf. If we can create a similar action to how a power hitter in baseball makes contact with a ball it will result in more distance and better mechanics. What we want to do is get into our golf set up with our driver. A slightly narrow stance is ideal. Next we want to slowly take the club away and at the top pause for a count of 2. Then take a small step toward the target with your left foot (right foot for left handed golfers) initiating the downswing. You should notice an increase in speed and a more fluid motion from downswing to follow through. This drill will help you sequence your swing and keep you in good rhythm while generating more power.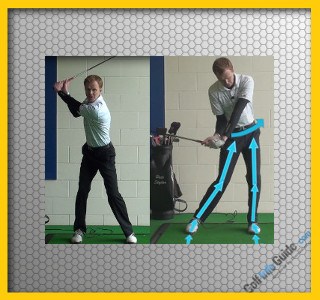 ---
The worst thing to have happen in a golf swing is to create opposite momentum. Think of the gas pedal in your car. If you were clipping along on the highway and took your foot off the gas you would notice a gradual slow down. Now if you were clipping along and you decided to pump on the gas three times, what would it do to your progress? You'd keep going forward but wouldn't be as smooth as if we kept the pedal at a constant rate. The same applies to the golf swing. We want to see a fluid motion with a consistent building up of speed prior to impact. If we're practicing a pause at the top, it's important that we don't pump the arms on the downswing. This will decrease all the winding up and separation between upper body and lower body. Many golfers when practicing the transition from backswing to downswing will attempt to pump their arms to feel the proper position. The idea is to slowly reach the top and pause for a second and in one motion let go into the downswing. This will help you get into the proper downswing positions without thinking about it.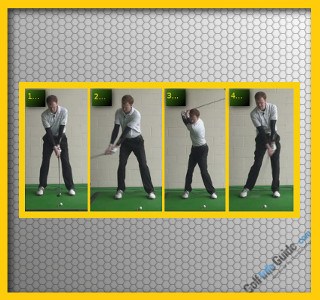 Tip #3 Drill: Slow, Load, Pause, Unload
---
This drill is fairly advanced but very effective. It's all about feel and patience. What we want to do is get into our set up position with a club in our hands. This drill will be performed without a golf ball to start. Slowly begin your backswing moving the club wide along the target line. As you progress into your backswing make sure the weight is loading into the inside of the right foot (left foot for left handed golfers). This loading into the foot will help to stabilize the hip and lower body. Next, you will pause at the top and feel how the weight is loaded into your right side. After a couple seconds, you will begin the downswing by pushing your weight from right side into the left side. The arms will automatically slot into position on the downswing and you'll move to a complete balance finish. This drill will be performed for a series of swings without a ball and progress into making swings with a ball. Over time you will learn to load correctly in the backswing and transition into the downswing.