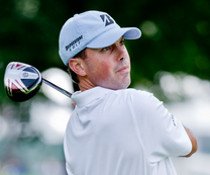 Matt Kuchar wasn't looking to change his putting stroke after the 2010 season. After all, he'd just won the PGA TOUR's money title and claimed 11 top 10 finishes in 25 starts.
A chance meeting with putting guru Dave Stockton, however, led Kuchar to revamp his technique. Three years later, it's hard to argue with the results. Kuchar consistently ranks among the top 25 money winners on TOUR and rolls the rock with the best of them.


To make a long story short, Kuchar adapted Stockton's key technique – keeping the back of the left wrist flat and moving toward the target – to his own belly putter. Not only is the method effective, it's legal under the new USGA rule outlawing the "anchoring" of putter against body, which goes into effect on January 1, 2016.
While Kuchar's technique is best suited to a belly-length putter, it will work with a conventional putter too. Follow these steps to try this innovative setup and stroke:
Place the putter's grip/shaft against the left forearm (assuming you are right-handed).
Grip the club with the left hand above or below the right hand; either way works, as long as you're comfortable.
Note: The right hand does not wrap around the grip and forearm, a la Bernhard Langer's famous method, but simply grips the putter handle normally.
When making a stroke, keep the back of your left hand moving straight down the target line, and don't allow the shaft to separate from your forearm.
You might find it necessary to lean the shaft forward, toward the hole, in order to keep it pressed against your arm. Depending on your ball position this may de-loft the putter face and, since standard putters are built with 3° – 4° of loft, may actually create negative loft at address and impact. For this reason, Kuchar's putter is custom-made with 7° loft. Be sure to check out the Thomas Golf brand AT 40 belly putter model that has a custom fit for the right loft for a arm lock putter.
If you struggle to keep your left wrist stable with your current stroke, Kuchar's arm lock putting method could provide the cure.