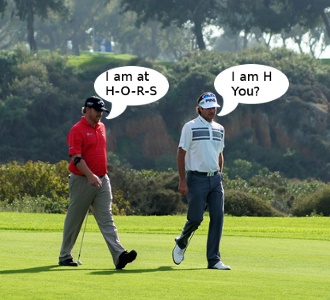 We've all imagined putting with the Masters or Open Championship on the line. It's fun, yet nerve-wracking at the same time – which makes this mental exercise a perfect practice drill.
---
---
Just like smashing balls mindlessly on the driving range, practicing your putting can get pretty monotonous. But it's hard to improve or stay sharp between rounds without practicing, so it's a good idea to inject some fun into these sessions.
Include the following elements to make your practice-green workouts more enjoyable – and productive.
Play H-O-R-S-E with a partner: If you practice with a friend, challenge him to the classic game of H-O-R-S-E. The rules are the same as the basketball version: Flip a coin to determine who goes first. Golfer #1 then chooses a spot and putts to a hole location.
If Golfer #1 sinks it: Golfer #2 must make the same putt; if golfer #2 misses, he gets an "H"; if golfer #2 makes it, golfer #1 chooses another spot and repeats the process.
If Golfer #1 misses the first putt: Golfer #2 chooses a spot and putts to start the process over.

The first golfer to spell H-O-R-S-E loses the game.

Make eight straight: Grab eight balls and find a simple, straight-in putt of about three feet. Putt every ball from the same spot, starting over if you miss before sinking all eight. Once you've made eight in a row, move farther away and repeat. Mix in a variety of lengths and slopes. Once you've made four or five in succession, you'll begin to feel pressure mounting. That makes this a great drill when you're preparing for competition.
Putt from the wildest spots on the green: Many practice greens feature extra-large slopes, often more extreme than what you'll encounter on the course. Putting up, down and across these wild undulations may seem like a waste of time, but it will actually help you develop feel, touch and a sense for big breakers. Stroke putts randomly from difficult places, hitting just one ball from each spot. By limiting yourself to one try, you'll have to judge each putt without the benefit of a read from a previous attempt.
Visions of grandeur: Nothing could be more thrilling or frightening than standing over a putt to take home the green jacket, the Claret Jug, the U.S. Open trophy or the Ryder Cup. End each practice session with a putt of decent length – beyond a tap-in, at least – and imagine yourself needing to make it for all the marbles. Go all out with your visualization to create a sense of pressure. Picture the crowd, the caddies, and all those eyeballs glued to TV sets around the world. Then try to block out the distractions and knock in the putt.
One more tip: Always, always end your practice sessions with a made putt. Even if it's just a tap-in.