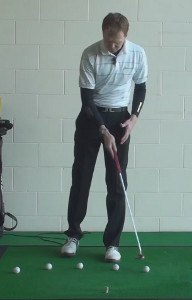 It's one thing to be an ace on the practice green, another to be a great putter under pressure. The trick is to introduce an element of stress to your practice routine.
---
This drill is designed to do just that:
Start by placing five balls in a semi-circle around the cup, about 2 ½ feet away.
To move to the next round, you must make all five. One miss and you start all over.
Once you've holed the first set in succession, move a few feet farther out and repeat.
Where's the pressure in that? You'll be surprised how the nerves act up when you've got to make one last putt to achieve the goal. By putting a little heat on yourself, you'll learn how your body reacts under stress – maybe your routine gets quicker, or you lift your head too soon. It's crucial to know your own tendencies in order to deal with them when the time comes.