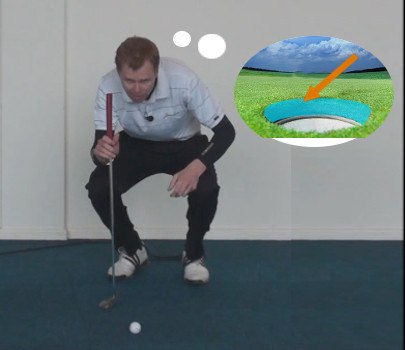 Let's consider what it takes to hole more putts, below are a few of the best techniques.
Believe in yourself. Simply put, you have to be confident on the greens if you are going to make a lot of putts. If you don't trust yourself to putt at a high level, you'll keep struggling on the greens. To boost your confidence, put yourself in a position to succeed on the practice green. Hit a lot of short putts, as you are going to get a good feeling each time one of them drops in. The more success you can see in practice, the better you will feel about yourself in the course.
Focus, focus, focus. It is easy to get distracted by chatter on the greens. The whole group will be brought back together on the green after making its way up the fairway in segments, so you might be tempted to pick up your conversations where they left off on the tee. There is nothing wrong with chatting as you play, but never forget to refocus on the task at hand when it is your turn to play.
Adjust quickly. Greens are always changing. Green speeds change from day to day, of course, and they even change in the middle of a round. This is particularly true when playing on a warm, sunny day. At first, the greens will speed up as morning turns into afternoon, since the warm sun is going to pull some of the moisture out of the turf. Then, they will likely slow back down again, as the blades of grass grow. To continue to putt well over the duration of a four-hour round, you'll need to constantly adapt to these evolving conditions.
Putting is the most important skill in the game of golf. In some cases, around half of your strokes during a round will be played with your putter, so the value of this club should be obvious. We hope the tips provided in this article will help you hole more putts in the near future. Remember, you aren't going to improve without practice, so dedicate yourself to some hard work on the putting green and you will be rewarded on the scorecard. Good luck!