| | |
| --- | --- |
| Pros and Cons of Every Golf Grip Style | Best Grip? Overlapping vs Interlocking |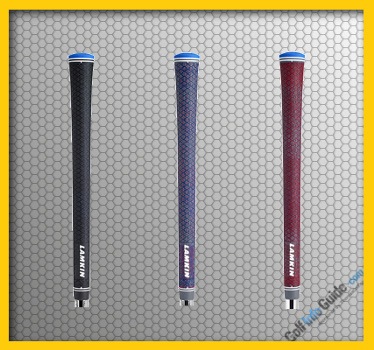 While Golf Pride and Winn are both highly popular lines, Lamkin Golf grips also have a large and loyal following. Just as with the previous two brands, Lamkin also offers a range of different grip models to appeal to a wide audience. Regardless of what grip style you prefer for your own clubs, there is a good chance you will be able to find a suitable option within the Lamkin product line.
The most-recognizable Lamkin grip is the Crossline. This is a black grip with a white 'crossline pattern' all around the grip. The crossline marks are indented, giving moisture plenty of opportunity to move away from your hands. Even if you didn't know it, you have probably seen a least a few golfers using these popular grips during your time on the course. Just as with the Golf Pride Tour Velvet, the Crossline is offered in a cord and non-cord model.
Whether you choose the Crossline or any of the other grips in the Lamkin line, you want to make sure that your grips are installed correctly on each of your clubs prior to heading out to the course. Installing a golf grip properly isn't a particularly hard job, but it does require a little bit of knowledge and experience. You have two options when it comes to golf grip installation on your set of clubs –
Have it done by a professional. If you buy your grips at a local golf shop, the installation may be included in the price of the grips. This is a great benefit to buying in person, and you should absolutely take advantage of this service if it is available. The store employee who will install the grips has likely done countless grip changes previously, and they should have no trouble putting your new grips on perfectly.
Do-it-yourself. If you order your grips online, you will either have to install the grips yourself, or pay to have them done at a golf shop. Doing the grip installation yourself is certainly doable, but you need to make sure you have the right equipment before you get started. First, you will need grip tape. This is a tape that is applied to the shaft of the club (after it has been cleaned). Once the tape is applied, it is moistened with a solvent and the grip can be slid onto the club. Be sure to get the grip aligned properly right away, as you will only have a limited amount of time before the tape locks the grip into place. Of course, prior to installing any of your grips, read the directions included from the manufacturer to find any specific details that relate to installing those specific grips.
A golf grip that has been installed correctly will fit snug around the shaft of the club and there should be no wiggle at the top of the grip. If you are doing your grips for the first time, there will likely be a learning curve on the first couple of clubs until you get the hang of it. With a little experience, however, you should be able to change a whole set of clubs in less than an hour.