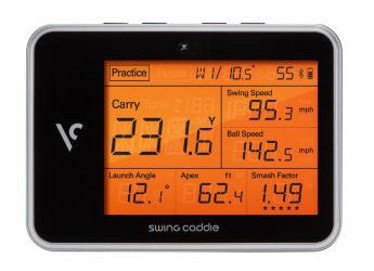 The new SC300 Swing Caddie will make a lot of golfers very happy, that considering the huge success of its predecessor, and we're talking here about the SC200, obviously. The SC300 is basically "generation next", "back with a vengeance" and all that, making for a highly portable launch monitor, which is engineered to be an excellent training aid, while providing affordable and instant/easy access to one's swing data, regardless of his/her skill levels.
To put it simply, the new SC300 Swing Caddie is designed to be your personal trainer of sorts, your digital butler on the golf-course if you like, and judging from the success of its predecessor, this baby will help you evaluate your swing in more ways and easier than ever before. The SC300 comes with upgraded features, obviously, because that's how technological progress works, and using it on a daily basis you can expect to understand in a better way the shape of ball flight, and thus improve course management; in case you were wondering, that's due to the SC 300 Swing Caddie's new Apex reading technology. Moreover, the new Swing Caddie is now able to put together the traditional smash factor, swing speed and ball speed readings with (that's new) launch angle stats, thus providing better insight in regard to ball trajectory of each of your shots.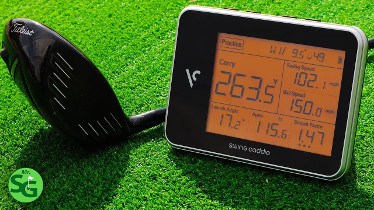 But wait, there's more: this state of the art launch monitor is built to withstand harsh weather and "inhuman treatment", i.e. it arrives in a durable yet sleek design, lightweight and compact as ever, and just like its SC200 predecessor, the SC300 will be your best friend everywhere: at the driving range, as well as on the golf course, or on vacation, in the garage and business trips. If you're already familiar with the SC200, it would be no surprise to find out that the new generation offers the same Tour grade accuracy you're accustomed with, along with the latter's classic features, the likes of Barometric Pressure Calibration and Doppler Radar technology, for industry-leading accurate readings, Distance Voice Output, instant readings for smash factor, swing speed, carry distance and ball speed, on top of brand-new readings for apex and launch angle, Target Mode, Practice Mode and Approach Mode options, Adjustable loft angles and club options, and the usual remote control, so you can set your SC300 Swing Caddie on the floor, then continue your practice without having to bend down to tinker with the settings.
Moreover, as soon as you get the SC300 Swing Caddie, you'll receive the dedicated smartphone app for free (available for both Android and iOS starting from June). This specially developed app will collect shot-data metrics for each of your clubs, in order to provide you with detailed/specific insight with regard to how you play them, along with game-patterns that arise, and where you're successfully improving your game over time. Finally, the SC300 Swing Caddie is capable of storing important data for your last one hundred shots, and to deliver a comprehensive and honest view of one's statistic averages at a "flick of the switch", and we mean that almost literally.