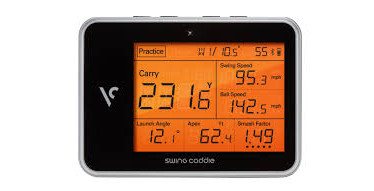 The Voice Caddie SC300 launch monitor is a best seller for the company, and today's news is that the SC300 just got better. Voice Caddie recently announced that their launch monitor is getting spin rate statistics, hence if you're a weekend warrior looking to improve his stats, you should really take a look at Voice Caddie's portable launch monitor, especially after the latest upgrade.
Knowing your own shot-statistics is essential when it comes to improving one's game, and that's the secret behind the SC200 Swing Caddie, SC300's predecessor, which also was an instant hit due to its high accuracy readings in regard to ball speed, swing speed, carry distance and smash factor. The new generation is way better compared to the "boomer" one, and considering the latest addition of stats for launch angle and apex, the SC300 is a must-have piece of gear in every respectable golfer's paraphernalia. The new spin rate statistics are now offering an even deeper insight in regard to one's "swing-secrets", after the My Swing Caddie app was updated.
We hold this truth to be self-evident, that spin rate is closely related to trajectory, spin and ball flight, yet amateur golfers tend to ignore this metric, regardless of the science behind the facts. The updated My Swing Caddie app is a boon for amateur golfers trying to improve their game, as it finally emphasizes spin rate stats for SC300 users, i.e. it would be very hard to ignore this metric from now on.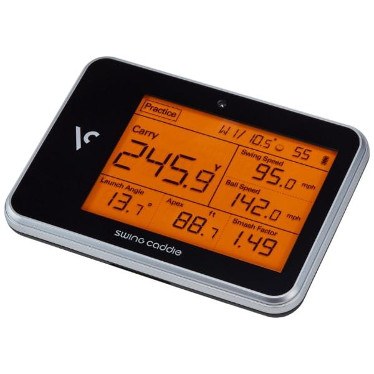 The new data available via the updated app will provide golfers with essential information regarding vital stats, i.e. how to adjust one's swing for optimal trajectory and how to understand one's regular ball flight, as the spin-rate thing works in tandem with the SC300 launch monitor's launch angle reading. Moreover, the SC300 will connect to your smartphone or tablet via Bluetooth and then it will sync with the app; furthermore, the app and the SC300 Swing Caddie portable launch monitor will work together to provide you with crucial information about your swing statistics by recording and store all biometric data for the last one hundred shots.
In this way, it will be easier to take a detailed look at one's average stats, henceforth note any differences (if any) across various clubs and over time. It's worth mentioning that the SC300 Swing Caddie portable launch monitor uses industry leading technologies to provide you with accurate readings, the likes of Doppler radar technology and barometric pressure calibration, which meet and exceed standard launch monitors requirements. The SC300 also allows you to input the specific launch angle and club, for delivering accurate statistics and more useful data.