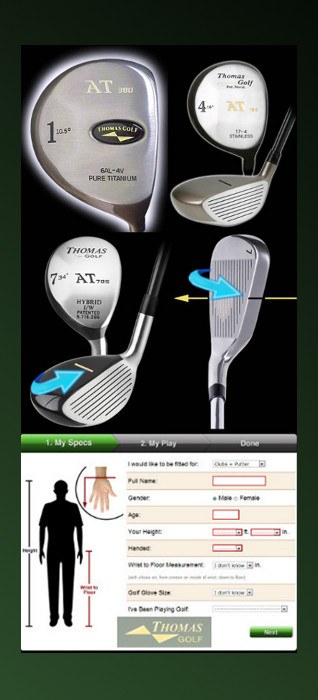 ---
---
The biggest names in golf equipment – your TaylorMades, your Callaways, your Titleists and Pings – get the lion's share of attention from players and the press.
It stands to reason, considering these companies' massive marketing budgets and dominant presence on the world's professional tours. (That's largely a function of finances, too, but we'll save that conversation for another day.)
There's a whole world of smaller equipment makers, though, flying under golf's radar. Some cater to highly discriminating golfers willing to pay a premium for prestige. Others appeal to the masses but lack the resources to reach a wider audience.
Then there's Thomas Golf. Based in Charlotte, N.C., the company does a few things differently from its peers and competitors. First and foremost, Thomas is the only manufacturer using patented Shot Accuracy Technology, a seemingly simple yet unique system that helps golfers line up correctly to the target, each and every time.
Essentially, Shot Accuracy Technology is a perfectly straight line etched into the top of every Thomas Golf Club, putter to driver. If you think any golfer could just paint their own line down the center of the clubhead, you haven't studied the angles of a typical club.
Most woods, hybrids and irons feature rounded soles paired with curved crowns or top lines. The diverging slopes can create optical illusions as the golfer addresses his ball, causing him to think he's lined up correctly when, in fact, his clubface and body are off-kilter. The sad results speak for themselves.
---
---
Thomas Golf solves this problem by designing each club's top plane to lie parallel to the ground and aligned in the direction of the clubface. Voila! Foolproof alignment, shot after shot.
The company also offers free clubfitting through its website, where golfers plug in the key info (height, wrist-to-floor measurement, typical ball flight, etc) and receive email recommendations from a clubfitting expert – no purchase required.
You won't see ads for Thomas Golf splashed across the pages of golf's major magazines or eating airtime during televised golf events. You won't find their products in your local pro shop or golf retailer, and you can't purchase their clubs through a third-party website like Golf Warehouse. Thomas sells its wares exclusively at www.thomasgolf.com, a strategy that – combined with minimal marketing expense – equals prices much lower than the big boys charge.
---
---
As you can see from these reviews, Thomas Golf doesn't sacrifice quality by doing things differently.