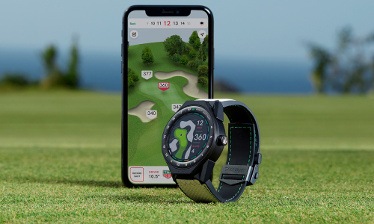 The luxury watch company Tag Heur just released their latest product, a shot-tracking GPS golf watch respectively, a piece of golf gear that will definitely make many of our readers drool. It's pretty common for golf players nowadays to take their everyday watch off during heavy golf-sessions, and stash it inside the dedicated valuables-pocket in their golf bags, or in their jeans pocket or whatever. And, before putting on their favorite (lucky) golf-glove, the tech-savvy ones strap on their wrists a high tech gizmo also known as a GPS enabled golf watch of sorts.
Hence, Tag Heur decided to kill two birds with one stone, and thus to create a luxury watch that can be worn both on and off the course even by fashion conscious old-school golfers. How does it work, you asked? Well, while on the course, the Tag Heur timepiece will serve you as a dedicated golf watch, i.e. besides looking awesome and telling the exact time (that's what tag heur means in German by the way), it will also deliver accurate info about the golf course, and track how you play. It doesn't get any better than that, does it?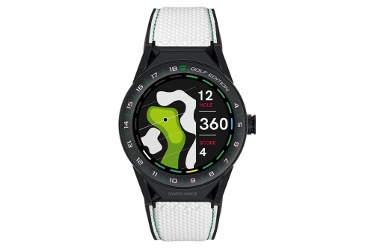 Truth be told, it would be awesome if the price tag would be lowered, as the TAG Heuer Connected Modular 45 Golf Edition (that's the actual name of the timepiece) currently retails for no less than $1850. But considering the fact that Tag Heur is one of Switzerland's most famous and popular watchmakers, that's a small price to pay for wearing a high end timepiece which also works as a state of the art GPS/golf dedicated gizmo. The TAG Heuer Connected Modular 45 Golf Edition is a beautiful timepiece by any metrics, and features a high end high-res sapphire crystal touch screen, which is scratch resistant obviously, and capable of displaying renderings (in full color, mind you) of holes on almost 40,000 golf courses from all around the world.
But wait, there's more: the Tag Heur golf watch comes with an internal GPS sensor, that will instantly tell you what hole is played, then show you accurate distances to hazards and what not, i.e. the front, middle and back of the green. Moreover, if one so inclined, can connect the Tag Heur watch to his smartphone, whether it's a Droid or an iPhone, via a dedicated (free) app, which allows you to see on your smartphone's screen a 3D rendering of a particular hole. On top of that, you'll get an accelerometer, a tilt detection sensor, an internal gyroscope and a microphone; all these high tech sensors and features allow the Connected Modular 45 Golf Edition watch to track your shots via a shot recording feature, which basically tracks each shot you hit, along with the clubs that are used in the process. According to the company, the GPS is accurate to within one meter.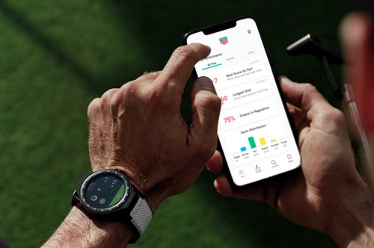 Using all data scooped via various means and sensors and technologies and magic, the watch will provide you with comprehensive stats of your game, which is kind of awesome, all things considered. To give you more details about the timepiece itself, you must learn that the Tag Heur golf watch has a circular face, which has a diameter of 45 mm and it's very thin, at 13,75 mm in thickness. The case is crafted meticulously from sandblasted titanium, and features a ceramic bezel, with a beautiful matte black finish, and laser engraved numbers, which are filled with white lacquer. Finally, the timepiece is water resistant up to 50 meters and arrives with 2 straps in the retail box: a "sporty" black rubber strap and a white strap, made of synthetic white leather.