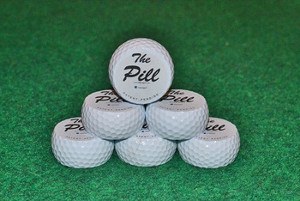 Have you ever wanted to let loose with a chainsaw on your golf ball? Paul Nagi did just that, and invented a useful training aid in the process.
---
---
Called "The Pill," it's a golf ball with two "sides" sheared off. (Nagi carved the prototype in his garage.) When placed so that it stands up on the line of a putt, "The Pill" will only roll properly if struck squarely. Hit it off-center or with an off-line stroke, and the ball will wobble and topple over.
You can also use "The Pill" for chips and longer shots, though it works best as a putting aid. Nagi's invention gained lots of attention at the 2013 PGA Merchandise Show, and it's earned publicity from Golf Digest, Links Magazine and MyGolfSpy.com, among others.
---
---
"The Pill" retails for $12.95 apiece, making it one of the more affordable training tools on the market.