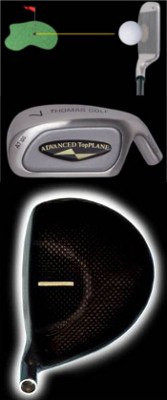 As you may be aware, offset clubs are available throughout the bag, not just in driver form. Offset irons are extremely popular, as the majority of amateur golfers use at least some degree of offset in their irons. Offset fairway woods and even hybrids are offered as well, so you can use this type of design on all of your full swing clubs, if you so choose.
One way to approach this issue is to use your driver as a testing ground for the rest of your bag. While the swings might feel quite different, there is actually a lot which is shared between your driver swing and your iron swings. So, if the offset design is helping you hit better drives, there is a good chance it will help you hit better shots throughout the rest of your set, as well.
Again here, the key is going to be testing. You'll have to try out each offset club you are considering to make sure it works with your swing. There are plenty of variables involved in golf club design, so just grabbing any offset club and expecting great results isn't realistic. You'll have to put in some effort to find the right offset clubs for your game, but you may be rewarded nicely in the end for spending the time to do it right.
When you get down to the putter, you don't have to worry so much about offset. Sure, there are some putter models with the face set back from the shaft, but that doesn't have anything to do with the slice. Rather, some golfers simply like the way the ball feels when rolled with this type of putter. You should trust your own personal preference and feel more with the putter than any other club in the bag. Try a variety of putters and pick whichever one you like most – regardless of whether or not the face is set back from the shaft.
We hope you now have a good idea of what an offset driver can do for your game. Is this club going to fix everything that is wrong with your swing? No – it won't. It does have the potential, however, to produce better results from the swing you are already using. Whether you are able to turn your slice into a long draw or just a controlled fade, many golfers will find some degree of improvement when they turn to an offset driver. Good luck!