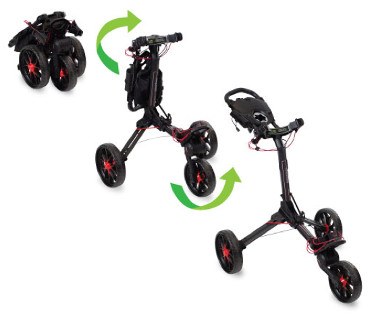 The Bag Boy is the latest and greatest push cart in Bag Boy's line-up, and it is marketed as a revolutionary auto open cart, built using the company's patented Nitro Piston technology. The Nitro Piston gizmo transforms the Nitron (its name is derived from the respective innovation apparently) from a folded/compact card to an open/ready to go cart in a matter of seconds, which is a rather unique feature, even in this day and age.
It's worth mentioning that Bag Boy literally invented the original walking cart, way back in '46 if memory serves, and it appears they've come a long way since then. Yet, they're just as innovative as they were in the last century, and that's amazing, to say the least.
Bag Boy's new Nitron™ Push Cart uses a nitrogen based technology, i.e. a nitrogen filled piston powers the automated feature of the push cart via a 2-step effortless opening process, as the push cart's front wheel is popped out automatically into place. Folding it back again is equally effortless and again, a 2-step process, which compacts the Nitron™ Push Cart in a ready-to-store form-factor. According to Bag Boy's product manager Pat Gallagher: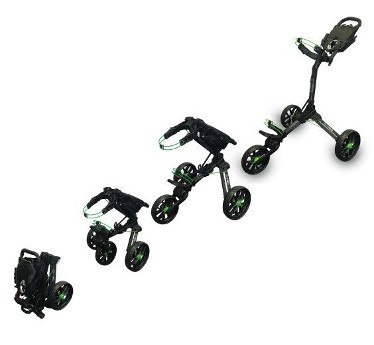 "This new nitrogen powered open feature enables the Nitron™ to be the quickest and simplest cart to open in the industry. We are excited to be able to pair this auto open user experience with a sleek, new updated look to add to the Bag Boy family of carts."

The revolutionary Nitron™ Push Cart also features a patented attachment system (bag to cart), TOP-LOK® Technology respectively, which is designed to lock securely into place a Bag Boy or Datrek bag onto a Bag Boy push cart, thus preventing it from turning and/or twisting, thus rendering cart straps obsolete. The push cart is designed with ample storage spaces due to a generous accessory bag and the scorecard console. Finally, the Nitron™ Push Cart features a high quality parking brake, mounted on the handle, which can be easily installed without requiring any special tools. The latest product in Bag Boy's line up will become available at selected retailers starting from April 25th for $249.95 (suggested retail price), in eight distinct colorways.