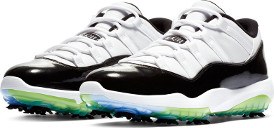 The "current year" seems to be the year of the golf shoe, as Nike revealed last month their brand spanking new Air Jordan 11 Concord. That's a pretty interesting name for a golf shoe by any metrics, but joke aside, if you're a fan of Nike and/or Michael Jordan, you should go get yours while it last. We're saying that because the Air Jordan 11 Concord will be manufactured in a limited edition of sorts (Nike did not specify the exact number by the way) and even if the $220 price tag may scare off some people, the basketball inspired golf shoe will definitely be a hit, just like it's the case with all Air Jordan footwear.
If you know anything about the NBA, even if you're reading a golf-related website like ours, you are aware of the fact that the Air Jordan 11 Concord is a basketball shoe, hence this golf shoe is basically a re-run of an already successful product.


Needless to say, the Air Jordan 11 Concord's golf version looks very much alike as the "original", both in terms of design and color, including the choice of materials for the upper, and the lower profile. There's also the React Foam technology, which makes for another basketball specific element featured in the original Air Jordan 11 Concord, a material/technology Nike also uses in their running shoes. This high tech foam was designed for its amazing cushioning properties, while also being stable, lightweight and very responsive. All these qualities are also welcome in the world of golf, so here it comes, just for you.
And speaking of the harsh world of golf, especially in bad weather, Nike found after extensive testing that their React Foam is also incredibly resilient to wear and tear, i.e. everything's on the up and up with the new Air Jordan 11 Concord golf shoe. In case you were wondering about the outsole, on a close look you'll notice an interesting mélange of traction elements and spikes, which are pointed in different directions in order to improve traction on any type of terrain. The first golfer to wear Nike's latest Air Jordan 11 Concord on tour was Harold Varner III, and he did that as he attended the Waste Management Phoenix Open. Now, it's your turn.