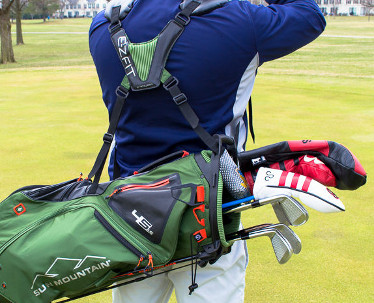 If you're looking for a state of the art golf bag designed for people who take their gear seriously, here's the latest line-up of Sun Mountain golf bags, the 2020 collection respectively. The company's new models are packed to the brim with the latest technologies, and in case you're not familiar with the brand, Sun Mountain is one of the market leaders when it comes to premium golf bags. The company's extensive bag range includes award-winning models, and you must learn that the now-ubiquitous waterproof bag was first introduced by Sun Mountain.
Now, moving on with our news story, the 2020 lineup contains no less than twenty-one new products, all of them designed to appeal to serious golfers. The 2020 travel bag lineup is engineered to tame harsh weather conditions, i.e. the new golf bags are designed for unparalleled comfort on the golf course in all types of climates. For example, Sun Mountain's latest 4.5 LS 14-Way model is aimed at pleasing golfers shopping for an impeccably organized carry bag, with enough space to carry all their gear in safety. Hence, the 4.5 LS 14-Way boasts fourteen individual club dividers, as per its name, a design feature that helps you to select the clubs easily. But since comfort is the name of the game, the 4.5 LS 14-Way is designed to bring balance on the golf course, as it comes with the company's proprietary/patented E-Z Fit Dual Strap System, as well an innovative Ai Flow hip pad for lumbar support. Moreover, the 4.5 LS 14-Way stand bag can be used on a golf trolley, as it comes prepared with a leg lock system and a smartly designed and cart friendly base. On top of that, the cart strap pass-through system works great in terms of pocket accessibility, while the 9 generous pockets offer ample storage space for all your golf-gear, including accessories and clothing

The new bag is available in 3 cool color combos, and here's Sun Mountain's sales manager commenting about his company's new product:

"The new 4.5 LS 14-Way stand bag is just one of several exciting new offerings from Sun Mountain for next season. The latest range combines standout designs with state-of-the-art golf bag technology to deliver a host of top quality, premium bags for serious golfers to choose from,"

Next in line we have the Sun Mountain 2.5+ bag, an award-winning model as per 2019 Golf Digest 'Hot List Gold Award'. To describe it in a few words, the 2.5+ bag is an ultra-lightweight model which is designed for golfers who enjoy walking a lot without a caddie. The 2.5+ bag comes with a 4-way 9 inch top and 5 pockets, including a ball pocket with 2-way zippers, a full-length clothing pocket, a valuables pocket (velour-lined) and even an easy to reach beverage pouch. Speaking of ultra-light golf gear, the Sun Mountain 2.5+ bag only weighs 1.4 kilos and features the company's patented X-Strap® Dual Strap System for incredible comfort and ease of use. If you want to carry the bag over short distances, don't worry as the Sun Mountain 2.5+ also has a single strap; finally, this baby is available in 4 color combos and includes a matching rain hood.

But wait, there's more: enter the H2NO Staff Cart Bag, which is the latest addition in the best selling H2NO waterproof line. This staff cart bag would make for the perfect addition to your collection if you're that kind of golfer who doesn't mind a few raindrops on the golf course, and it comes with a 15-way 9.5 inches top featuring individual dividers that confer it a clean look. In terms of storage space, you'll get forward facing easy to access pockets, no less than eight of them, lined with sealed seams and water-resistant zippers.
The company's best-selling cart bag, the C-130 respectively, has also been upgraded for the 2020 season, and it's designed to be used in a buggy. The cart bag features a completely redesigned range finder pocket, which is now easier to access and offers more storage space. The C-130 boasts a 14-way, 10.5 inch top with3 utility handles, and an amazing number of storage spaces: thirteen pockets, including a ventilated cooler pocket, 2 full-length pockets and 2 velour-lined pockets for valuables. The cart strap pass-through system works great in terms of pocket accessibility, and the C-130 is available in 4 colorways.

Then there's the KUBE travel cover, a highly innovative golf transportation bag that is both maneuverable and spacious. The bag comes with a compact and robust hard case shell from which it easily expands in a 9″x13″x14.5″ travel cover, which makes it ideal for players looking for space-saving capabilities, but without sacrificing performance in the process. It's worth mentioning that the KUBE is available in 4 colors and weighs approximately 3 kilos. The bag is designed with a rubberized pull/carry handle, and also glide wheels for easy transportation, featuring a reinforced padded section for improved protection for all your gear, as well as 2 internal pockets for harboring your clothes or various accessories.
Now, if you're looking for effortless golf club transportation, we have the Golf Digest Editors' Choice 'Best Travel Cover of 2019', the ClubGlider Meridian respectively. The ClubGlider Meridian offers a ballistic style designed, i.e. it's made from strong nylon and features dense foam padding for improved protection. The Meridian features Sun Mountain's patented folding leg mechanism, which confers exceptional maneuverability as it supports the weight of the bag while neutralizing excessive lifting and bending.