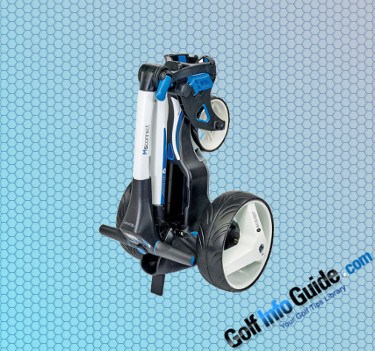 ©MotoCaddy Golf
MotoCaddy is set to making history this year, as the company announced its latest range of compact folding electrically powered golf trolleys, the brand spanking new M-Series respectively. The M-Series electric golf trolleys are powered by state of the art Lithium batteries, which have the advantage of being compact and light-weight, yet still packing a lot of punch. Also, the world's first compact folding golf trolley will debut in the new M-Series, boasting GPS functionality, which is kind of awesome for techie golf aficionados. The new M-Series consists of 4 new models, and they make for the company's widest choice ever with regard to electrically powered golf trolleys, that are easy to fold and car boot friendly, i.e. features long sought after by golfers worldwide. All of the models in the new M-Series have inverted wheels, which are designed for saving precious space and also help with achieving the smallest folded footprint possible. These babies are powered by a next-gen 28V electric motor which gets its juice from the aforementioned lightweight Lithium batteries, and they're 2x more powerful compared to other models of golf trolleys on the market. However, the M5 Connect Smart Cart steals the thunder in the M-Series, being world's first compact folding electric golf trolley to offer GPS functionality, including distance data and smartphone notifications via the company's free App. The M-Pro is the M-Series' high performance golf trolley, which is aimed at pleasing golf players looking for features like Adjustable Distance Control, a security pin-code and distance measurements. The M1 model is marketed to be the easiest to use compact folding golf trolley in the industry and it's also available in the M1 Downhill Control (DHC) version, which is excellent for difficult terrains/undulating courses.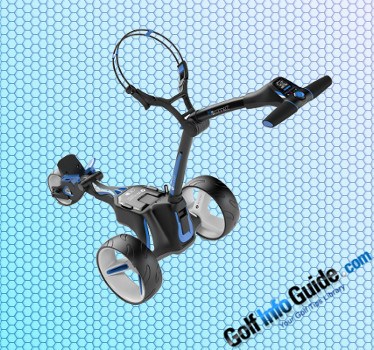 ©MotoCaddy Golf
The new M-Series golf trolleys are fully packed with features, including an incredibly quiet and powerful 230W motor, an ergonomic-soft-touch handle which can be manually adjusted to any height, an auto open stand mechanism, an integrated safety cut-out feature, plus the company's proprietary EASILOCK connection system, a glorified bag-to-trolley feature that doesn't require a lower bag strap anymore, thus making one's life easier. According to MotoCaddy's spokesperson, the new M-Series of compact folding golf trolleys are remarkably compact, yet more powerful and reliable than ever before, boasting an eleven percent smaller footprint compared to their nearest competitor, thus making these babies ideal for golfers with limited storage space. The M-Series cutting edge design and the use of state of the art Lithium batteries enabled MotoCaddy to make these compact folding golf trolley more compact than ever before, yet without sacrificing an inch of performance in the process. The M5 Connect Smart Cart comes loaded with yardages for more than 40,000 golf-courses from all around the world, which are available instantly at your fingertips when synced via Bluetooth with your smartphone using the MotoCaddy GPS free-App. Compared to a regular/dedicated GPS device, the M5 Connect Smart Cart features a digital display with excellent sunlight legibility, which makes it more convenient, a 2 for the price of 1 kind of deal. Also, the GPS is powered by the compact folding golf trolley's battery, and offers front/middle and back yardages, a clock and round timer, shot measurement and on top of that, par of the hole.
The trolley's display can also be used for getting smartphone notifications, thus alerting you about missed emails, text messages, missed calls and other App alerts, including social media stuff like Facebook, while your smartphone remains securely stashed inside your golf bag, of even getting charged via USB from the trolley's battery. The M3 Pro is very simple to use, boasting a very intuitive interface and arriving fully loaded with all sorts of game enhancing functions, including 3 distance measurements: Round, Drive and Life respectively, a new high-res color screen, a USB charging port for your smartphone or other wearables, a 6 step adjustable distance control (works up to 60 yards), an advanced battery meter, a CartLock security pin-code, a clock and round timer, and no less than 9 speeds, to help you move the trolley at your ideal walking pace. The M1's has basically the same features, but there's a special version, the "all terrain"M1 DHC, which is capable of maintaining a constant speed while moving through undulating terrain, due to its downhill breaking capability and electronic park-brake. You won't encounter any issues with the M1 DHC even on the steepest of slopes, as the trolley's power output is automatically adjusted with regard to controlling the rate of descent, without requiring you to tinker with pre hill speed settings, unlike other models on the market.