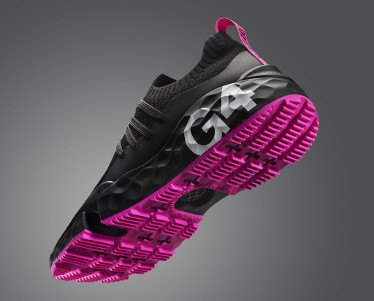 In case you were not paying attention to what's happening in the footwear industry, you must learn that G/FORE just "spilled" over into the "golf gear realm", i.e. this highly innovative luxury Footwear Company just launched the improbably named MG4.1 model, which makes for an interesting athletic golf-shoe crossover thing. We know it sounds complicated, but the new MG4.1 is described as crossover golf footwear, whatever that means, and it adds a new dimension to the brand, as these shoes are everything about performance and styling, being designed to appeal to golf aficionados looking for premium lightweight performance and comfort in a crossover golf shoe, which is aimed at bringing the best of both worlds.
What does it mean, you asked? To put it simply, the new MG4.1 model is designed to be your new favorite shoe both on and off the course, making for a "two for the price of one" kind of a deal. And speaking of deals, the MG4.1 will retail for $185, and they're available in 5 different fashion-driven color ways, obviously, since these shoes are aimed at fashion conscious golfers to begin with. In case you were wondering, you can choose between Onyx, Snow, Poseidon, Birch and Pewter, and we're talking about color schemes here. The bad news is that the MG4.1 will be available in limited quantities, at least in the beginning, as the company looks like it testing the waters with their new model.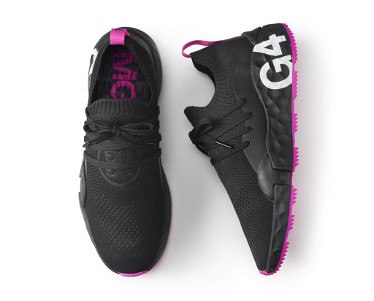 So, if you want to buy a pair of cool golf shoes, you can do it starting from April 15th at www.gfore.com only, while it lasts. The good news is that the full line of MG4.1 footwear will become available starting from June 1st at selected retailers on the US website. The MG4.1 is designed by Mossimo Giannulli, the founding father of G/FORE, and the shoe embodies the company's philosophy of allowing golfers to "express themselves" as they play their favorite game, along with injecting flair and fun back into the game. These new shoes are created like nothing else in the industry, according to Mossimo Giannulli's own words, by fusing luxury engineering with the latest and greatest technologies in athletic shoe design. Obviously, the MG4.1 are created to please G/FORE loyalists first and foremost, and they fit like "a glove" into the brand's golf-shoe range, making for a modern interpretation of street/classic/athletic footwear styles, all blended into one cool golf shoe. Here's Mossimo Giannulli's comment on the new MG4.1 model:

"MG4.1 is years in the making and demonstrates our passion for pushing the boundaries of footwear styling, technology and functionality for both on and off-course use. We have been extremely successful with our classic and street styles over the past few years, but felt we needed to expand the collection to include an athletic style to give golfers a fresh new look that also delivers serious performance. On the PGA Tour, Bubba Watson will be wearing the MG4.1 and we fully expect to see all of our tour ambassadors around the globe sporting them soon."

Speaking of 2019 footwear technology, the MG4.1 are crafted featuring a knit upper (one-piece engineered by the way), which is designed to provide the ultimate comfort levels by basically hugging your foot, while delivering breathable and lightweight support from heel to toe. On top of that, you'll enjoy lateral support due to seamless internal/external overlays, as well as an integrated heel-tab and a four way stretch collar, for improved slip in comfort.
Everything in the new MG4.1 is about comfort and stability, including the auxetic lattice midsole, which features the patented FOREFOAM for out-of-this-world lightweight comfort, amazing energy return and targeted flexibility with every step. The foot bed is designed for supreme comfort levels as it's built using triple density foam, thus making these shoes ideal for prolonged golf sessions. The outsole uses a new rubber compound featuring anatomically designed SAW TOOTH traction pattern, which delivers amazing grip, flexibility and stability on any type of turf in any weather conditions, while keeping the shoes wearable both on and off the golf course.