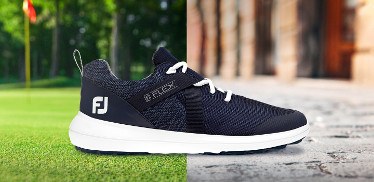 It looks like FootJoy are putting all of their "eggs" in the same basket, i.e. with the launch of the latest Flex golf shoe, the company seems to be betting heavily on spikeless traction in their footwear range. But that's okay, due to the spikeless design inherent qualities, of which the most important is comfort, i.e. a spikeless golf shoe can be worn both on and off the course, provided the design/styling allows it.
And that's a big advantage, to say the least, as you'll get basically 2 pairs of golf-shoes for the price of one. And the new FootJoy Flex seems to be exactly that: a cool looking golf shoe, with a minimalist yet understated design, boasting a spikeless outsole, and being aimed at making the younger audience of golfers happy, and we're talking about those of you who enjoy playing their favorite game in shoes that look, well, sporty. It's worth mentioning that if you're the "old school" type, FootJoy already offers the DryJoys and Icons in their 1857 collection. If you want something from the current century, there's always a choice between the Tour-S, Pro/SL and/or the new Fury.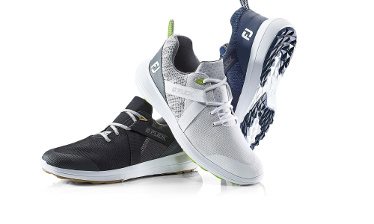 And now, we have the Flex, which is built and designed for "millennials" so to speak (we're only joking), due to their youthful appearance, which is quite expected from a shoe derived from athletic footwear. The FootJoy Flex can be worn anywhere, anytime, i.e. on the golf course, around dinner time or even in the clubhouse (hence the millennial reference). The Flex is available for $89.99 MSRP in 3 color ways: navy, white and black, and truth be told, it looks very much alike a running shoe, or those shoes you always see at the gym. However, don't let the casual look of the Flex fool you, as these babies boast state of the art multi-directional traction elements on the outsole, built using state of the art materials (read Versa-Trax rubber), which are designed to deliver outstanding grip on any type of terrain, ranging from the dance-floor to the fairways and greens of your choice. The traction elements are designed to be supremely comfy, as they don't protrude too much, yet they will keep you firmly planted to the ground, as they literally grab the grass during your swing. Most importantly, keep in mind that unlike other spikeless golf-shoes, the Vera Trax outsole in the FootJoy Flex works great on cement too, i.e. it provides great grip and stability in all imaginable conditions.
And the obvious advantage of this state of the art spikeless design is that the FootJoy Flex golf shoes are awesome when walking on smooth surfaces (like concrete/asphalt) or driving, which makes them the best of both worlds, as they feel at home anywhere. At a closer look, you'll also notice the Flex's large strap on each side, which was put there to provide additional lateral support during your swings. This clever design element works as it follows: when you tighten your shoe laces, the side stripes on each shoe are pulled, and that's how they help with increasing lateral support. Also, you don't have to worry about breathability during hot summer days, as the FootJoy Flex is built with a mesh upper, which is incredibly comfy and lightweight, together with an EVA midsole, which delivers extra cushioning.
And speaking of the mesh-made upper, the FootJoy Flex boasts a very interesting mesh and knit design, i.e. the company incorporated various textures into their built. Needless to say, if you're the "walking-type" during your golf sessions, the Flex would fit you like a glove (pun intended), as they're designed for the ultimate walking comfort due to the combo of cushioning and light weight which will make sore feet a thing of the past, thus allowing you to focus on your game like never before.
If you're looking for a youthful and cleverly designed golf shoe, which delivers uncompromising performance along with off course versatility and affordability to all ages, the FootJoy Flex are very easy to recommend, as they're engineered to be your favorite go to shoe both on and off the course, being more flexible (hence the name) and lighter than a regular FootJoy. Truth be told, these are arguably the most flexible golf-shoes ever made by FootJoy, and that's quite something.