Today we have good news for our readers, as we just got word about the latest KING F9 Speedback line-up from Cobra Golf.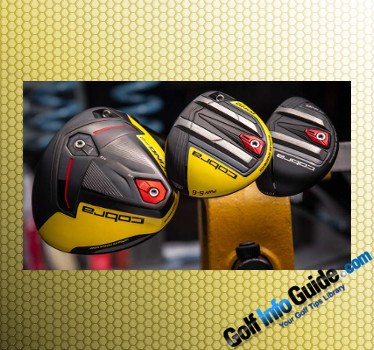 These babies are definitely playing in "the need for speed" category, i.e. the KING F9 Speedback are designed to be the fastest Cobra drivers to date. And that's a good thing, I reckon, if you're looking for state of the art "sticks", boasting Cobra Golf's latest and greatest technologies, the likes of Speedback Aero design, carbon-fiber crowns and all the bells and whistles one would expect from a state of the art product in 2018, coming from one of the world's most reputable companies.
To begin with, you'll have to be patient for now, as the new Cobra King F9 Speedback clubs will only be available in retail shops, both online and "offline" starting with January 18th next year. But it would be worth waiting, believe me. Just to give you a little taste, all the clubs in the new F9 family will be fitted with the latest gen Cobra Connect System, powered by Arrcos sensors embedded in the grip. To begin with, there's the Cobra King F9 driver, which marks a first for the company's range, being the first driver to combine a low CoG (center of gravity) with an aerodynamic head.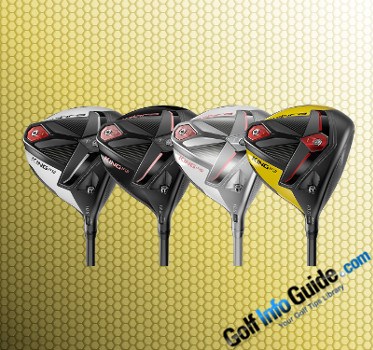 Again, the name of the game is speed "by any means necessary", hence the F9 driver is designed to produce more speed, hence more distance, due to its brand new Speedback Aero design, which features a rounded leading edge, a rounded crown and a raised skirt, in order to reduce drag by 17/12 percent, compared to the previous generations, F7 and F8 respectively, thus making for the fastest Cobra driver in history. The wrapped around the edges carbon crown works in tandem with the Aero-design thing, decreasing weight, thus allowing for a deeper/lower CoG, which further translates into more forgiveness and improved launch. Basically, all this fancy tech-talk means that the F9 driver has a very fast clubhead, combined with less spin, which translates into improved distance. And that's what drivers are for.
But wait, there's more to the F9 driver than meets the eye. Besides being long and incredibly fast, the latest driver from Cobra Golf comes loaded with all the bells and whistles one would expect in "the current year" (to quote from the classics) from a top-notch piece of golf gear. To mention just a few tech-enhancements, I must tell you about the CNC milled face, which is incredibly thin and hot, and also about the dual roll design. The upper area is designed with more curvature, while the lower area has less curvature; this interesting design innovation is aimed at enhancing performance, obviously, with regard to shots struck in the respective areas. On top of that, the F9 comes with Cobra Golf's 360 Aero technology, which means it has titanium sole trips and polymer crown trips, which help with saving weight and with reducing drag. Here's Miraflor, Cobra Golf's marketing chief: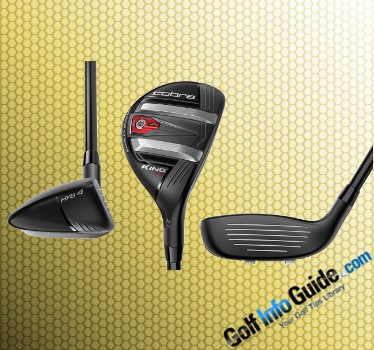 "A low CG driver like our King LTD was very fast off the face, with low spin and high launch – but it wasn't the most aerodynamic because it had a blunt, tall face. In order to lower the centre of gravity in the F9, we created a multi-material structure down low that houses a 14g tungsten weight.I wrote this statement for our R&D team: 'We want to create the king of speed, the most aeroficient driver featuring breakthrough speedback technology. That and the aero package are the keys to this product. When you raise the skirt it raises the CG, so we had to develop the largest crown we've ever made. It's so large it actually wraps around the body. But it's so light it saves us more weight. It's 13g lighter than a titanium crown and 4g lighter than the carbon crowns of our competitors. It saves us weight which we moved lower in the head, to lower that CG."

Moreover, in order to allow you to alter spin rates and launch by modifying CoG location, the F9 driver features movable sole weights. And yes, the F9 driver comes with the latest-gen Cobra Connect System, powered by Arrcos, a cool technological gimmick that tracks your performance/stats in real time, by using sensors, the Arrcos 360 app and your smartphone. Finally, the Cobra Golf F9 driver will be available in in 9-, 10.5-, and 12-degree lofts with adjustable hosels, while the stock shafts include Project X HZRDUS Smoke, Helium 50, Fujikura Atmos Tour Spec Blue 6,and Fujikura Atmost Tour Spec Black 7.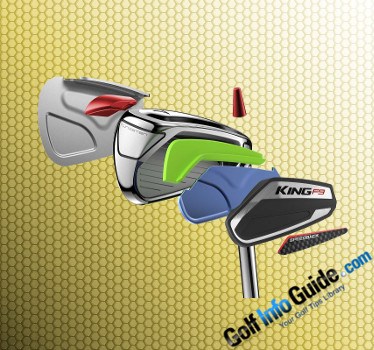 The new F9 Speedback irons from Cobra Golf are said to be the most stable and powerful in the company's portfolio, combining a high MOI (moment of inertia) with a low CoG (center of gravity), to deliver an amazing combo of forgiveness and ball speed. Usually speaking, golfers had to pick between forgiveness or distance when choosing a game improvement iron. That's no longer the case with the latest Cobra F9 Speedback, as the company's engineers managed to create a product which makes for the best of both worlds, or 2 for the price of 1 so to speak, i.e. the new F9 irons are both long and forgiving, due to the company's proprietary Speedback technology. This package of technological innovations creates an optimized high moment of inertia and a low center of gravity to make for a fast, long and forgiving game improvement iron, the first of its kind, according to Cobra Golf's R&D team. Here's Tom Olsavsky, Vice President of R&D for Cobra Golf:

"It cannot be overstated just how technologically-advanced the F9 SpeedBack irons are. Golfers have been forced to choose between distance or forgiveness in their game improvement irons. If you wanted more distance, than you sacrificed forgiveness, and vice versa. With the new SpeedBack irons golfers can have their cake and eat it too. Never has a game improvement iron set had the perfect blend of distance and forgiveness, until now."

The key technological improvements in the F9 irons are the internal tungsten weighting system, the Speedback shaping and the very strong Powershell face, which delivers increased speed on all shots. Other features include a multi material cavity medallion, built from thermoplastic polyurethane, aluminum and acrylic foam, which dampens vibration, a CNC milled face/grooves, for improved consistency, and variable face thickness, featuring the well-known internal speed channel, for improved launch and ball speed. The new F9 irons will be available in ONE and variable length options(both $799 steel, $899 graphite), and, just like all clubs in the "family", they're fitted with the Cobra Connect system, featuring Arccos sensors embedded in the grip.
Next in line are the F9 hybrids, available in ONE length/variable length designs, and combining Cobra Golf's hugely popular Baffle rail with the company's breakthrough Speedback technology. With these two powers combined, Cobra has created its highest performance hybrids to date. The updated tech-improvements in these hybrids deliver better turf interaction and a low center of gravity, thus maximizing distance along with improving ball speed. The new SPEEDBACK w BAFFLER® Technology hybrids also boast a forged 455 High-Strength Stainless Steel Face, which maximizes flex at impact, thus contributing to more ball speed/distance all across the face, and a high moment-of-inertia design, via shaping improvements. All these technologies and improvements fuse to deliver the ideal combo of improved turf interaction and low center of gravity. Here's the VP of marketing at Cobra Golf, Jose Mariflor:

"We have seen some golfers put this consistent, easy-to-hit One Length Hybrid in their bag, replacing their more difficult to hit long irons, or even a variable length hybrid. It's really a great club that golfers can hit consistently, with confidence"