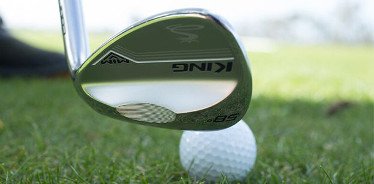 Cobra Golf introduced recently their latest King MIM Wedges, which are engineered to set the standard in the industry in regard to softness and precision shaping. Or at least that's what they told us. Joke aside, speaking of state of the art technology, the new King MIM wedges are the first in the industry (seriously, check that out) to feature a patented Metal-Injection-Molded (here's where the MIM acronym comes from) 304 stainless steel head construction, which makes for an outstanding innovation, or a giant leap forward if you like, when it comes to wedge manufacturing.
This technological process delivers (at an affordable cost, mind you) the most precise (laser-accurate) shape for exceptional turf interaction and feel. Compared to vanilla forged wedges, the Cobra King MIM manufacturing process dramatically cuts the amount of post process polishing, which also drives down costs. Until the new MIM thing, the golf manufacturing industry had to rely on highly skilled technicians (machinists basically) to create/grind consistent and as close to perfection as humanly possible, wedge shapes, usually by hand. As you can imagine, hand-worked wedges cost more and there are differences between batches, and so forth and so on, but that era is now over.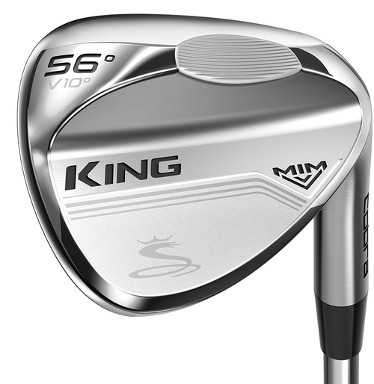 Each MIM wedge is built using a mélange of 304 stainless steel metal powder. The powder is heated using a state of the art sintering process until it melts, and then it's injected into a mold. The thing about the MIM technology is that it allows for the metal to be heated to a much higher temperature compared to forging, and we're talking about 1340 degrees Celsius vs 1200 Celsius; the 140 degrees difference in temperature on MIM's favor results in a more even grain structure compared to forged/cast wedges, and also the softest feel ever seen in the golf industry. On top of being the first metal-injection-molded wedges ever made, the Cobra King MIM wedges are also pioneering a revolutionary polishing process, i.e. each wedge is polished to perfection by a pre-programmed industrial robot, that's given the exact specs and all that; contrast this highly automated state of the art manufacturing process in the MIM wedges to the traditional hand polishing which used to be done by hand, and you'll see the future of golf manufacturing industry.
To give you the "readers' digest" version of the technology, MIM is a powder based metal that is injected into a tool. Investment casting is a lost wax process where the liquid metal is poured into a cavity and the wax burns out. MIM is a much more accurate and less wasteful process. No gates to grind off with MIM, less polishing. Better the process, better the club.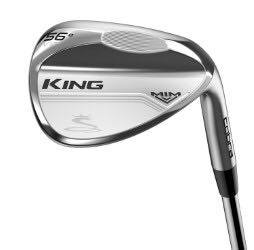 The fully automated manufacturing process of the King MIM wedges basically eliminates any type of variance in head thickness and weight, and thus makes possible more precise grind shapes, which furthermore translates into a more predictable bounce in each and every wedge. Here's Cobra Golf's Vice President for Resarch and Development Tom Oslavsky:

"At COBRA Golf, we work to create new products that offer a tangible benefit to our consumers. Our innovative manufacturing processes work to reduce variables, helping golfers have a more consistent, improved game. The KING MIM Wedges are astonishingly soft and precise, to give golfers the best performance in their short games."

Besides the fully automated/robotic polishing process and the MIM technology, the new Cobra King MIM wedges feature the latest bells and whistles in the company's portfolio, which are aimed at boosting game-performance even further. To enumerate just a few, we must mention the Versatile Tour Wedge Grind, which gained notoriety after being used by Rickie Fowler himself in his custom Tour-ground wedges, the Precision CNC Milled Face and Grooves, which maximizes surface roughness in order to provide precise groove shapes and lofts, which optimize spin performance and trajectory, the Radial CNC Milling Pattern, which works wonders when it comes to boosting spin on softer shots, the Progressive Spin Technology which optimize performance via progressive (CNC milled) groove shapes for consistent spin, the Premium Chrome Finish, which looks classy while delivering long-lasting durability, and finally the Cobra Connect powered by Arccos electronic-feature, as every wedge in the MIM family comes with Golf Pride Tour Velvet grips, containing Arccos' sensors that work together with the Caddie app, thus allowing you to track your wedge stats, so you can train more effectively.
Each of the Cobra King MIM wedge boasts a black Golf Pride Tour Velvet Connect electronically-enabled grip, and also an aftermarket KBS Hi-Rev 2.0 (125g) shaft, and it's offered in 50, 52, 54, 56, 58 and 60 degree lofts, all in Versatile Grind. If you're already sold, the good news is that you can put your hands on the King MIM wedges starting from April 12th. What about the price? As we already told you, due to MIM technology, these bad boys are retailing for just $149 MSRP per wedge, which is nothing short of amazing, i.e. the King MIM wedges from Cobra are redefining the expression "best bang for the buck".