Retailing for $179.99 (MSRP) each, the brand spanking new Callaway Mack Daddy 4 Tactical wedges are a sight to be seen, especially if you love our armed forces.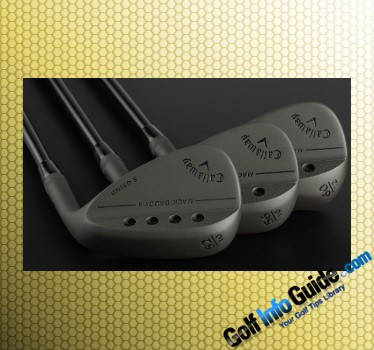 Obviously, considering the "tactical" particle, the MD4 wedges boast a black Lamkin UTx Tactical grip and they come with a black True Temper Dynamic Gold Tour Issue shaft. The wedges are cast from carbon steel (8620) and feature a PVD finish, which looks cool and it's also very resistant to wear and tear, as it's the case with all "military grade" gear. Joke aside, the Callaway Mack Daddy 4 Tactical are built and designed with multiple sole grinds and aggressive grooves, together with a tour-proven shape, to give you the best work around for your money. Keep in mind these babies are available in in 50, 52, 54, 56, 58 and 60 degrees. If you're a golf player who enjoys the raw sensations offered by a true-blue raw steel wedge, not to mention that bad-ass dark finish, the MD4 Tactical should rank high on your shopping list. To give you a little bit of context, Callaway launched the 'vanilla' Mack Daddy 4 back in January, and PGA Tour pros and enthusiasts alike loved them. However, the standard MD4 featured a chrome plated design, being sort of 'blingy" for some types, hence Callaway decided to bring into play the Tactical version, which comes with a raw PVD finish, accompanied by black medallions on the back.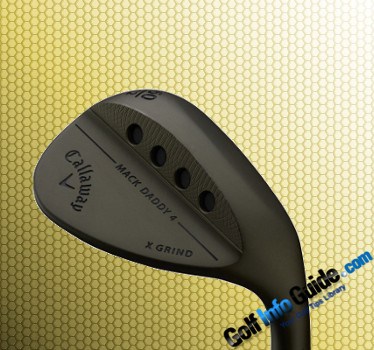 It's worth mentioning that the latest Mack Daddy 4 Tactical arrive with True Temper Dynamic Gold Tour Issue 115 shafts, a limited edition black that is. As I already mentioned, even the Lamkin UTx grip is black. With the MD4 Tactical, Callaway is back in black, and that's great, at least for some of our readers. It's also worth mentioning that part of the profits resulted from the sales of these Tactical wedges are going to be donated by Callaway to the foundation Birdies for the Brave, which takes care of veterans, military service members and their families. Needless to say, the new design/colorway of the Callaway Mack Daddy 4 Tactical wedges is a homage to our military. Besides that, everything is basically the same as in the standard MD4 wedges, which were designed by Roger Cleveland with a little help from the company's Tour staff. As an interesting factoid, the precious feedback from Callaway's Tour staff ended up in that lovely Tour preferred shape of the Mack Daddy 4. Besides their stealthy appearance, the new Mack Daddy 4 Tactical are Tour validated and rigorously tested, not to mention the fact these may be the coolest looking wedges I've ever seen. I really think this is the type of gear Navy Seals use for their training sessions, provided they have golf-training in their program. As per Callaway's official press release: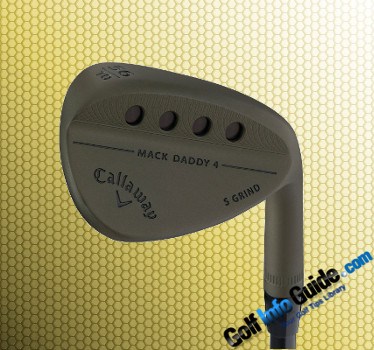 "Mack Daddy 4 Tactical sets the standard for wedge performance by combining innovative technologies with premium components. It's the finest collaboration yet between industry legend Roger Cleveland and Callaway R&D, with heavy influence from Tour pro input.


"Now it has an aggressive look to match all that performance, with a distinct new military green 'raw' PVD Finish, Black PVD Face and black medallions. The Tactical package includes a limited edition Black Tour Issue shaft and a Lamkin Tactical grip."

However, it's not all about cool looks and fantastic design. The new MD4 Tactical feature the new groove-in-groove technology, just like the standard MD4, which dramatically aids spin. The new groove-combo on the MD4 Tactical is very aggressive and it's designed to provide maximum control around the green and out of the rough, with an emphasis on short shots. According to Callaway, the new grooves on the MD4 Tactical offer eighty four distinct contact points with the ball, and all of the grooves are thoroughly inspected using a digital stylus and specially designed software to make sure they comply with USGA and R&A's rules regarding tolerance. Callaway offers the Mac Daddy 4 Tactical wedge in the classic S grind, which features a medium width sole, and the new X grind. In terms of feel, the MD4 Tactical really shines, due the head material, center of gravity location, the new finish, not to mention the limited edition shaft and grip, which are all aimed at increasing Mac Daddy 4's feel. Finally, if you like the new MD4 Tactical and you're an active member of our military, the good news is that you're eligible for a discount, so go get yours while it lasts!