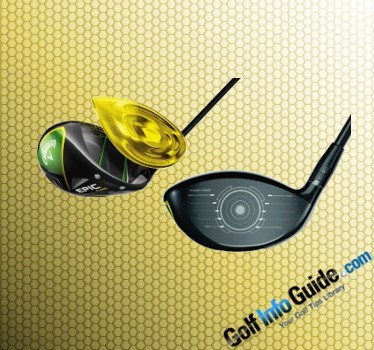 Speaking of state of the art golf gear, 2019 marks a world-first for the company, with Callaway's Epic Flash and Epic Flash Sub Zero drivers and fair woods, which are built using artificial intelligence and machine learning. The new line-up from one of world's most innovative companies builds on the success of the previous 2017 GBB Epic line, but with a twist: the Flash Face technology, which is the signature innovation of the Callaway 2019 driver line-up, was created using AI.
According to Callaway's R&D team, the dozens of flowing ripples which can be observed at a closer look on the entire surface of the inside of the club's titanium face, are not serving an aesthetic purpose, but they form a structure of sorts that elevates the center of the face (COR), in order to increase ball speed. This beautiful yet peculiar design which resembles the effect of a topographic map or a stone dropped into a lake was created using machine learning and artificial intelligence. According to the senior vice president of Callaway's R&D team, Dr. Alan Hocknell, but let me quote the man himself:

"We couldn't have come up with Flash Face using conventional engineering principles. We wouldn't have gone in this direction without A.I. because it's non-intuitive compared to previous face technologies, including our own VFT and X-Face. The wave configuration isn't symmetrical, nor does the pattern seem logical. Yet the ripples work together in a complex manner to maximize ball speed. There's never been anything like Flash Face before in golf equipment, and the effect on performance is intense."

And speaking of Flash Face technology, it's worth mentioning that Callaway used more than 2 decades of driver data for their new Epic Flash drivers and fairway woods. All the data was loaded into the company's latest super computer (worth $5 million), which then used machine learning and fancy AI stuff to create the most advanced pieces of golf gear in the world. Or at least, that's what they're telling us. The 5 million bucks super computer used by Callaway to crunch terabytes of data using AI in just 4 weeks (a regular home computer would've taken 34 years to do the same job by the way) was created for the unique purpose of helping golfers to get more distance and ball speed than ever before.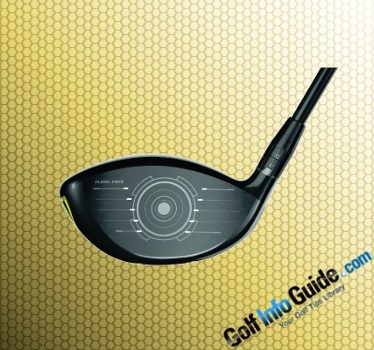 Here's Dr. Alan Hocknell again, speaking about the brain-child of Callaway's AI enhanced super-computer:

"Did what it come up with surprise me? It scared the hell out of me to be honest. People rightly said 'you're the head of R&D, you're supposed to know how your clubs work', and I didn't know how it worked. And the worst part about it was that if it didn't work, we didn't know how to modify it to make it work. So when I said the computer went round the loop 15,000 times, we actually did that process about four times, and each time it was on us to refine the rules we were giving the computer, so it came up with an even better solution."

So, now that it appears like humans are going extinct from the golf-design racket, let's get into the finer details. The AI designed Flash Face is engineered to cohesively elevate the center of the face via a special pattern consisting of the aforementioned ripples, which flow from heel to toe. The respective pattern is laser welded into the head and the end result is an extra 3 miles per hour ball speed gain among Callaway's European Tour players, according to early testing, and up to 6 miles per hour for some. Now, geek talk and big claims aside, let's take a look at the actual clubs.
Callaway's 2019 iteration of the Epic Flash driver uses the "new and improved" legendary Jailbreak Technology, which was first introduced back in 2017, in the original Epic driver. Just to jump start your memory, the Jailbreak thing consists of 2 hourglass shaped titanium bars, located behind the face, placed parallel to one another. This tech innovation creates a more efficient face, which, according to Callaway, translates into more distance via increased ball speed.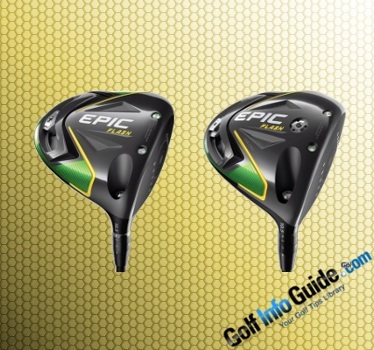 The new Epic Flash driver also comes with a brand new ultra-light T2C triaxial carbon crown, which boosts the moment of inertia. Moreover, the weight saved due to the state of the art carbon-made crown is now redistributed more efficiently in the body, a clever trick which has now become the standard in the industry. The thing is, carbon is three times lighter than titanium yet two times stronger, thus making for the ideal material to be used in manufacturing high end golf gear in "the current year", to quote from classics, and Callaway is a pioneer in this field, as they've used carbon since 2011 in their awesome Diablo Octane and Razr Hawk drivers. Another cool feature in the Epic Flash driver 2019 is the adjustable perimeter weighting system, which makes a comeback (it was missing in action last year in the Rogue).
If you don't know what I am talking about, it's a sliding 16 gram weight located rearward, and it helps with fine tuning your club for delivering a fade/draw/neutral bias. As per specs, price and availability, the Epic Flash driver will be available starting from February 1st in 9, 10.5, 12 degrees lofts, for $529 MSRP. Stock shaft options include Project X EvenFlow, Project X HZRDUS Smoke and Mitsubishi Tensei AV, along with a Golf Pride Tour Velvet ALIGN grip.
The Callaway Epic Flash Sub Zero driver is a bit different, boasting a 12 gram sliding weight at the back of the head (on a track), and comes with APW technology (Adjustable Perimeter Weighting), which marks a premiere for Callaway, i.e. this is the first high moment of inertia/low spin Sub Zero driver to offer APW. Besides the Adjustable Perimeter Weighting system, the Sub Zero driver comes with an embedded weight in the sole (low and forward) for lowering the center of gravity and reducing spin. Here's Callaway's take on the Epic Flash Sub Zero driver:

"The Epic Flash Sub Zero driver is an extraordinary club. Flash Face is a genuine ball speed innovation, and so is Jailbreak. Putting APW in a Sub Zero driver for the first time is a huge accomplishment. And it retains the rare combination of low spin and high MOI that have made our Sub Zero drivers so popular. We're confident that a lot of golfers are going to hit longer drives than they ever have before with this club."

Retailing for $529.99 MSRP, the Callaway Epic Flash Sub Zero driver will hit the stores on February 1st.
Moving along with our news for today, we have the Callaway Epic Flash Fairway Wood, which is also designed using machine learning and all that fancy tech-stuff, and also boasts Flash Face technology. To make a long story short, machine learning and AI were leveraged to create a unique clubface, in order to maximize COR for improved ball speed. There's a subtle difference though: while the 2019 Flash and Sub Zero drivers use titanium with their Flash Face technology, the fairway woods are built from 455 Carpenter steel, on top of Callaway's patented Face Cup technology. Moreover, just like the drivers, the 2019 fairway woods boast Jailbreak Technology and a brand new/ultra-light OptiFit hosel. Retailing for $299.99 MSRP, the new Callaway Epic Flash Fairway Wood will be available starting with February 1st in stores worldwide.
Last but not least, enter the Callaway Epic Flash Sub Zero Fairway Wood, again, built using science-fiction technology and all that tech stuff for delivering unparalleled performance, along with trajectory/spin adjustability by using 2 sole weights, 2 and 16 grams respectively. By moving the weights around, you can customize the club for low spin, or forgiveness and higher ball flight, depending on one's personal preference. Just like the Epic Flash fairway wood, the Sub Zero boasts all the technological bells and whistles available in Callaway's portfolio, including Jailbreak, Flash Face, the ultra-light OptiFit hosel and Face Cup. Available from February 1st, the Sub Zero will retail for $299.9 in Project X HZRDUS Smoke and Mitsubishi Tensei AV shaft options, boasting a unique Golf Pride Tour Velvet ALIGN Grip.