Callaway recently launched its latest Ryder Cup Chrome Soft golf balls, a limited edition (keep that in mind, as in grab them while they last.)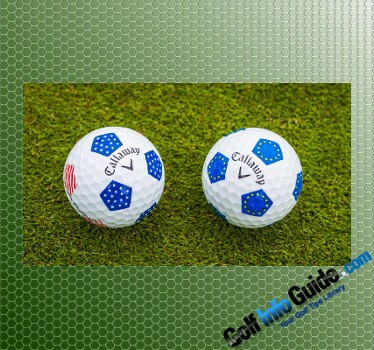 USA and Europe themed in the company's hugely popular Truvis design, featuring a Graphene Dual-Soft Core. Henceforth, there are 2 models of the new Ryder Cup Chrome Soft, the USA and Europe themed designs respectively, and they were both launched just ahead of the 2018 Ryder Cup at Le Golf National. Callaway's immensely popular Truvis pattern, which is apparent on both versions, is specifically designed to make the golf balls more visible, thus improving playability and providing better focus during your game. Every component of the Ryder Cup Chrome Soft golf balls has been improved, according to the company's official press release. Callaway built their latest golf balls using the thinnest and strongest material available, graphene respectively, thus creating a lighter and thinner outer core, which allowed for a bigger inner core to be put into place. This technological innovation delivers higher launch, lower spin off the tee and unparalleled forgiveness on miss hits. To put it simply, the new Ryder Cup Chrome Soft are very soft and fast golf balls, due to the Graphene Dual SoftFast Core technology incorporated into their built, which promotes low spin, high launch, distance and amazing shot stopping spin when around the green. According to Senior Vice President of Research and Development at Callaway Golf, Dr Alan Hocknell respectively:
"We looked at various parts of the golf ball and the functions of each, and we quickly decided that if we were going to use a material that made any part of our golf ball substantially stronger it would be in the outer core, because its role is partly to allow the inner core to be soft. What we wanted to produce was an outer core that was much stronger, effectively a thinner but stronger 'crash helmet' for the inner core and that would allow us to make the inner core bigger."

The Ryder Cup Chrome Soft featuring the European Truvis Design are available in white-blue-yellow, while the stars and stripes are obviously boasting the patriotic red white and blue United States design. Regardless of the version one chooses, these golf balls will deliver great value for the money, combining Tour proven performance with amazing feel, low spin off the driver and faster speeds, round after round. The new graphene Dual Soft Fast Core which comes with a bigger inner core improves compression energy and in the same time minimizes driver spin, thus promoting longer distance via high launch. The state of the art dual core design works wonders in terms of distance off of your long irons, while delivering unparalleled control off of mid/short irons and wedges. The Ryder Cup Chrome Soft's Tour Urethane Cover feels great and is amazing on pitches and chips, while the low compression core delivers excellent feel and unparalleled forgiveness. In terms of price, the Ryder Cup Chrome Soft retail for $44.99/dozen.