Big Max is a well-known brand among golf cart aficionados, and today's news is that the EU based company just revealed their latest TI ONE, which is basically an incremental upgrade of their best-selling/ever-green model, the Ti 1000 (yes, just like Terminator T1000). Hence, we can safely presume that the TI ONE is going to become an instant hit, as it was built based on something already awesome. Joke aside, Big Max reinventing a best seller is great news, as the TI ONE is basically a 3-wheeler push cart, designed using 2019 technologies and specs.
And what's truly outstanding is that this baby is incredibly cheap for what it is.
For something like ~$220, you'll get a premium looking and feeling push cart, with straight axles, which allow for a simple and almost instant quick-fold, a high quality organizer panel, which boasts generous storage spaces for all of your golf paraphernalia, a height adjustable handle and the obligatory foot brake. On top of that, you'll get Two Quick Fix and two Quick Lok bases, which come handy when it comes to enriching your cart with Big Max's wide range of accessories, things like towels, umbrella holders or GPS holders.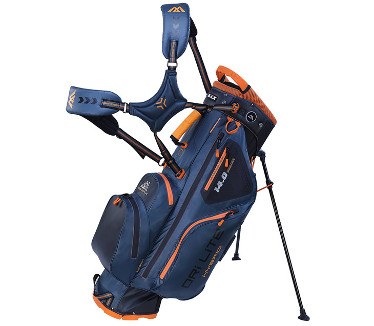 All these cool features are combined with the company's legendary reliability and robust characteristics, i.e. all the good things that made Big Max what it is today, resulting in a high quality, compact and lightweight push cart, which comes with, check this out: five year warranty, provided you register it with the brand.
If you're looking for an affordable, high quality, simple to use and practical cart, the TI ONE should rank high on your shopping list.
Moving along with our story, we have the Big Max Trio, the three musketeers so to speak, proving that Big Max's R&D team were busy little bees this winter. These new bags complement the newly released Aqua range, but more on this later. So, he have the Big Max Dri Lite Hybrid Golf Bag, which, as its name suggests, combines the company's water-repellant technology with a specially designed and kind of unique Hybrid base. On top of excellent waterproofing, the Big Max Dri Lite Hybrid Golf Bag is incredibly comfy and easy to carry around or on a buggy. Big Max's patented Dri Lite technology provides this cool golf bag with an impressive 2,000mm waterproof reading, which in real world means that you can play golf all day long in a tropical storm, yet your gear will stay dry and safe inside your bag. There's also a smart leg lock system and a footless base, which confers the bag good stability on any type of terrain, as the Big Max Dri Lite Hybrid will seat perfectly secure and square both on the ground and on a trolley. There's also a cleverly designed cut-out base, for improved stability on trolleys, so you'll never have to worry about your gear falling off and what not. The leg mechanism at the top of the golf bag is located a tad lower than usual, in order to prevent any bending or twisting that might occur, thus to provide you with a better fit. Now, even if we're talking about a stand bag, the Big Max Dri Lite Hybrid comes with ample storage spaces, including seven huge pockets, obviously waterproof, along with fourteen way full length dividers for all of your clubs, and on top of that, all the great features you'd expect in a high quality golf bag.

We also have to mention that the Big Max Dri Lite Hybrid weighs a mere 4 pounds/2 kilos, and its air channel straps and the footless stand mechanism make it as comfy and easy to carry around as any other (less complex) stand bag. If you're already sold on the Dri Lite Hybrid, you must learn this bad boy is already available in Black, Charcoal/Black/Red, Navy/Black/Grass, Silver/Red/Black, Steel Blue/Black/Orange, White/Navy/Red and White/Black/Orange color ways.
Next, we have the Big Max Dri Lite Silencio Golf Bag, another interesting piece of golf-gear which stands true to its name (Silencio means silent),as it's engineered to be as quiet as possible as you carry it around on a cart, regardless on the type of surface/slope, which is as good as it gets. In order to achieve a dead silent golf bag, Bix Max built the Dri Lite Silencio with a strategically separated 14 way Silencio top, which is cleverly designed to keep your clubs firmly into place, thus avoiding them knocking together and what not, hence helping with diminishing noise and also potential damage to your gear. Since the Silencio is a proud member of the Dri Lite family, it's also completely waterproof, and comes with plenty of storage spaces, including nine pockets and a 9.5'' top, weighing just under 4 kilos/8 pounds. Basically, if you're looking for dead-silent versatility doubled by waterproofing in a well-designed golf bag, the Dri Lite Silencio from Big Max should be on your shopping list, being available in a plethora of color ways, including Black, Charcoal/White/Black/Red, Navy/Orange, Navy/White/Cream and Silver/Navy.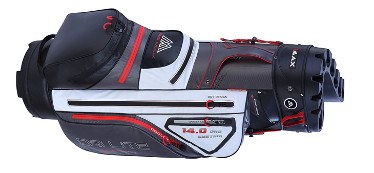 Finally, we have the Big Max Heaven 7 Golf Bag, which is the perfect choice for playing in the winter (we know, it's already obsolete, but there's always the next year, right?), boasting a sturdy construction and a lot of storage space. The Heaven 7 comes with a larger than life top, which allows you to carry four extra clubs compared to regular golf bags, and also boasts four big pockets, together with a towel holder and a glove holder. Moreover, you get Air Channel straps, which deliver excellent comfort all day long as you carry your gear on the battlefield. However, despite its generous storage space, the Big Max Heaven 7 is incredibly lightweight, standing at just 3 pounds/1.6 kilos, so you can carry all your golf gear and then some (the extra clubs we told you about) during the winter season in a waterproof high quality golf bag, which is also incredibly affordable, and it's available in in Black/Red, Charcoal/Fuschia, Petrol/Orange, Red/Silver and Silver/Navy color ways.
And now, let's take a look at Big Max's revamped Aqua bag range as per 2019. There are two brand spanking new designs in the Aqua family this year, and that's good news if you're into high quality bags designed to keep your golf gear secure from the elements, because that's what the Aqua particle stands for: waterproofing. On top of weather-protection, the new Aqua bags are packed full with Big Max's latest and greatest technologies and come with all the cool features one would expect in the "current year". Arguably, the main selling point of the new Aqua bags is Big Max's proprietary Drop-Stop technology, which makes sure that your gear will never get wet, not even in a cat 3 hurricane. Joke aside, if you want to keep the content of your golf-bag dry, it doesn't get any better than Drop Stop. The new Aqua bags are built using tear resistant/ultra-light-weight materials, and a reliable and robust design, with each bag in the series boasting its own specific features.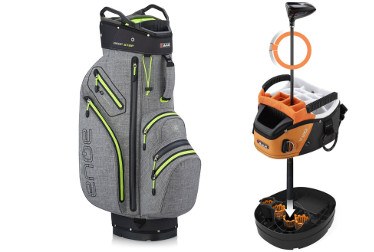 The first of the bunch is the new Big Max Aqua V-4 Golf Bag, which is aimed at making your pre shot routine quicker and cleaner than ever before, due to its cleverly redesigned V-Lock organizer top, which features 4 Twist and Lock mechanisms, instead of regular dividers; this interesting choice on Big Max's part helps with holding the woods firmly into place and also facing away from the rest of your gear, allowing for a clearer view, so you can easily remove/select your clubs with incredible ease. To keep your woods secure, the Big Max Aqua V-4 uses a new lightweight locking system, located at the foot of the golf bag, while the top maintains the classic look. Most importantly, despite all these tech-features, the Big Max Aqua V-4 weighs a mere 2.7 kilos/5.5 pounds, as it comes with fourteen full length dividers, nine large pockets (waterproof, obviously), a well for your umbrella/putter, two extra cooler pockets, a towel/glove holder, a ten inch top and comfy transport handles, being available in Black, Charcoal/Fuschia, Navy/White/Red, Red/Black, Steel Blue/Black/Orange, Storm Silver/Black/Lime, and White/Black/Orange color ways.

The second member of the 2019 Aqua line-up is the Big Max Aqua Style 2 Golf Bag, which is built in old school Euro-tradition (after all, these guys invented golf), and aimed at combining classic European style with practicality, ease of use and affordability. This baby comes with generous storing options, including plenty of space for your clubs and all your extra golf gear, featuring nine larger than life waterproof pockets, a huge cooler pocket, not to mention the obligatory 14 way organizer boasting full length dividers. And the best thing is that all this "storage real estate" is incredibly lightweight, as the bag weight a mere 4 pounds/2.1 kilos, being completely waterproof, as it features a nice combo of horizontal/vertical/curved pockets, positioned as ergonomically as possible. Finally, this state of the art golf bag is available in Blue/Grass, Cream/Coffee, Navy/Cream, Red/Silver, Silver/Navy, Storm Silver/Lime and White/Pink color ways, making for the sensible choice if you're looking for a high quality bag to keep your clubs dry and safe in all weather conditions.