Titleist Velocity: Addictive Distance and Feel Off the Tee
---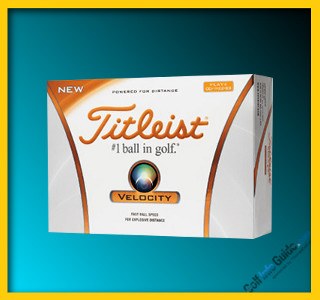 © TITLEIST Golf
Ball tested: Titleist Velocity
Category: Premium
Specs: Construction – Two-piece; Cover – Surlyn blend; Core – Material etc; Dimples / Pattern – 332 in icosahedral design
Compression: High
Price as tested (new): $35 per dozen, but widely available around $27 per dozen
Ball notes: When Titleist introduces an all-new golf ball, it's bound to get hyped to the heavens. So it was when the company unveiled its Velocity model in 2012. Reviews were excellent, sales brisk, and Velocity earned what appears to be a long-term spot in Titleist's lineup.
For what it's worth, Velocity ranks below the NXT Tour and above the DT SoLo models on the Titleist price/performance food chain. As the newest of the bunch, however, it's got a number of features unique to the brand.
First off, there's an LSX core which Titleist labels the company's fastest. Indeed, Velocity is built for speed. As one story goes, the ball had to be redesigned five times in order to meet the USGA's Overall Distance Standard – the first four versions were too long. Velocity also features a cover made from what Titleist calls an "NAZ2" formulation which translates to even greater speed with reduced spin.
Add it all up and you've got yet another Golf Digest Hot List gold medalist for the No. 1 ball brand in golf. The beat goes on.
Sound and feel: Velocity feels hot off the driver, solid off the irons and reasonably soft on chips and putts. Most golfers will love taking a rip at this ball with the big stick. Solid strikes are positively addicting.
Off the tee: If you think Velocity feels great, wait till you watch it in the air – and calculate your yardage. For us, it's unquestionably the longest Titleist, and probably the straightest too. Many reviewers have compared Velocity's distance and accuracy to the highly regarded Bridgestone e6; we don't disagree. Velocity showed nice down-range carry and minimal sidespin.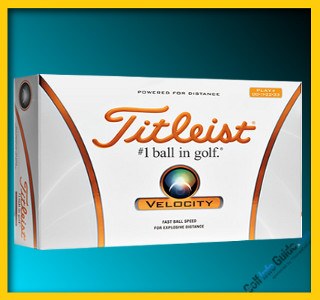 © TITLEIST Golf
From the fairway / rough: The ball performed well here, too, but we started to notice differences between Velocity and its higher-end siblings. Perhaps slightly longer than the others, it launched high and stopped quickly without backing up on short-iron shots. From farther out, backspin was more in line with the DT SoLo than the ProV1 and NXT Tour models.
Around the green: Here, too, we had to adjust for a bit of roll-out. Velocity will suit most players just fine as long as the greens are average in firmness and speed. Hard, quick surfaces could be a different matter. Bite from bunkers was adequate and putts rolled well, though some testers have noted a tendency for the Velocity to jump hot off the blade.
Bottom line: Its lack of greenside finesse can be forgiven – Velocity is designed to generate long, straight shots, and no one can deny that it meets those goals. Golfers who struggle to get their current ball in the fairway, or to hit it sufficiently far, should absolutely consider Velocity. The gains you see off the tee could easily negate any sacrifice in the short game.

Golf Ball Videos:
- Compression Video

- Spin Video

- Dimples Video

- Golf Ball Brands Video

- Titleist Video

- Understanding Spin Video
Value/Recreational/Distance – Designed for mid- to high-handicap golfers with swing speeds below 90 mph; typically feature two-piece construction and firm covers; promote greater distance over high spin rates. Examples: Pinnacle Gold, Slazenger RAW Distance
Premium – Designed for low- to mid-handicap golfers with swing speeds of 90-99 mph; typically feature multi-layer construction and medium-soft covers; happy medium between Value/Recreational and Tour categories for distance and spin qualities. Examples: Titleist NXT Tour, Callaway HEX Diablo
Tour/Advanced/Performance – Designed for low-handicap and professional golfers with swing speeds in excess of 100 mph; typically feature multi-layer construction and soft covers; promote greater spin rates and enhanced feel over distance. Examples: Titleist ProV1, Bridgestone Tour B330

© Titleist Golf
Titleist Revamped Velocity Golf Ball is Here
---
We already told you about the new mid-range Tour Soft golf ball in a previous article, but the good news keep coming as Titleist also revealed their new and improved Velocity for 2020. As you may already know, Velocity is an entry level golf ball from Titleist, and the 2020 version comes with new technologies, a few cool looking matte color options and, of course, more distance than ever before. Here's the President of Golf Ball Marketing at Titleist Michael Mahoney spilling the beans on Velocity:

Velocity golfers love distance, and they never stop asking us for more yards. But we know they're also trying to shoot lower scores, and distance is only one part of that equation. The advancements our engineers have made to Velocity's aerodynamics package and high-speed core technology are meaningful. Golfers can take aim from further away - confident that if they put a good swing on it, they'll have the extra distance to reach the green with the ball flight to stop it there.


© Titleist Golf
The new model replaces the 2018 version, just like the new Tour Soft, and brings a new and redesigned 350 octahedral dimple pattern, which is aimed at producing a high flying and more consistent trajectory, which is key in a golf ball built for distance. Yes, it's deja-vu all over again, but we must also tell you about the faster and larger LSX core in the new Velocity, which promotes lower spin rates when it comes to full swing shots, as well as the ball's fast initial velocity, which means this ball will definitely help you hit a little farther than usual. However, the new Velocity didn't compromise in regard to spin on the shorter shots, or at least that's what Titleist is telling us, as the ball is claimed to have more than enough stopping power in the green-zone.
To achieve a playable greenside feel and enough speed to please the laziest golfer, the new Velocity has a Fast NaZ+ Cover. Another cool fact about Velocity is that it's now available in 3 new color options, plus an optic matte finish which looks great, and offers better visibility sans glare. Besides the classic white, you can now order your favorite golf ball in Green (weird choice for a golf ball), Pink for lady-golfers and Orange (probably a homage for our President). Just like the Tour Soft, the new Velocity is already available for purchasing in stores all across the US standing at $27.99/dozen.

Golf Ball Videos:
- Compression Video

- Spin Video

- Dimples Video

- Golf Ball Brands Video

- Titleist Video

- Understanding Spin Video
Value/Recreational/Distance – Designed for mid- to high-handicap golfers with swing speeds below 90 mph; typically feature two-piece construction and firm covers; promote greater distance over high spin rates. Examples: Pinnacle Gold, Slazenger RAW Distance
Premium – Designed for low- to mid-handicap golfers with swing speeds of 90-99 mph; typically feature multi-layer construction and medium-soft covers; happy medium between Value/Recreational and Tour categories for distance and spin qualities. Examples: Titleist NXT Tour, Callaway HEX Diablo
Tour/Advanced/Performance – Designed for low-handicap and professional golfers with swing speeds in excess of 100 mph; typically feature multi-layer construction and soft covers; promote greater spin rates and enhanced feel over distance. Examples: Titleist ProV1, Bridgestone Tour B330