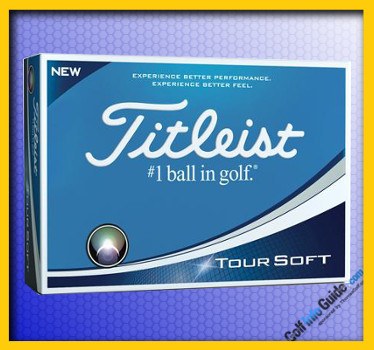 © Titleist Golf
Titleist Tour Soft Golf Ball Review
---
---
Spin: High
Dimples: 342 Spherically-Tiled Cuboctahedron Design
Compression: Low
Category Comparison: Premium
Spec: (Two) 2 Piece / Layers
Cover: New Kind of Ionomer
Core: Large Soft 1.6 Inches in Diameter
Price: $34.99
To quote from the classics, "it's the current year", 2018 that is, and the latest golf ball from one of the world's most iconic companies just hit the shelves. I am obviously referring to Titleist's Tour Soft Golf Ball, that will definitely make the golf world take notice. To begin with, this baby is aimed at replacing two sacred monsters: the Titleist NXT Tour/Tour S, which makes it clear that the company really did something special with their latest Tour Soft golf ball. Needless to say, the Titleist Tour Soft makes for a cool combo of cutting edge technology and performance, putting together the largest core ever put into a Titleist golf ball (1,6 inches in diameter) with the company's state of the art and ultra thin cover technology.
The end result is a golf ball that is incredibly fast for distance and gives excellent feedback and a responsive feel for great short-game performance. According to the company, the Titleist Tour Soft is the softest golf ball in its category and it's better and longer compared to the Bridgestone Tour B330-RXS or the Chrome Soft/TP5. The Tour Soft's cover is built using a composite material, a blend of four different materials actually, and it's almost as thin as urethane covered balls. The end result is a golf ball that feels significantly softer compared to the NXT balls, yet it still delivers in terms of distance and short game control. The new Tour Soft retails for $34.99 a dozen and it's available in white and yellow.

Golf Ball Videos:
- Compression Video

- Spin Video

- Dimples Video

- Golf Ball Brands Video

- Titleist Video

- Understanding Spin Video
Value/Recreational/Distance – Designed for mid- to high-handicap golfers with swing speeds below 90 mph; typically feature two-piece construction and firm covers; promote greater distance over high spin rates. Examples: Pinnacle Gold, Slazenger RAW Distance
Premium – Designed for low- to mid-handicap golfers with swing speeds of 90-99 mph; typically feature multi-layer construction and medium-soft covers; happy medium between Value/Recreational and Tour categories for distance and spin qualities. Examples: Titleist NXT Tour, Callaway HEX Diablo
Tour/Advanced/Performance – Designed for low-handicap and professional golfers with swing speeds in excess of 100 mph; typically feature multi-layer construction and soft covers; promote greater spin rates and enhanced feel over distance. Examples: Titleist ProV1, Bridgestone Tour B330

© Titleist Golf
Titleist Announces Revamped Tour Soft Golf Ball
---
Titleist is one of the biggest names in the golf industry and the good news for our readers is that 2020 will see a new and revamped edition of the company's already legendary Tour Soft golf ball. Even if the first-gen Tour Soft was introduced a couple of years ago, back in 2018, and it replaced the aging NXT range, it quickly became a favorite among golf aficionados due to its lower price and high-performance features. Basically, the Tour Soft was designed to fill the gap between the iconic Pro V1, the premium/high end golf ball in Titleist's offer, and the low spinning and cheaper Velocity golf ball.
The updated Tour Soft 2020 is crafted with two main things in mind: first, to deliver better short-game performance, and also to provide increased distance, and that's pretty nice in our book, considering the fact that the new Tour Soft also comes with an interesting alignment stamp, which is inspired from the company's TrueFeel golf ball. Here's the President of Golf Ball Marketing at Titleist Michael Mahoney telling us the inside info about the new Tour Soft:

Golfers wanting to play a softer-feeling ball shouldn't have to sacrifice yards off the tee or control into the green. We know they have real golf to play and their ball has to be much more than just soft. The new generation of Tour Soft continues to show what's possible in a lower compression design. Our engineers have developed a longer, all-round better performing golf ball that maintains the soft and responsive feel that golfers love about this product.


© Titleist Golf
The first True Soft was pretty special in regard to its core, as it had the largest core ever made by Titleist; the second-gen is taking this "big core" concept even further, i.e. the core in the new True Soft golf ball is even bigger compared to the first generation, and according to the company, the bigger core promotes amazing ball speeds, thus making the True Soft the longest and fastest ball in its category on the market. In order to create a larger core, Titleist was forced by the laws of physics to make the already thin 4CE grafted cover system even thinner, so the ball could keep its high spin rates around the green. Another issue that was taken care of in the second-gen Tour Soft is that famous penetrating ball flight we all know and love in our distance golf balls, hence the Tour Soft next-gen comes with a redesigned and totally new 342 cuboctahedron dimple pattern which promotes the aforementioned characteristic.
Moreover, this baby comes with a redesigned side stamp and it's available in high optic yellow and classic white. It's worth mentioning that the redesigned side stamp also serves as an alignment aid, provided you require such a gimmick on your golf ball, as the stamps looks like the letter T, i.e. it helps golfers to line the ball easier with both their club face and the target, so you won't have to draw mark lines on your golf ball. If you're already sold on Titleist's new Tour Soft, the good news is that the golf ball is already available in stores, so go get yours while it lasts. PS: the Tour Soft ball costs $34.99/dozen.

Golf Ball Videos:
- Compression Video

- Spin Video

- Dimples Video

- Golf Ball Brands Video

- Titleist Video

- Understanding Spin Video
Value/Recreational/Distance – Designed for mid- to high-handicap golfers with swing speeds below 90 mph; typically feature two-piece construction and firm covers; promote greater distance over high spin rates. Examples: Pinnacle Gold, Slazenger RAW Distance
Premium – Designed for low- to mid-handicap golfers with swing speeds of 90-99 mph; typically feature multi-layer construction and medium-soft covers; happy medium between Value/Recreational and Tour categories for distance and spin qualities. Examples: Titleist NXT Tour, Callaway HEX Diablo
Tour/Advanced/Performance – Designed for low-handicap and professional golfers with swing speeds in excess of 100 mph; typically feature multi-layer construction and soft covers; promote greater spin rates and enhanced feel over distance. Examples: Titleist ProV1, Bridgestone Tour B330