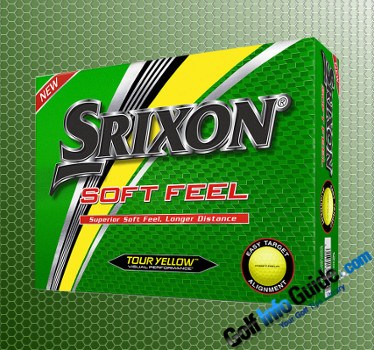 ©Srixon Golf
Spin: Mid
Dimples: 338 speed dimple pattern
Compression: Low
Category Comparison: Value
Spec: (Two) 2 Piece / Layers
Cover: Ionomer Cover
Core: Energetic Gradient Growth Core
Price: $19.99
Srixon is a well known brand in the golf-gear industry, and on August 1st they've announced the latest generation of their famous Soft Feel golf ball. The latest Srixon Soft Feel is marketed using the phrase "distance never felt this good", which clearly indicates where it's coming from. Now at its 11th generation, the new Soft Feel golf ball is available in 2 colors: Tour Yellow and Soft White. The ball was launched for the North American market on August 1st and it's built and designed to please golf players seeking for control and maximum distance. On top of that, the ball delivers exceptional feel, which is its trademark of sorts, due to its state of the art and very soft cover, which works together with an innovative core and improved dimple pattern. The new Srixon Soft Feel golf ball promises to deliver all around and better than ever performance from tee to green, and the best thing about it (besides performance obviously) is its affordable price. The new Soft Feel can be summed up by the words: softer, longer, better and affordable. The best of "all worlds" so to speak. As per Srixon's Vice President of Research and Development Jeff Brunski's own words: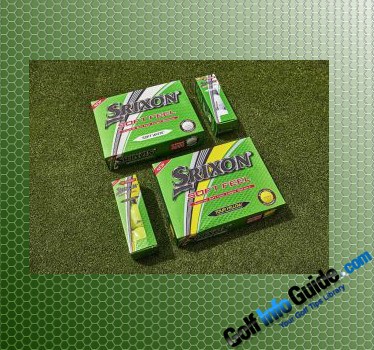 The all-new Soft Feel was designed to help players maximize their distance off the tee, while providing even better feel and control. The latest generation of Soft Feel accomplishes this goal offering a lower compression ball for incredible distance, but a softer cover to provide that greenside performance all players crave. The Soft Feel provides all-around performance at an incredible value which really separates this golf ball from the rest."

The main improvements in the new Srixon Soft Feel golf ball include a brand spanking new energetic gradient growth core, a patented technology that delivers low spin trajectory and high launch off the tee, for improved distance and incredibly soft feel, a newly designed 338 speed dimple pattern and a thin/soft cover, designed for a softer feel, more greenside spin and also better aerodynamics (reduced drag) for more consistency and accuracy one very shot, even in windy conditions. To achieve a high performance golf ball at an unbeatable price, Srixon worked together with an independent 3rd party, Golf Laboratories Inc. respectively, to conduct robot testing of their latest Soft Feel product against its direct competitors. The research proved that Srixon's latest and greatest golf ball delivers ideal tee to green performance and also incredible value for money, i.e. longer driver distance due to the ball's new dimple pattern and the energetic gradient core, which provide less drag and ideal launch conditions; that compared to more expensive (ionomer covered) models/brands. Another department in which the new Soft Feel really shines is in terms of accurate iron play, as the ball offers more consistency and distance without sacrificing control with your irons. Finally, this golf ball boasts market-leading greenside spin and control, which separates it from its direct competitors, and that's due to Soft Feel's softer and thinner cover, that helps it generate more spin compared to more expensive products. And speaking of prices, the new Srixon Soft Feel is retailing for $19.99 (MSRP) a dozen.

Golf Ball Videos:
– Compression Video

– Spin Video

– Dimples Video

– Golf Ball Brands Video

– Titleist Video

– Understanding Spin Video
*Category key
Value/Recreational/Distance
– Designed for mid- to high-handicap golfers with swing speeds below 90 mph; typically feature two-piece construction and firm covers; promote greater distance over high spin rates. Examples: Pinnacle Gold, Slazenger RAW Distance
Premium
– Designed for low- to mid-handicap golfers with swing speeds of 90-99 mph; typically feature multi-layer construction and medium-soft covers; happy medium between Value/Recreational and Tour categories for distance and spin qualities. Examples: Titleist NXT Tour, Callaway HEX Diablo
Tour/Advanced/Performance
– Designed for low-handicap and professional golfers with swing speeds in excess of 100 mph; typically feature multi-layer construction and soft covers; promote greater spin rates and enhanced feel over distance. Examples: Titleist ProV1, Bridgestone Tour B330