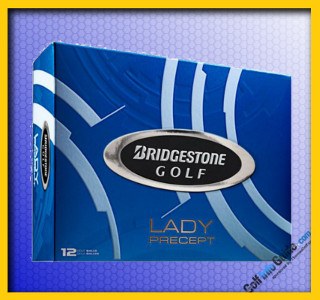 © Bridgestone Golf
Ball tested: Bridgestone Lady Precept
Category: Value/Recreational/Distance (Women)
Feel: Soft
Tested for golfers with average driving distance of: 125 yards or less (carry + roll) / 126 to 195 yards (carry + roll) / 196 to 245 (carry + roll)
Specs: Construction – Two-piece; Cover – Ionomer; Core – Gradational Compression; Dimples / Pattern – 330 in seamless design
Compression: Low
Price as tested (new): $19.99 per dozen
Ball notes: Bridgestone has found a real niche with its innovative ball fitting program, paired with a wide range of products designed to match numerous swing speed/accuracy/feel preferences. The company doesn't overlook the ladies, either.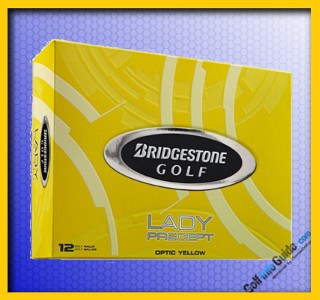 © Bridgestone Golf
Lady Precept rules the women's golf ball market, with one version or another ranking No. 1 in sales from 1997 – 2012 according to Golf Data Tech. Not content to leave well enough alone, Bridgestone tweaked the ball for 2013 using info gathered from more than 14,000 live fittings with women nationwide. Lady Precept now features a larger core and 12% thinner cover, with the goal of producing a higher launch and lower spin for increased driving distance.
Lady Precept is also the softest women's ball available, Bridgestone says, and the company's softest ball, period. It comes in white as well as yellow and pink
On the clubface: The ultra-soft, 50-compression Bridgestone e6 golf ball is popular among women, and the Lady Precept boasts similar feel. Clearly, the company has figured out how to reduce compression to less than half that of a standard ball while retaining adequate firmness. Driving a Lady Precept should feel like hitting a cotton ball, but it doesn't.
We could practice the short game and putting all day with this ball. That's how good it feels on and around the greens.
Off the tee:
From the fairway / rough: More good results with trajectory here. Hybrid shots yielded excellent lift as did good swings with the 7- and 8-irons. Wedges, meanwhile, proved easy to stop within a couple yards of their pitch marks. Lady Precept performed admirably from rough, jumping up and out easily. (FYI – The yellow model is a cinch to spot in the tall stuff, even in a glare.)
Around the green: What a joy to chip and putt. When hitting this ball, touch seems to flow from the hands through the club. Lady Precept flies and lands with a butterfly's grace, rolls with the certitude of a miniature bowling ball and, all in all, performs like a champ in the short game.
Bottom line: If we had one complaint about Bridgestone's Lady Precept, it's… Well, we can't think of anything. It's terrific tee-to-green, a wonderful match for most any woman's game and a bargain at $20 a dozen. Meet the new boss, same as the old boss.

Golf Ball Videos:
- Compression Video

- Spin Video

- Dimples Video

- Golf Ball Brands Video

- Titleist Video

- Understanding Spin Video
Value/Recreational/Distance – Designed for mid- to high-handicap golfers with swing speeds below 90 mph; typically feature two-piece construction and firm covers; promote greater distance over high spin rates. Examples: Pinnacle Gold, Slazenger RAW Distance
Premium – Designed for low- to mid-handicap golfers with swing speeds of 90-99 mph; typically feature multi-layer construction and medium-soft covers; happy medium between Value/Recreational and Tour categories for distance and spin qualities. Examples: Titleist NXT Tour, Callaway HEX Diablo
Tour/Advanced/Performance – Designed for low-handicap and professional golfers with swing speeds in excess of 100 mph; typically feature multi-layer construction and soft covers; promote greater spin rates and enhanced feel over distance. Examples: Titleist ProV1, Bridgestone Tour B330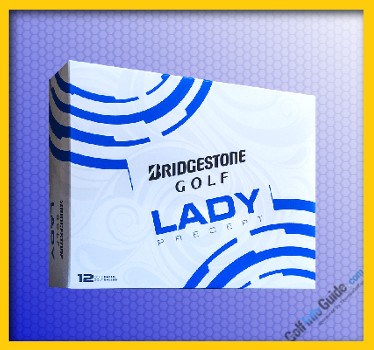 © Bridgestone Golf
Bridgestone Lady Precept 2016 Golf Ball Review
---
Spin: Low
Dimples: 330
Compression: Low
Category Comparison: Value
Spec: (Two) 2 Piece / Layers
The Bridgestone Lady Precept is a soft feeling/recreational/value/distance orientated golf ball which retails for $19,99 a dozen. As the name suggests, Bridgestone created this piece of golf gear especially for the ladies. The Bridgestone Lady Precept has a two piece construction, a ionomer coating featuring the proprietary 330 seamless design and a gradational compression core. Bridgestone created the Lady Precept 2016 with a 12 percent larger core than its previous generation, a thinner coating and after using more than fourteen thousand live fittings with women golfers all around the country. Indeed, they put in a good amount of work and research into this ball, and the end result is a lower spin-higher launch golf ball which increases driving distance. The Lady Precept from Bridgestone is marketed to be the softest ball available on the market today (for women, naturally)and the company's softest golf ball ever, period. Being addressed to women, it seems obvious that the ball is available in white, as well as pink and yellow.
On the club-face, the Lady Precept borrows the 50 compression-ultra soft features of the e6, and obviously the very similar feel. Also, this ball was engineered with half the compression of a standard one, while keeping the optimum firmness, with the end result being excellent lift and great feel around the green. On wedge shots, the Lady Precept has enough stopping power and it also performs great from the rough, while around the green this baby is a joy to putt and chip. Basically, the Lady Precept performs like a pro in the short game and it flies and lands gracefully, like a butterfly, being a wonderful ball and matching any woman's game. Also, the Lady Precept is a true bargain, retailing for under $20 a dozen, playing in the best bang for the buck category.

Golf Ball Videos:
- Compression Video

- Spin Video

- Dimples Video

- Golf Ball Brands Video

- Titleist Video

- Understanding Spin Video
Value/Recreational/Distance – Designed for mid- to high-handicap golfers with swing speeds below 90 mph; typically feature two-piece construction and firm covers; promote greater distance over high spin rates. Examples: Pinnacle Gold, Slazenger RAW Distance
Premium – Designed for low- to mid-handicap golfers with swing speeds of 90-99 mph; typically feature multi-layer construction and medium-soft covers; happy medium between Value/Recreational and Tour categories for distance and spin qualities. Examples: Titleist NXT Tour, Callaway HEX Diablo
Tour/Advanced/Performance – Designed for low-handicap and professional golfers with swing speeds in excess of 100 mph; typically feature multi-layer construction and soft covers; promote greater spin rates and enhanced feel over distance. Examples: Titleist ProV1, Bridgestone Tour B330