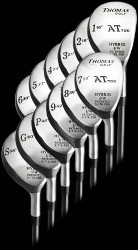 sir:
I took delivery of your 27* 5 hyrbrid today. (Thank you for your super prompt shipping.)
Off I went to the local driving range where I tried out my new Thomas 5H, side- by-side with my Callaway 23* 4H and my Ping 30.5* 6 Iron. Your 5H fits right in!
Your club is everything that you claim it to be. Great job!
When the need / desire arises, I will buy clubs from you again without hesitation.
My compliments.
Regards,
A.J.