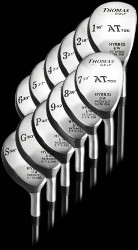 Got my hybrids – very impressed
Hi.
I just received my Thomas Golf 3 and 4 hybrids yesterday. After opening the box, I put them in my bag and headed straight for the range after work. With the Thomas hybrids I was literally slamming balls straight and far. I joked with my friends that in comparison to my regular 3 and 4 blades, the hybrids were cheater clubs since I could never hit with regular irons like that.
The customer service was impressive too. I placed my order before I completed the fitting form on your website. Sal was kind enough to change my order based on the information from the fitting.
Quality product, great customer service, and great value…got my money's worth and more.
Thanks a lot.
James