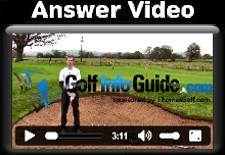 You're Correct!


The short game is defined as the game of golf that takes place from 100 yards and closer to the hole. It encompasses putting, chipping, pitching and bunker play.
---

The long game, in contrast, comprises of just one part - the full swing. If we look at the actual statistics for a game of golf, then the percentage of shots for an amateur player taken from 100 yards and closer is just under 70%.

So in simple terms - ignore the short game and you will be neglecting nearly three-quarters of the skills you need to play a game of golf to a good standard.

The good news is that, unlike changing a golf swing, improving the skills of chipping, pitching, putting and bunker play is not that difficult and does not take up too much time. A good practice plan is to divide practice into appropriate parts. If the short game constitutes nearly 70% of your game then 70% of your practice time should be devoted to it. Plan your sessions in a way that the number of balls you hit is divided correctly.

Use the following as an example:

For 150 balls:
Warm up - Pitch shots, different distances - 20 balls
Iron play - different irons - 20 balls
Chip shots (next to a green or pick an area of grass on the driving range) - 20 balls
Woods - fairway woods and drivers - 20 balls
Putting - 10 putts of each of the following - 3 feet, 6 feet, 9 feet, 12 feet
Cool down - Pitch shots, different distances - 20 balls
10 balls spare for either more putts or 10 bunker shots (depends on facilities)

This example is a perfect breakdown of practicing the types of shot that will save shots on the golf course. There are more putts than any other shot and just under 70% of the practice time is attributed to the short game.

Plan your practice to include all areas of the game and your scores will improve.
Sorry Try Again! - See Explanation Below
It is true that you first need to reach the hole before employing some short game technique but research has shown that if you learned to play by reverse chaining, that is, learning the shots closest to the hole first and then moving further away, your development as a golfer would be quicker with better technique. For instance, if you learned to putt first, then chip, then pitch, then play bunker shots, without ever knowing how to swing a golf club, you would at that point, be able to hit a ball with control because all of the appropriate technique has previously been covered.

Sorry Try Again! - See Explanation Below
This is a true statement, but just imagine how good your scores would be if you could hit the fairway from the tee and be good at getting the ball in the hole too!

Sorry Try Again! - See Explanation Below
Lets view a statistic.
On the PGA Tour, the number 10 ranked player hits 68% of greens in regulation (in 1 on a par 3, 2 on a par 4 and 3 on a par 5). That is around 12 greens per round. This equates to an average score of 70 (two under par). So if the best players in the world can only hit 12 greens per round what are you aiming for? Those six greens missed are rescued by a great short game so regardless of the quality of the golf swing, the short game expertize is still the major factor in keeping golf scores low.